Mee Pok Tar $5 (Basic $4)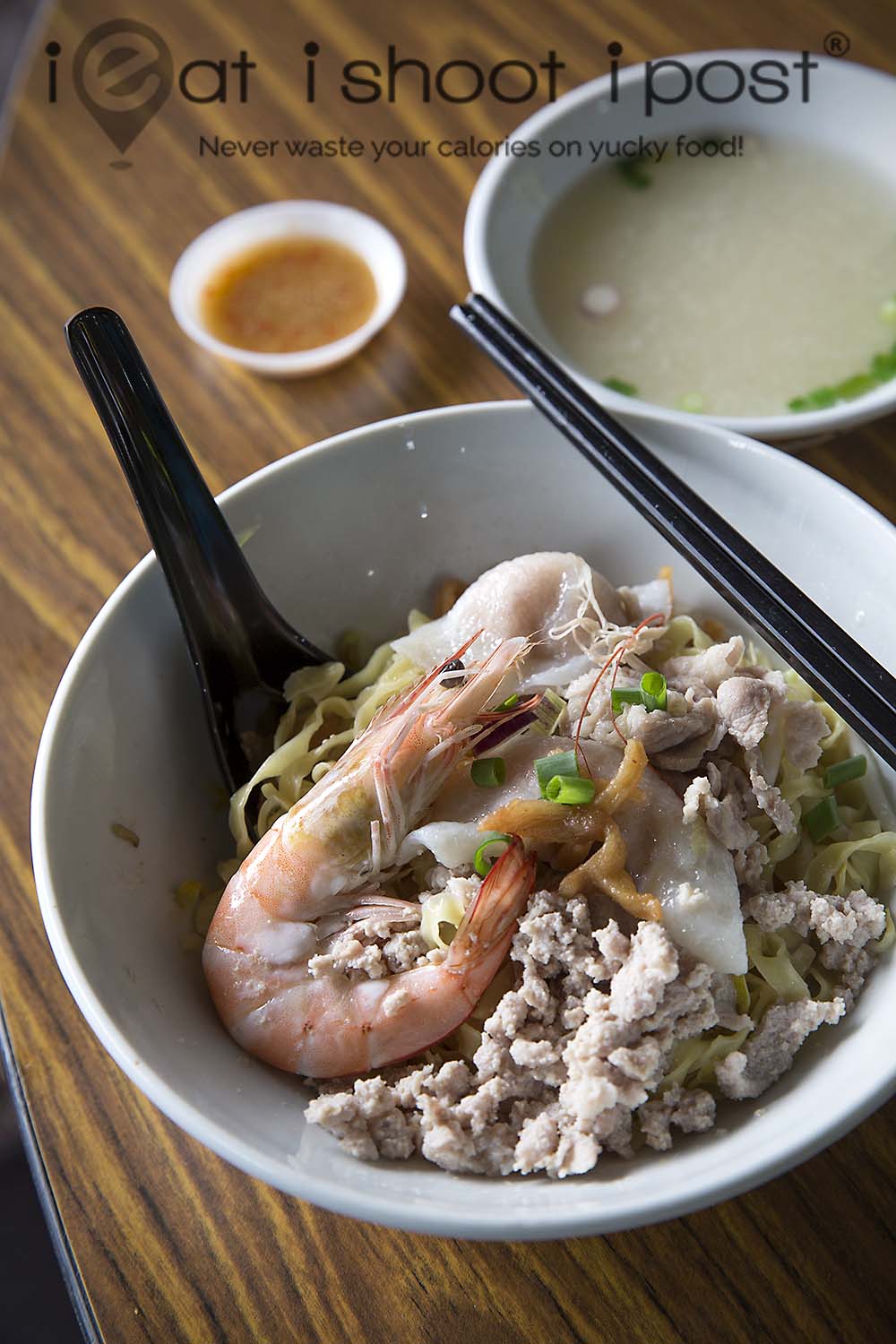 In my story of the Teenaged Japanese Mee Pok Girl,  I mentioned that her dad, Naoji-san spent 6 months learning the art of Mee Pok from a local mee pok master.  Since I enjoyed their mee pok so much, I knew I had to experience the master's kung fu for myself.
It turns out that I have actually met Eric Chian before when I wrote about Ah Guan Mee Pok.  Ironically, I commented then that his attention to details in the preparation of a bowl of mee pok reminded me of the Japanese approach to a bowl of ramen!  Isn't it fascinating that the wheel had come full circle and it was he who ended up teaching a Japanese man how to make a bowl of mee pok?
Ah Guan Mee Pok was a partnership.  When that fell through, Eric opened Ah Hoe Mee Pok in the present location.  That was when he met Naoji-san who had opened his bento stall in the same coffeeshop.  Naoji-san fell in love his Eric's mee pok and asked Eric if he could learn how to make mee pok from him.  He ended up working for Eric for 6 months for free in order to learn the art of mee pok.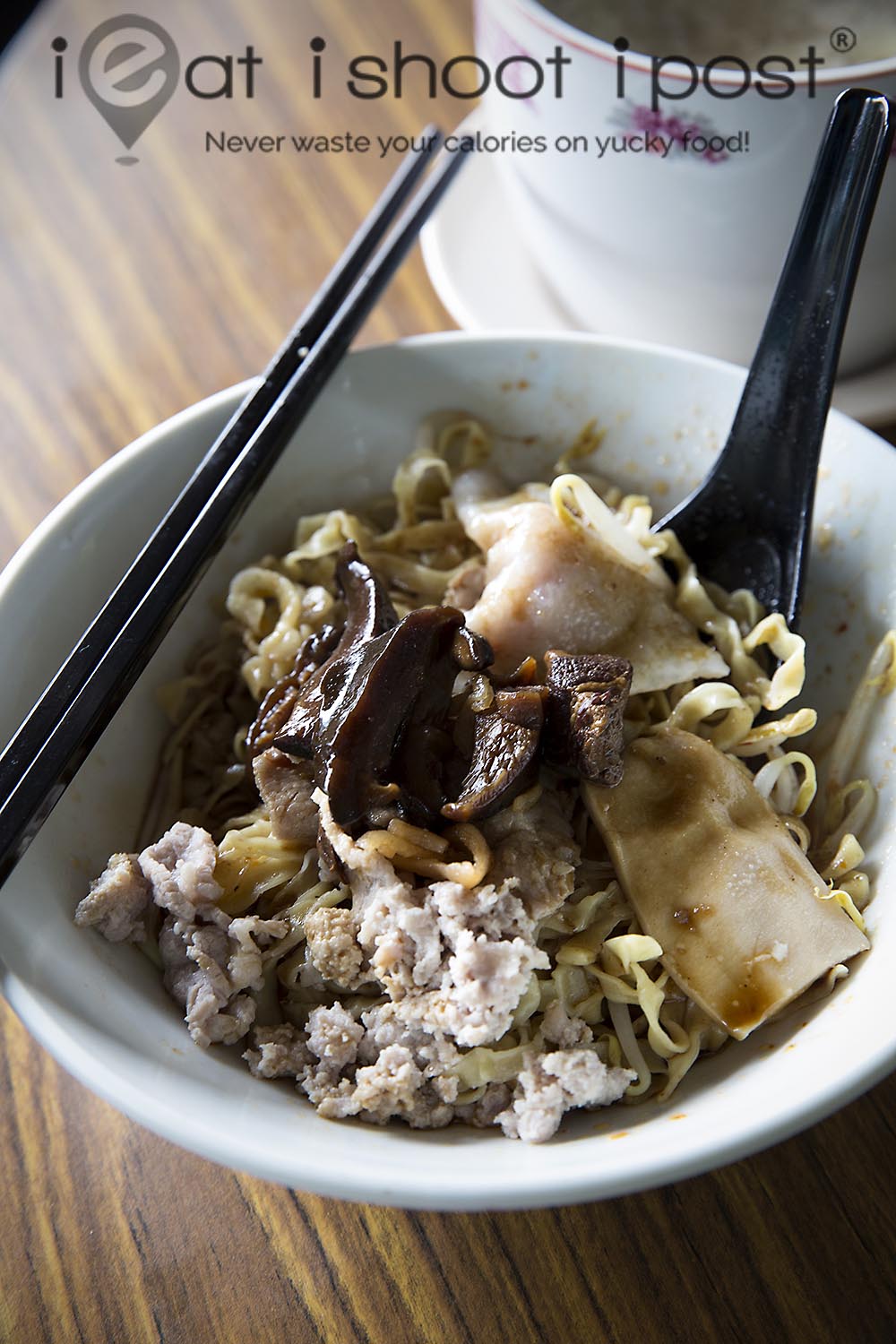 I asked Eric if there was a difference between Naoji-san and his other local disciples and he told me that the Japanese were very diligent and precise.  Naoji-san would be at work early in the morning before he arrived and would take detailed notes for each stage of the preparation!  His local disciples on the other hand paid less attention to details and tended to improvise and do things the way they see fit.
While my son was in the queue, I took the opportunity to scrutinize the different ingredients that make up a bowl of mee pok.  There is actually a lot of thought and attention to detail that goes into every bowl of mee pok!  It wasn't as simple as just poaching the noodles and topping it with minced pork, vinegar, chilli and fish sauce!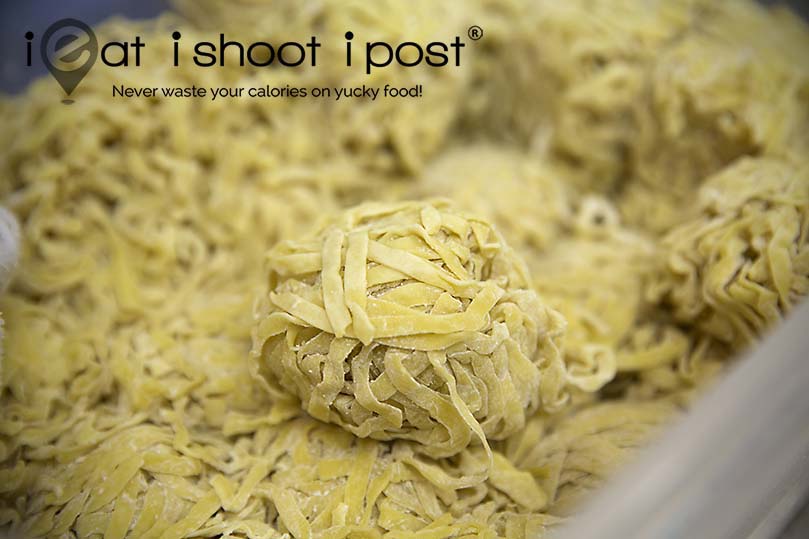 Starting with the noodles, one immediately notices that they do not just come out from a brown paper bag.  Instead, they have been balled up and placed in a plastic container.  According to Eric, these mee pok are specially ordered so that they contain egg and less "kee" (alkali water).  He weighs and balls them the day before  in order to make them more wavy so that it will pick up more of the sauce.  During the cooking process, he would also use his fingers to test the texture of the noodles to make sure that they are tender yet still toothy!
Traditionally, the essence of a good mee pok is the simply the flavour of pork in combination with the noodles.  It is a very simple yet satisfying combination.  However, in Singapore, we tend to like adding sambal chilli and sometimes tomato ketchup to spice it up. According to Eric, the best way to savour his mee pok is to go for the traditional uncomplicated flavour of the pork and noodles because he has put in a lot of effort to enhance that savoury pork flavour.  He tells me that he does his pork lard a little differently.  Instead of the usual pork cubes, he slices them into thin slivers like pieces of ikan bilis (anchovies).  He says that this brings out the flavour of the pork without it being too oily.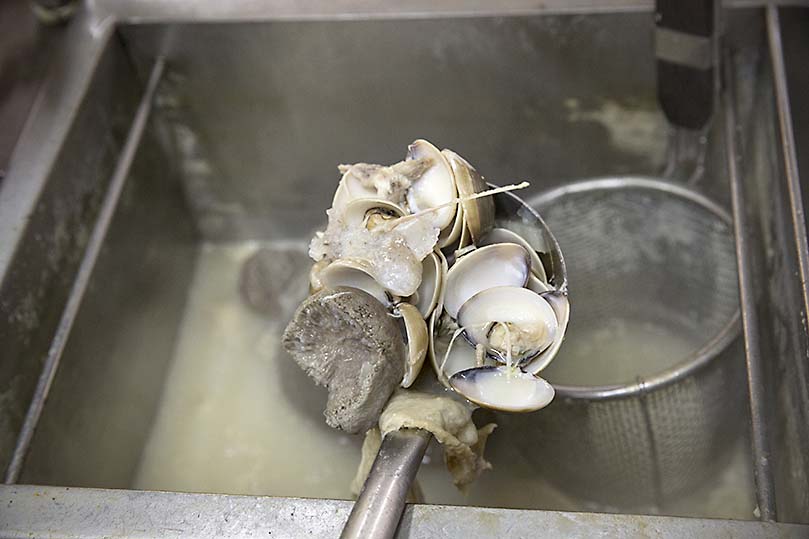 The soup is a very important component of the mee pok and usually the best mee pok places will have a robust soup.  His soup is made from pork bones, old mother hen, clams and a secret blend of herbs and boiled for many hours so that it is rich in porky precipitates.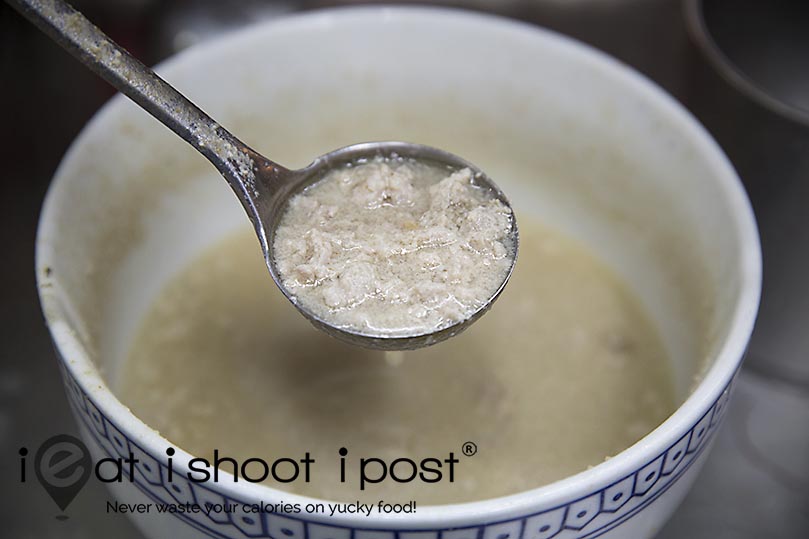 This soup serves as a stock to cook his marinated minced pork which is another essential ingredient to give the noodles its savoury flavour.  He cooks small batches of the minced pork and sets it aside into a bowl and adds a scoop into every bowl of mee pok.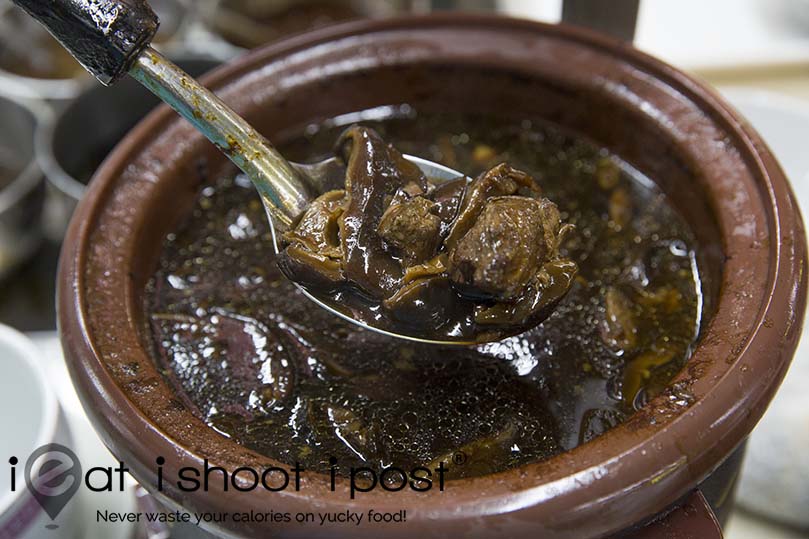 The rich pork stock is also used to cook the mushroom sauce used for the mushroom minced meat noodles.  To make the sauce, pork trotters and "head meat" is first deep fried before being braised together with dried shitake mushrooms and left to slowly cook overnight.  The resulting sauce is rich in umami which adds another dimension to the noodles.  Both versions are good but once you add the mushroom sauce, you won't be able to fully taste the flavour of the pork and noodles!  Both versions are 4.5/5.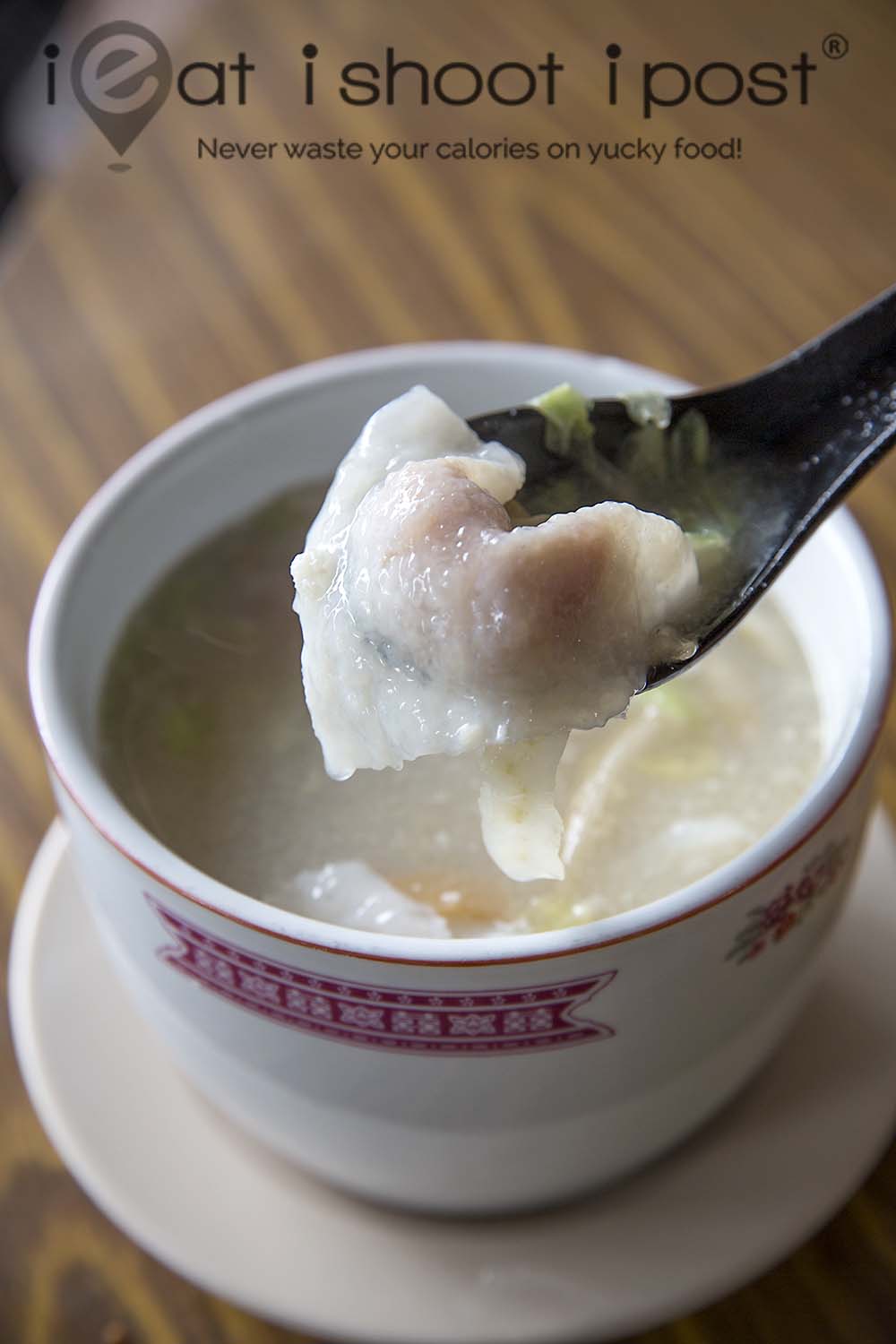 The one item which Naoji-san doesn't have at his stall is the her giao (fish dumplings).  This is a very traditional teochew food which is not easy to find.  The skin is make from the meat of the yellowtail fusilier (hang jer her) which is widely used to make fishballs.  The meat is first scraped off the skin and then kneaded with some flour to make the skin of the dumpling. The skin is very good with just the right balance of tenderness and chewiness. The meat filling is full of fried sole fish (ti poh) flavour.  It was a tad salty but very addictive.  4.25/5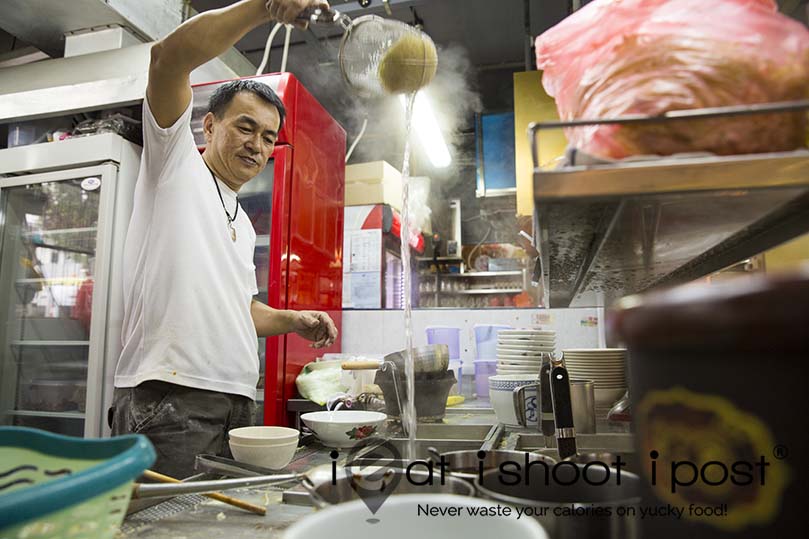 Eric tells me that he has been making mee pok for twenty six years already.  He started as an apprentice at Lam's noodles before venturing out to open his own stall at Toa Payoh Lor 5 food centre.  From there he partnered with a friend to open Ah Guan Mee Pok before moving to his current location.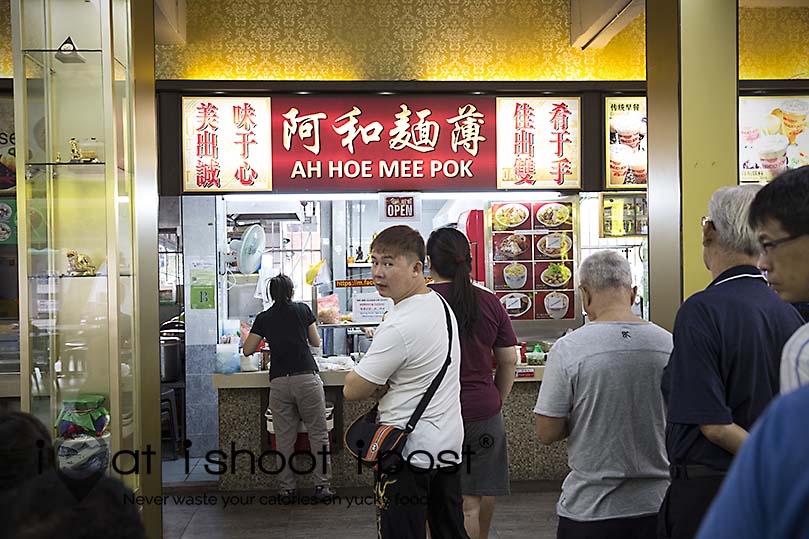 Conclusion
It is amazing how much work actually goes into a bowl of simple mee pok!  Going into the details of all the different ingredients has really given me a better appreciation of this Singaporean favourite which even the Japanese want to learn to cook!  It's a national dish we should all be proud of!