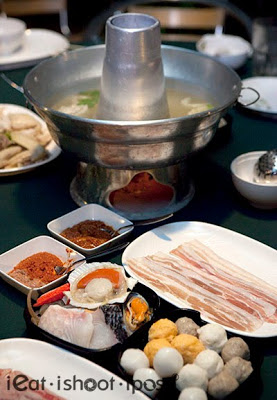 This place has closed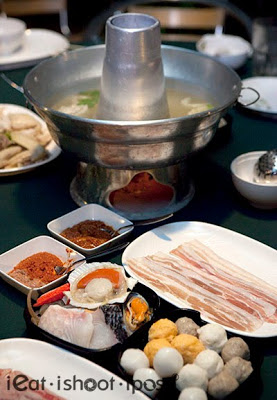 Steamboat Buffet $18 nett
What kind of restaurant will you get when you put two crazy foodies together with an Al Fresco Bar at Dempsey Road? The kind of restaurant I like, that's what.
[email protected] is the kind of place where foodies like myself would imagine running. Just get a hole-in-the-wall place so that you can make the kind of food that you are passionate about in order to show your friends how you think things should be done. It's the kind of accidental restaurant that was started out of impulse rather than a sound business plan. The owners, Josephine and Adel became friends when they met each other at foodie meetings years ago. Since then, they have been going all round the world looking for things to eat together. When [email protected] became available, the two friends took over management of the bar first, before thinking about what they wanted to serve. After experimenting unsuccessfully with bar food, Josephine decided to serve the kind of food that she grew up eating, ie traditional Hainanese food.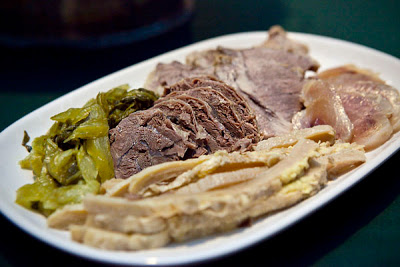 Stewed Beef Platter: Part of Steamboat Buffet (Beef)
Now, I had to tell you that little background because I spent the whole evening trying to figure out what the heck these two ladies were doing setting up a Hainanese Steamboat restaurant at a bar in Dempsey and calling it One-Three-Zero. Doesn't make much sense until you knew what happened.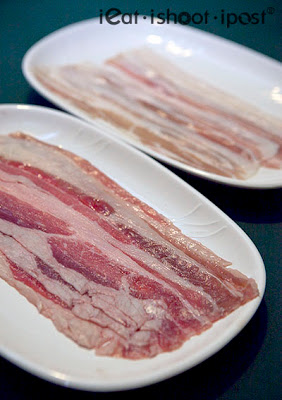 Freeflow Beef and Pork platters
If you are looking for traditional Hainanese food, then this is the real deal. For those of us who do not have access to a Hainanese Aunty whom you can invite yourself over for dinner, then this is the next best thing. If you are going for Steamboat, they have two flavours for you to choose from, Beef and Chicken. I would highly recommend the Beef because this is something you can't find anywhere else except in the home of a Hainanese friend (A good Hainanese friend I might add). Josephine buys the beef shin, tripe, tendon and bones herself from the local market and simmers the soup for 6 hours. Each Beef Steamboat set comes with one serving of the cooked beef and freeflow of the shabu shabu style beef and pork. The flavour of the soup is really good and reminiscent of the beef soup we had in Muar. The shin beef and tendons were done perfectly and the gelatine just melts when you gently heat it up in the soup. 4.5/5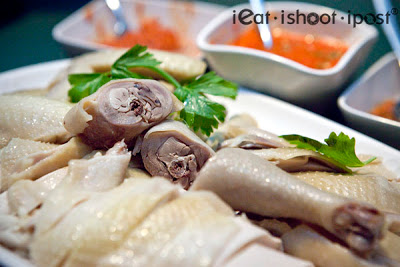 Old Mother Hen that laid one egg Chicken Rice ($25 per bird)
If you have been following my Chicken Rice stories, you would know that I have been talking about this legendary "Old Mother Hen that has laid one egg" chicken rice. If you talk to the older generation of Hainanese folk, they will all speak of this Menopausal Hen with nostalgic awe. I never thought I would get the opportunity to experience this chicken rice but here is where you can find it. You will have to pre-order it so that Josephine can go to the market to see if there are any chickens available. I was told that there is a particular lady that sells Old Mother Hens at Tanglin Halt market and sometimes you will get a bird that is pre-Menopausal and good for chicken rice rather than the Geriatric ones which are only good for soup.
Now, this kind of Old Bird is probably only for the true believers. The meat is tough but very subtly sweet and the skin is crunchy like eating jellyfish but very flavourful. The chicken is simply poached and a bit of salt is rubbed onto it before serving. There is no sauce to go with it except for the chilli. If you have grown up eating this, I think you will finish the whole plate yourself. Personally, I can appreciate the flavour and complexity of this "Cougar", but I still prefer my birds to be young, nubile and tender.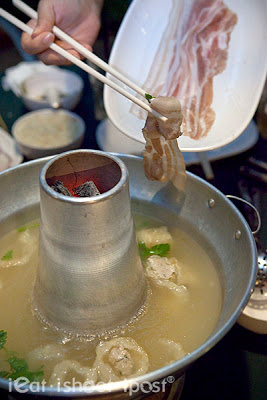 Chicken Steamboat Set $18 nett
The Chicken Steamboat set comes with a selection of seafood and a variety of "balls", like sotong, pork and beef. This is the more typical steamboat set that we used to eat before the introduction of Mala steamboat and the wide variety of soups that are available now. So if you are hankering after the kind of steamboat that mom used to make, this is the place to find it. What is not traditional though is the thinly sliced pork and beef which is popular nowadays because of the Japanese Shabu Shabu influence. I am not complaining because I like it this way.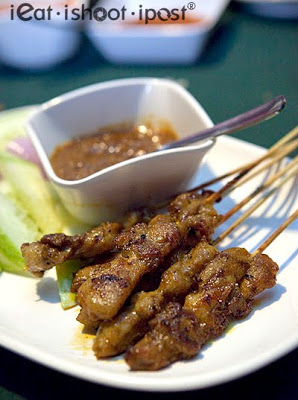 Josephine couldn't tell me why the Hainanese would always have satay with steamboat but that is just the way they have always done it. So she also makes her own Hainanese style satay here which is served as part of the $18 steamboat set. The satay is very good but I wish they would serve Pork satay as well as chicken.
4/5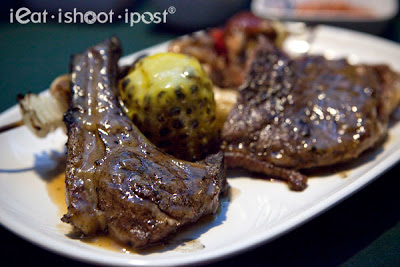 Grill Platter: Extra $5.80 with the Steamboat Set
Why have a grill platter with Steamboat? Well, the BBQ pits are there and Josephine and Adel both want to serve up a Hainanese Grill platter, the type that the "Hainanese Ah Go" used to serve up, complete with Hollandaise sauce. For $5.80, you get lamb cutlet, beef steak, corn, sausage and chicken kebab, you can order it only as an add on to your steamboat meal. This is the introductory price for the month of June. They will offer it as a separate set after that.
Conclusion
This is the kind of place I like. It's a joint opened by people who are doing it for the love of food. If you are looking for something traditionally Hainanese, this is the place you can find it. And if you are looking for something particular, like the "Old Mother Hen which Laid One Egg" Chicken Rice, or something which you remember eating as a kid which can't be found anymore, then I am sure Josephine would be happy to cook it for you. Situated amongst the lush greenery in one quiet corner of Dempsey, this is the most unlikely place you would dream of eating steamboat, but it is great!