With iwatch_ueat and smart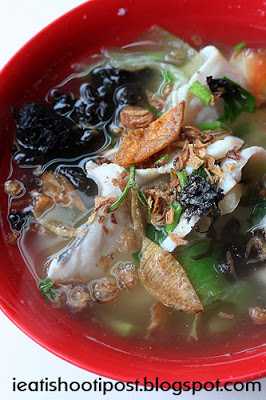 Fish Soup $3
Smart tells me that he visits this particular fish soup at least twice a month although he would not say it is the best in Singapore. It has the combination of being "one of the best" and being "close to home". So as a result, he was willing to sacrifice a bit of ooomph for convenience.
Macpherson estate is one of the oldest parts of Singapore, so the food here is still pretty cheap. The food centre is still very much in its original condition, so I suspect that the "Gow'ment" will probably be renovating it soon. Being such an old place, there were lots of stalls that looked like they served really good stuff that was still not too "sanitized". You know what I mean right? Somehow food that is too clean does not taste as robust as food that may have an element of risk in it. Now, I am not advocating that we should all throw caution to the wind. Just merely stating an observation. Lots of people would agree that the food in JB is much tastier than Singapore and that the best Hawker foods are often found in rustic places rather then spotless spots.
The soup here is indeed very good. The fish is fresh and they are quite generous with the amount of fish. I especially liked the Ti Poh (Fried Sole Fish) which was very "Pang" (Savoury). They make everything themselves here including the Ti Poh and the Ikan Bilis (Fried Anchovies) and the soup is made from boiling fish bones and chicken for at least 8 hours. They also add bittergourd in the soup. Tasty and at the same time good for your cholesterol levels! 4.25/5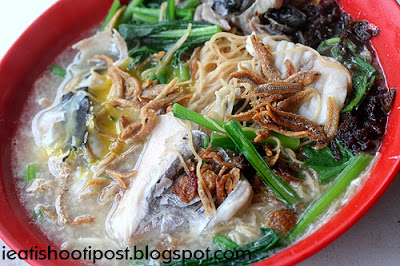 Fish Head Noodles $4
I am not one for Fish Head, but smart is. This Fish Head noodle soup is his fortnightly "must eat" dish. The interesting thing about it is that they use the dried egg noodles to cook the dish. These noodles have a unique texture and tastes quite savoury. They are also very generous with the chunks of Batang Fish Head and the soup is sweeter than the normal sliced fish soup. Smart rates it a 4.5/5.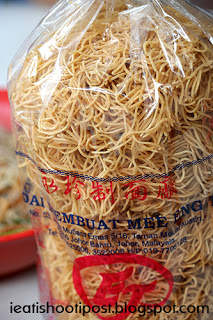 Conclusion
Very good sliced fish soup and real value for money. My only complain is that they only give one or two pieces of the excellent Ti Poh!