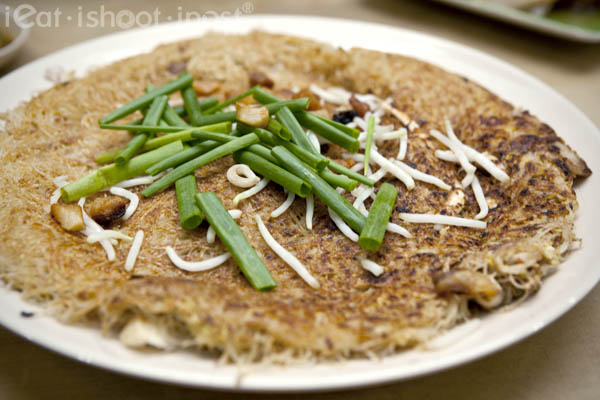 Actually Bee Hoon is quite nice when it is fried to a crisp don't you think? I remember as a kid my Dad would fry Bee Hoon at home. But it wasn't the first round of Bee Hoon that was the best but the leftover Bee Hoon which has to be refried the next day. That was when we would fry it with Tomato Ketchup and make sure that as many strands of the Bee Hoon get to that crispy brown stage.
Bee Hoon has that special quality of being able to absorb flavours much better than noodles. Lately I have been thinking that Fried Hokkien Mee should rightly be called Fried Hokkien Bee Hoon Mee because the Bee Hoon actually plays a very big role in the overall taste of the dish. I am of course referring to the type of Hokkien Mee that uses thin noodles. Most of the hawkers actually put the bee hoon in while it is still dry so that it will absorb the prawn stock, then they fry it till it is dry and some of it is crisp! Nothing quite like the sticky crispy bits that were stuck to the wok!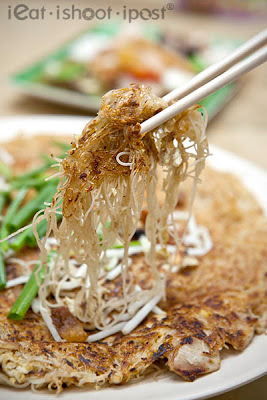 Chao Tar Bee Hoon (Burnt Bee Hoon) is something that is widely acknowledged to have originated from JB. You can imagine just how the original chef thought up the dish right? He probably loved to eat crispy bee hoon stuck to the bottom of the wok and probably came up with the idea to maximise the amount of crust he can get on a handful of Bee Hoon.
I have eaten this style of Bee Hoon in JB before and I can say that the one served at this restaurant is comparable, although I wasn't quite bowled over by the one in JB either. The crispy bits are enjoyable but I have always felt that this dish could be so much more tasty if the Bee Hoon was infused with a tastier seafood stock. 4.25/5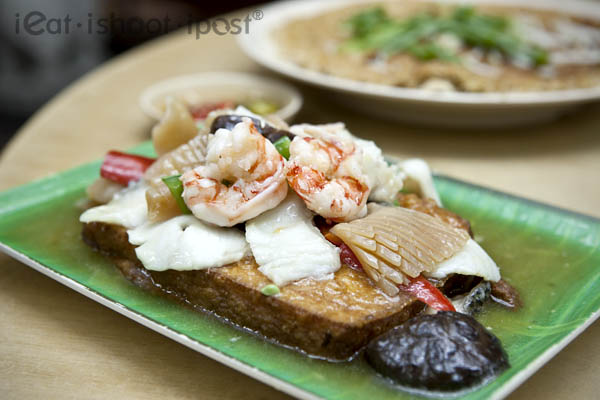 I don't know about you, but when I visit any Cze Char place, the first thing I would do is to walk around the tables to see what people are ordering and sometimes I would actually ask them if a certain dish was worth eating. That certainly beats randomly picking dishes and hoping they would turn out good. The man at the table beside us recommeneded the Seafood Tofu so we ordered one to try.
The homemade tofu was indeed very good, the seafood was fresh and the stock was tasty. Now the best thing to do is to soak the crispy Bee Hoon into the gravy! 4.25/5
Conclusion
If you are looking for Chao Tar Bee Hoon, here is one place you might like to visit. This is another one of those places that you can put at the back of your mind when it is 12 midnight and you are feeling hungry.