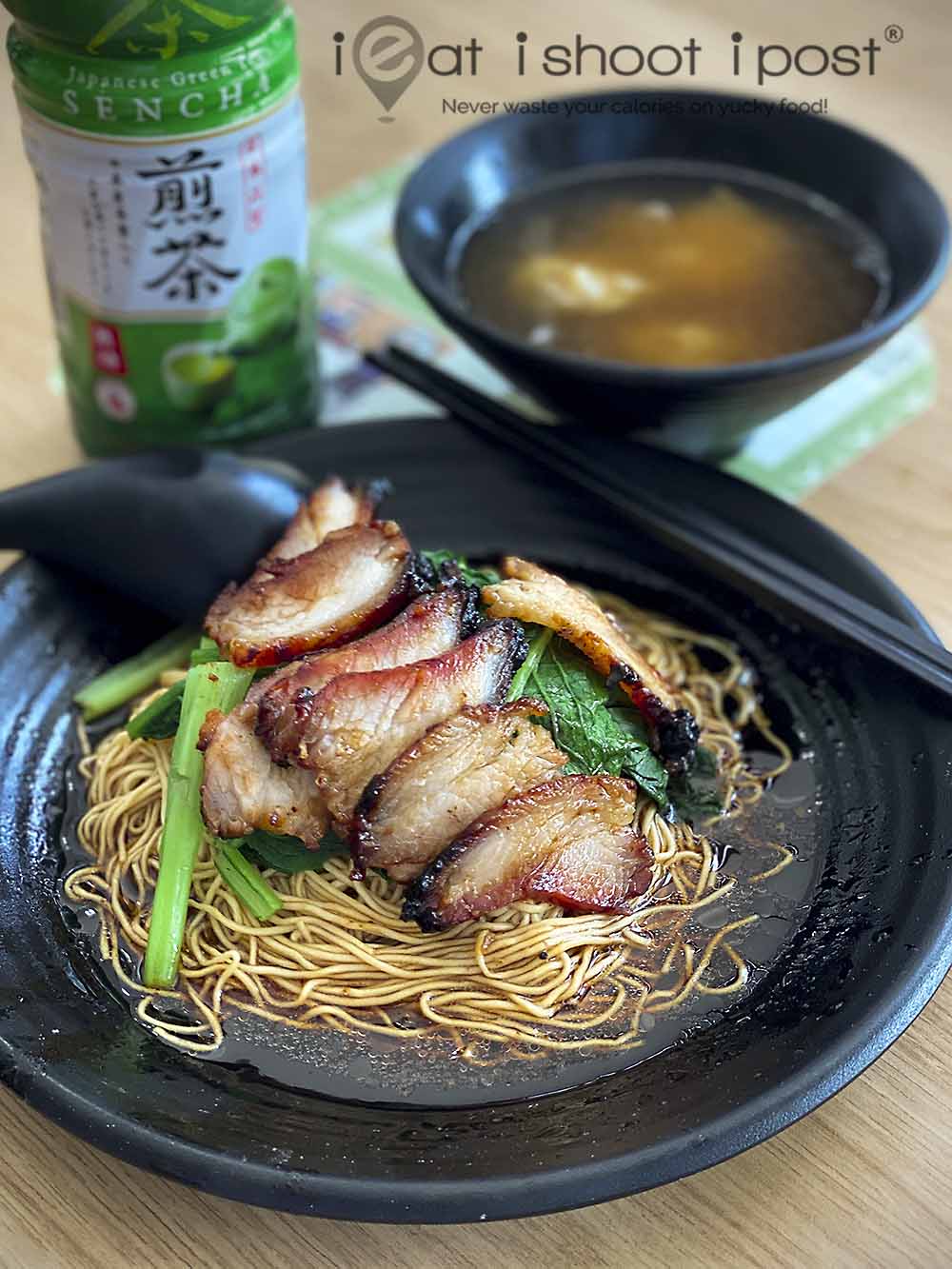 After a shaky and at times controversial start, the dust seems to have settled for the next generation of social enterprise run hawker centres. Today we feature four next generation hawkers who have spent the last three years sweating it out at Yishun Park Hawker Centre. All of them have managed to find their mojo, and some have even started expanding their hawker enterprise!
Today we take a closer look at what drives these passionate individuals, some of whom have given up high flying jobs (literally, high in the sky kind of job) to pursue life as a hawker. We shall also be pairing their dishes with Pokka's range of no-sugar teas which are a healthier alternative to sugared drinks to complement your food!
Yi Kou Mian (One Mouth Noodle)


You won't be able to order a plate of wanton mee if you visit Yi Kou Mian in the afternoon. That is the time when our next generation hawker, Jim Yeow, is doing his afternoon workout, wrestling and pummeling a 10kg dough ball into thin strands of eggy wanton mee. This type of handmade noodles were more common place in the past, when you visited a wanton mee stall to eat the "mee" which that particular stall owner actually makes himself. You might still find a few of these in Malaysia, but in Singapore, the practise has all but disappeared until Jim Yeow decided to give up being an interior designer in order to resurrect his father's noodle recipe!
But he doesn't just make the noodles, he also charcoal grills the charsiu himself as well as making his own wanton skin! This plate of wanton mee might not take the prize for the best tasting wanton mee in Singapore, but it certainly deserves the prize for the most artisanal!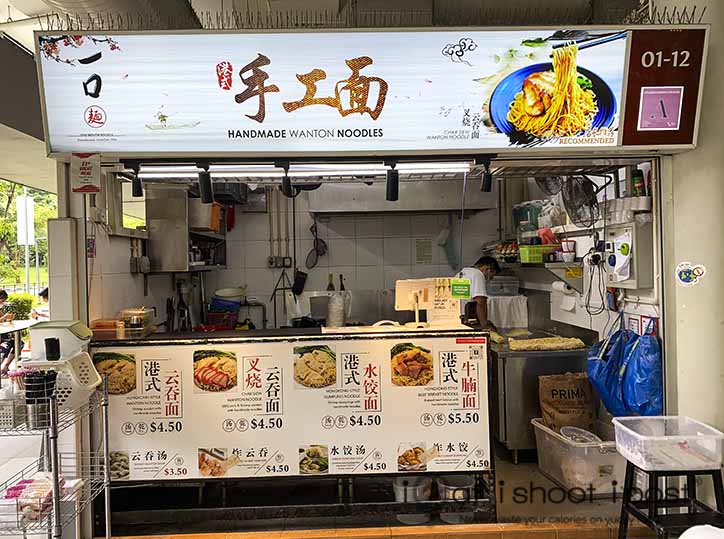 We paired the wanton mee with Pokka's Sencha Japanese Green Tea. This refreshing green tea is made of premium Japanese green tea leavea and powdered Matcha. It is light and refreshing and has an astringency which leaves a lingering sweetness on the palate. We Teochews refer to this as a "kam kam" feeling. It goes particularly well with seafood dishes.
Yi Kou Mian
Stall 12
9am to 8.30pm daily except Mondays
Nasi Lemak Ayam Taliwang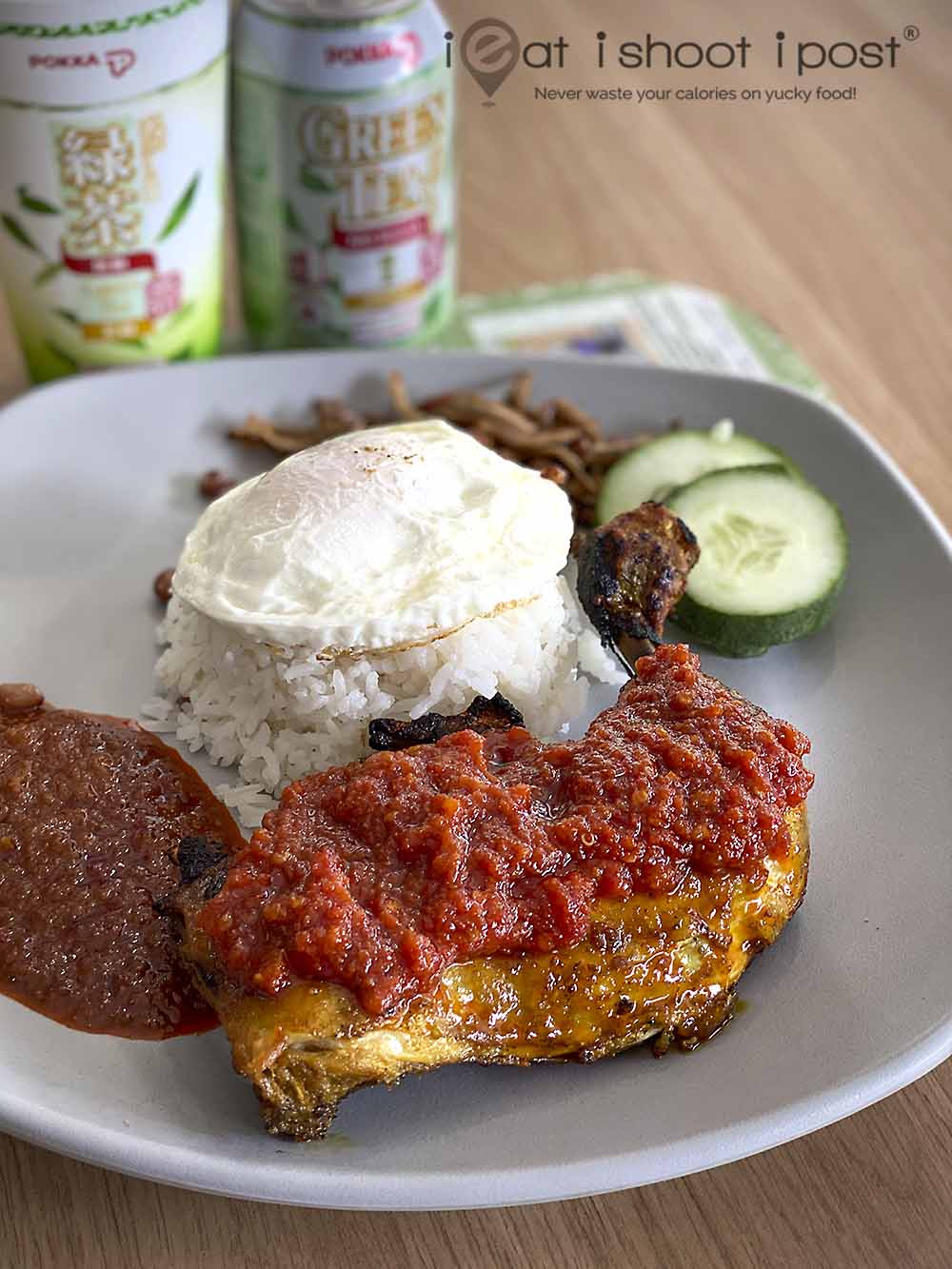 Ayam Taliwang is the perfect dish for all you chilli masochists out there. This isn't your run-of-the-mill Singapore style nasi lemak either. In place of your usual fried chicken wing, you are presented with a whole grilled marinated chicken leg topped with a fiery taliwang sauce!
This dish was born out of a trip to Lombak where our Singaporean-Indonesian couple spent their honeymoon. The pair had met in the skies where they both worked as cabin crew but their passion for food had brought them down to earth. Inspired, nay, compelled by their passion for Ayam Taliwang, the two experimented with their own Taliwang recipe for 6 months before opening their first stall at Yishun Park Hawker Centre. They have since expanded to a second stall (as well as having two kids at the same time)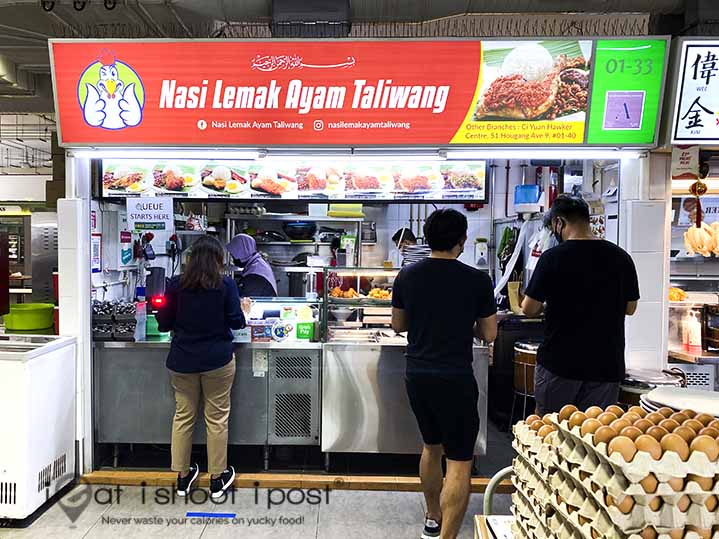 We paired the Nasi Lemak with Pokka's Jasmine Green Tea. This beverage would no doubt be familiar with many Singaporeans as it has been in the market for almost 2 decades. However, you can now opt for a no-sugar version. The floral scent of Jasmine flowers complements the coconut rice very well but you might need two cans in order to put out the fire of the Taliwang sauce!
Nasi Lemak Ayam Taliwang
Stall 33
7am to 2pm daily except Mondays
Ah Tan Wings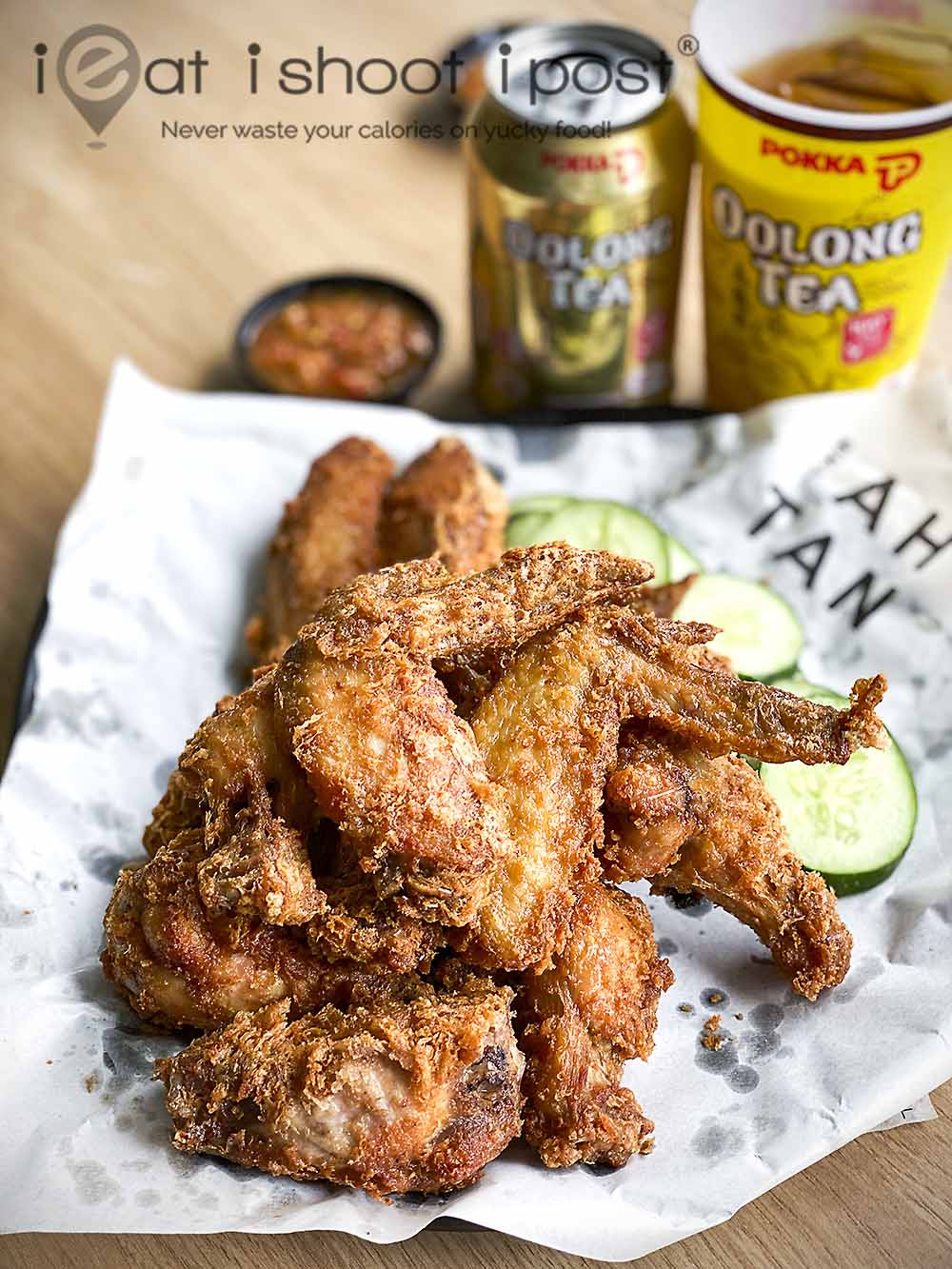 What can be more satisfying than a big plate of crispy Har Cheong Gai wings? But in order to get your Har Cheong Gai fix, you usually need to visit a Zi Char which means that you have to order other things as well! That must have troubled siblings, Wee Yang and Yu Yan enough to open a stall just to serve their favourite fried chicken dish!
Wee Yang, who does not have prior culinary experience, tells me that it took a lot of research to finally arrive at the perfect recipe for the wings. What makes their wings special is a two part frying technique where the wings are battered twice. On the second fry, extra batter is added to the surface of the wings with a squeeze bottle. It is a technique which is employed by Tempura chefs. What results is a mooriesh har cheong gai with extra crispy batter on the outside while still juicy with har cheong flavour on the inside!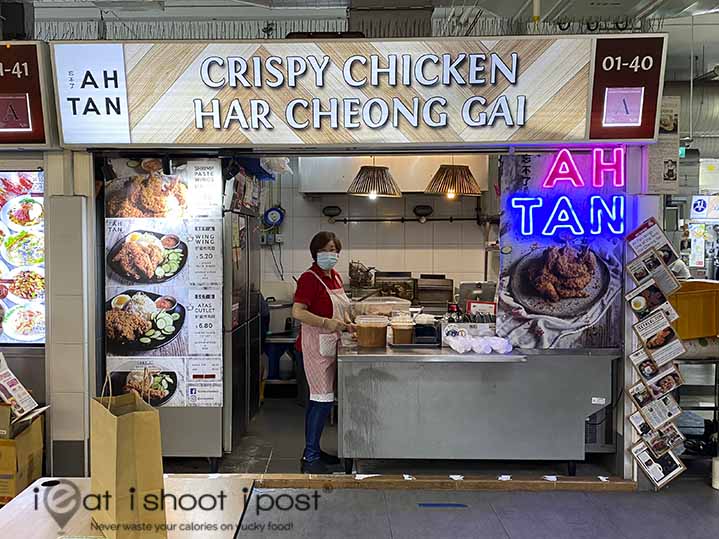 We paired this deep fried dish with Pokka Oolong tea. Oolong tea is first sundried to oxidise the leaves before it is roasted. This results in a bold, toasty flavour which helps to cut through the fat of deep fried dishes.
Ah Tan Wings
Stall 40
10.30am to 8.30pm Daily
Smokin' Joe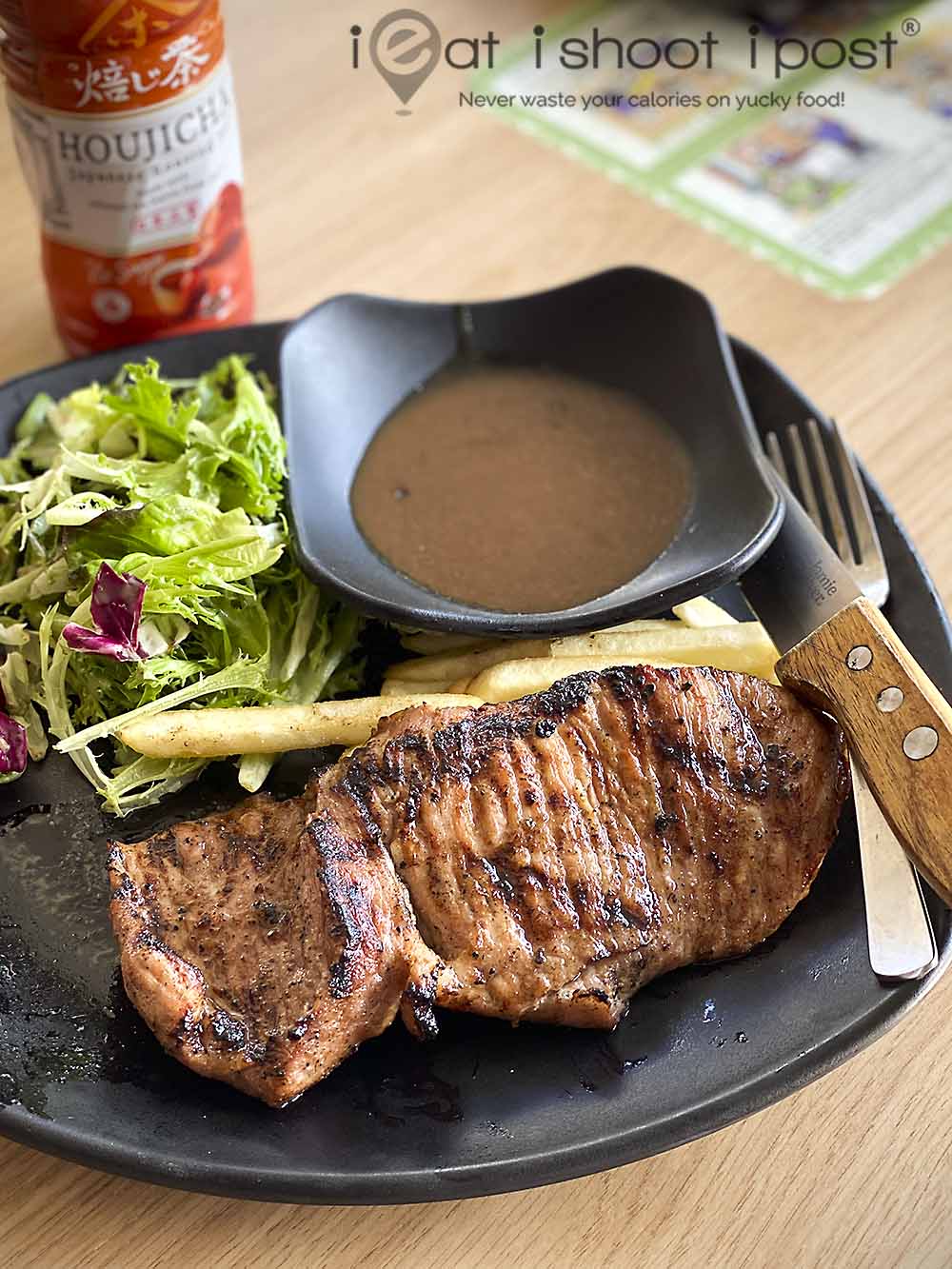 Over at Smokin' Joe, you can get a Iberico Secreto that has been grilled in a Josper oven for almost half the price that you would pay at a Spanish restaurant in town. The secreto is an amazing piece of meat that comes from the armpit area of the pig and it is the most prized part of the Spanish pig. The marbling and flavour of the meat is simply awesome. Just lightly brushed with teriyaki sauce to give it umami and sweetness and into the charcoal oven to infuse it with smoke flavour. If you just want a piece of heaven without having to pay extra for ambience, white tablecloth and service, then this is the place to get it!
The young hawkerpreneur Joe, had previously worked in restaurants where he was introduced to the $20K Josper oven which made its debut in Singapore in 2011. It is basically an oven which is heated by charcoal, so the meat gets roasted, grilled and smoked at the same time! What results is a piece of meat which is smoky on the outside and juicy on the inside!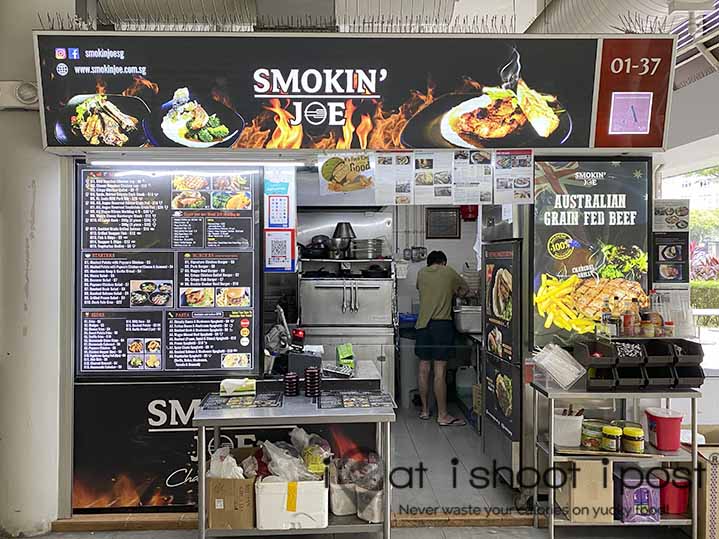 Pokka's Hojicha is the perfect drink for the meats coming out of the oven. Hojicha itself has been smoked and so it compliments the smoky aroma of the meat perfectly.
Smokin' Joe
Stall 37
No Sugar Teas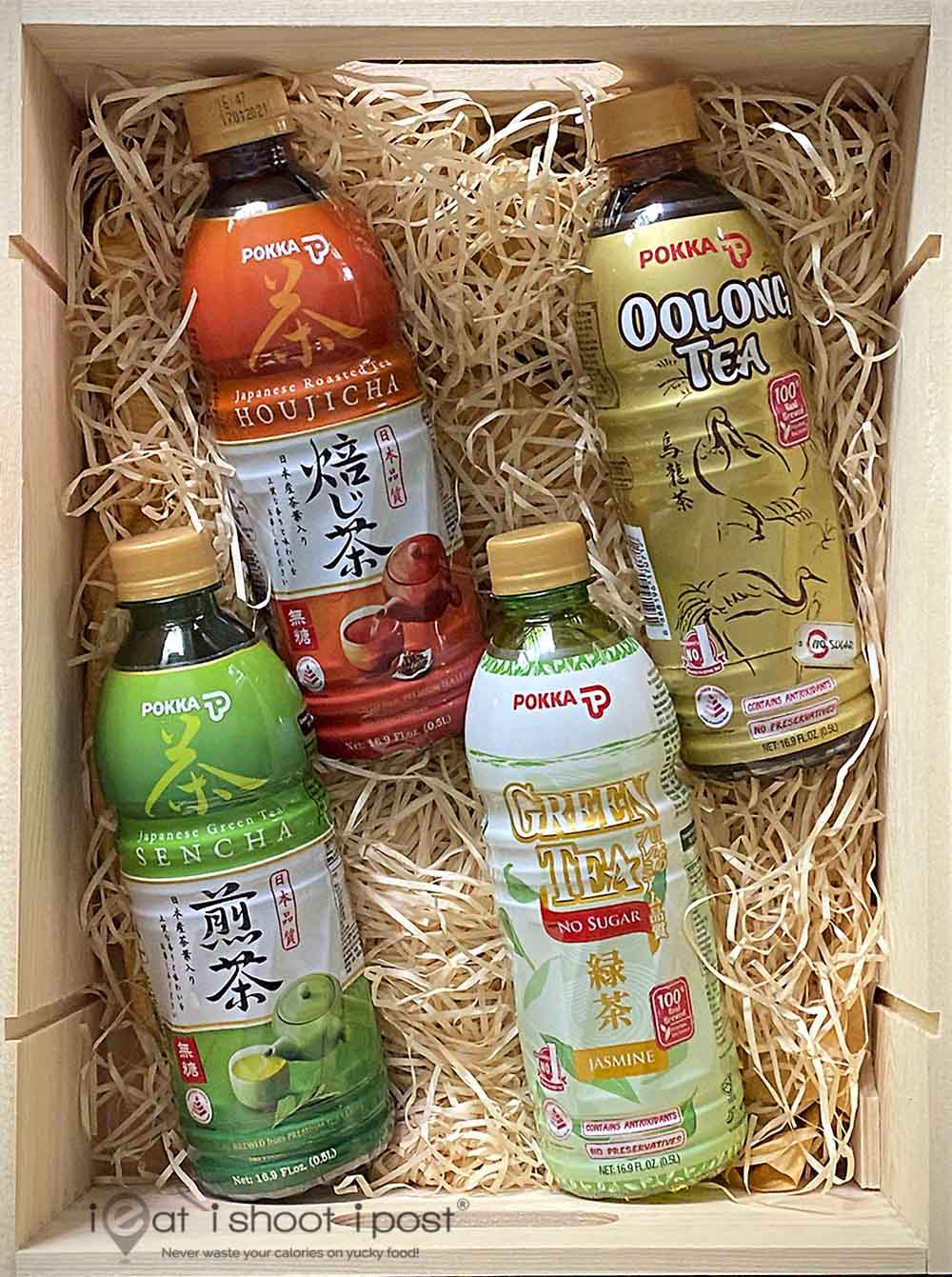 With Singapore being the country with one of the highest rates of diabetes in the developed world, cutting down on refined sugar should be the concern of everyone! One of the best ways to do so is to reduce the consumption of sweetened drinks.
Conclusion
Yishun may be a bit of a track for some of us but with current travel restrictions, why not take it as a "tour" of our own country. Head down to Yishun Park Hawker Centre and support our next generation hawkers who are doing a great job keeping our hawker culture alive.
Disclosure:
This post is done in partnership with Pokka