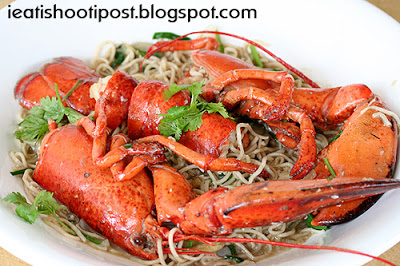 700g Live Maine Lobster Noodle $60

This is a Dream come true!
I finally managed to persuade a Cze Char Hawker to do a Lobster Noodle for me. And it is not just any Lobster, it's a Maine Lobster as well. And the best thing is that this large plate of Lobster only costs $60! This is great value considering my last Lobster Noodle cost $80++ for a half lobster!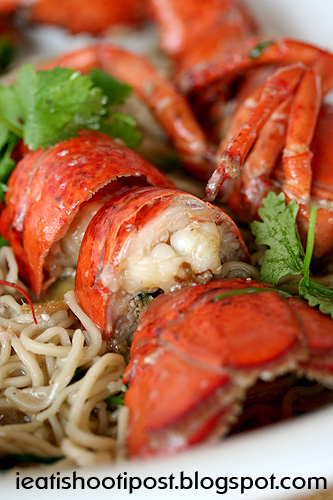 The Lobster Noodle idea was already simmering since my first meeting with Jason, whom I would describe as a New Age,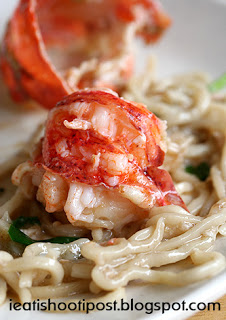 Service Oriented Cze Char Hawker. Just like how the IBM changed from a maker of computer hardware to a provider of business solutions, Jason's Cze Char does not just provide Cze Char dishes, he is there to satisfy your Cze Char cravings.
He has recently re-branded his stall from selling mainly Kway Chap to what is known as a "Dai Pai Dong", which is a popular concept in Hong Kong. Essentially, what that means is that he will cook for you whatever you want, subject to availability of ingredients. Think of it has having your very own Cze Char Chef whom you can get to satisfy your whims and fancies.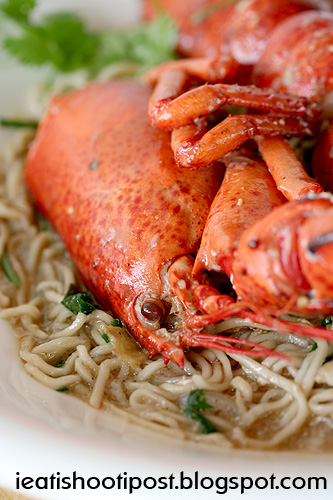 I can't tell you how excited I was when I received the SMS reply early Sunday morning that Jason had managed to procure a Live Maine Lobster for me! I was so excited that I had to really struggle to keep the thought of the Lobster Noodles out of my mind during Church Service that morning. (Come on, don't tell me you never think of lunch during Church Service before!)
If you are wondering how the Lobster can be so cheap, let me just let you in on the secret. Just across the road from his restaurant is a Live Seafood Supplier. So instead of Jason keeping the Lobsters alive in his own shop, he just hops across the road to buy the Lobster! That way he saves on the cost of keeping the water tanks and also curbs potential wastage!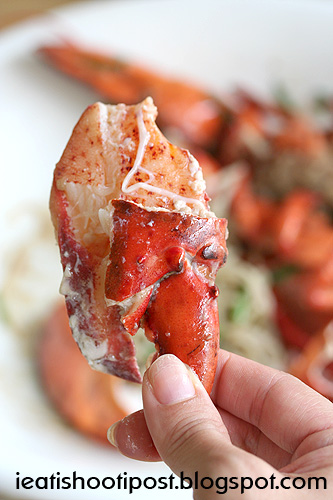 I have already mentioned about the Lobster Anticlimax Phenomenon in an earlier blog so I was a little apprehensive just before I took my first mouthful of the noodles. The last thing I want was to be disappointed yet again.
God not only forgave me for thinking of Lobster during Church, but He really blessed me with a treat that day! This is exactly what I was looking for! Phwa Sayah! I was in Heaven.
Jason had modified the recipe a little by using Handmade Noodles instead of egg noodles. These are noodles he makes himself on the premises. The Handmade Noodles were excellent at absorbing the taste of the Lobster but still maintaining its chewy and gummy texture. The Maine Lobster was superbly sweet and succulent. This is definitely one of those significant life changing moments for me. 4.8/5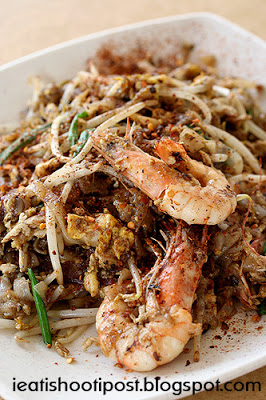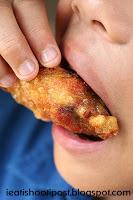 Now if you have to feed 7 people, you will need to share your plate of Lobster Noodles and eat something else to fill the stomach. Besides the Kway Chap and the Kong Bak which are both excellent here, you should also try a plate of Jason's Char Kway Teow which is the best Penang Style Char Kway Teow I have had in Singapore. It has that wonderful savoury wok hei flavour and the Kway Teow was lively and slippery. 4.5/5 Another dish that you might like to try is his Mild Curry Fried Chicken Wings. The taste is very unique and you can hardly make out the taste of the curry, but its really got that ooommph! 4.5/5
Conclusion
This must be THE DISCOVERY of the blog!
You will have to order your lobster earlier in the day so that Jason can hop across the road to secure one for you. Jason will continue to offer it at this promotional price for a limited period of time only and it is also dependent on the Lobster season, so make sure you go soon. And, if you just happen to see someone carrying a big camera there, make sure you come over and say hi!