With PK, smart, tamago, yummydummies, iwatch_ueat and liverpool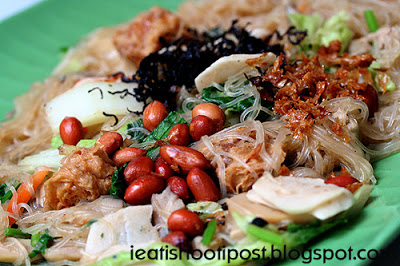 Here I go again with vegetarian food. You know I do this out of a guilty conscience more than anything else. No, I don't feel guilty eating meat, I feel guilty subjecting my body to too much meat. So every now and again, I venture to eat something without animal proteins in it so that I feel good about myself, reset the computer, so I can pig out again!
Anyway, Chinese vegetarian food can get quite repetitive in Singapore and most vegetarian stalls serve the same variety of mock meats and veg dishes. So this Heng Hwa vegetarian food offers something a little different.
The Heng Hwa Styled Bee Hoon is actually quite tasty and I wouldn't mind eating it again. This dish is perhaps one of the most iconic of Heng Hwa dishes and looks almost like the one I had at Pu Tien. The bee hoon (or is it Tang Hoon?) here is however a bit less fine than the one over at Pu Tien. 3.5/5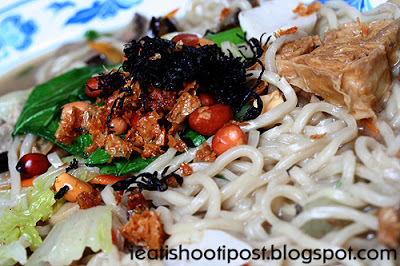 The fried la mien on the other hand is best avoided. 2.75/5
Conclusion
Like I said, I eat vegetarian food once in a while to redeem myself from a guilty conscience. I wouldn't mind coming back here for the bee hoon next time when I feel that way again.