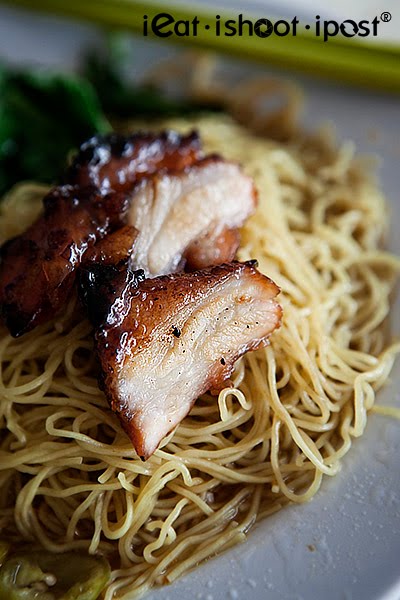 My first blog post on this stall was way back in 2006. I went to the stall to try the famous pig armpit Charsiew but was too late and was given their grade B Charsiew instead. I vowed that I shall return for the pig armpit Charsiew one day….

Three years and 1000 posts later, here it is! I finally got a whiff of the pig armpits!
If you are the type that always laments that the Charsiew that accompanies your wanton mee is often an afterthought rather than the main event, then this is the one place you would want to visit for your next wanton mee outing.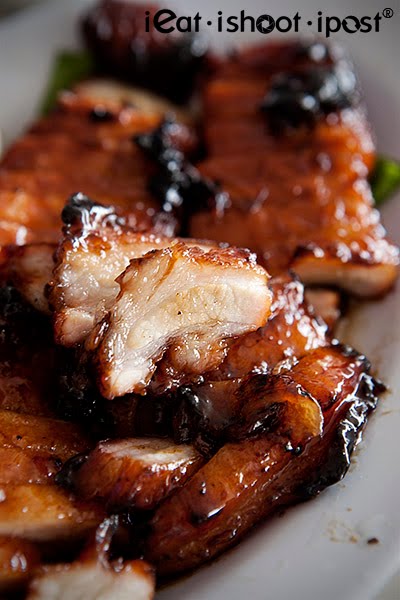 I think the photos convey the emotion I felt when I first saw laid eyes on the Charsiew. Perfectly caramelised with the fat just waiting to dissolve the instant it comes into contact with your tongue. Why, oh why do I have to worry about cholesterol levels? 4.5/5
The noodles are of the Hong Kong style. Both the sauce and the noodles are good but they are the backup singers for this Soprano. Alas, I still can't find the three tenors of wanton mee where noodles, wanton and charsiew are all equally outstanding!
Conclusion
If you are willing to brave the long queues, you would be rewarded with a very nice plate of wanton mee where you can really savour the Charsiew. Just be forewarned that the pig's armpit sells out sooner than the normal charsiew, so you might want to get there early to avoid disappointment.