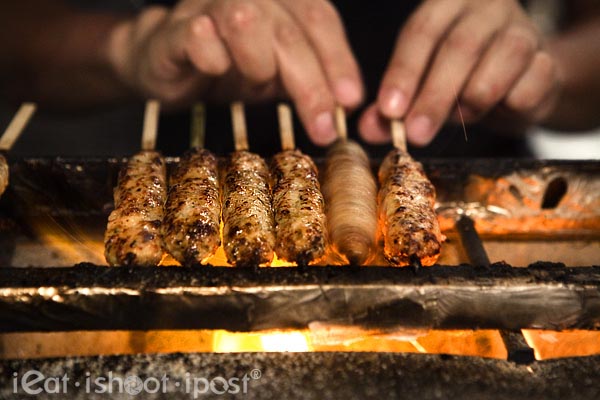 The Japanese make a bowl of noodle soup and they sell it for $15. They make satay and sell it for $3 a stick. We complain but we still eat it. Why? Because we all appreciate quality and we are willing to pay more for great food that is cooked with passion. I really do think that this is the direction that some of our best hawker stalls need to be heading if we hope to be able to eat excellent Hawker food in the future.

But this is not a post to discuss the future of Hawker food. No, this is a post on Japanese food. However, there are some valuable lessons we can learn from the Japanese if we want to ensure that our Hawker traditions are preserved for posterity.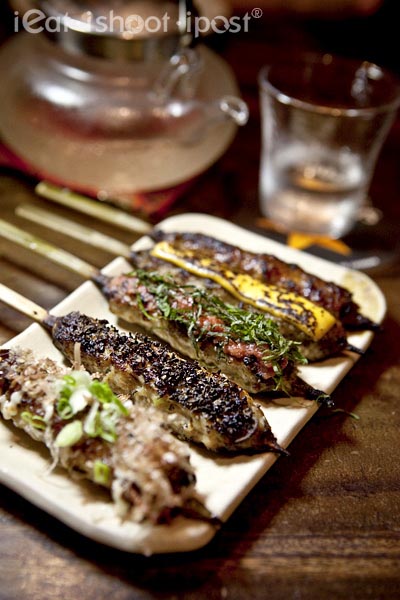 Restaurants like Tsukune Ichigo are the kind of specialty restaurants which I hope we will see more and more of in the future. However, the challenge is that Singaporeans still have a hawker centre mindset when they eat Japanese food. What I mean is, they want to just go to a Japanese restaurant and be able to order Tempura, Ramen, Sushi, Tonkatsu and the other Japanese dishes all under one roof. But as the Japanese restaurant scene in Singapore mature, we will hopefully find more places specializing in one particular cuisine.
Tsukune Ichigo is a Izakaya which specializes in Yakitori. An Izakaya is a place where Japanese salaryman go for a drink and something to eat at the end of the day and they can serve any type of cuisine. Tsukune Ichigo, as the name suggests, specialize in Tsukune which is a type of Yakitori. Yakitori is basically Japanese satay made from different parts of the chicken (Yaki – grill, Tori – chicken). So in Yakitori-yas, you find them grilling chicken meat, gizzard, neck, wings etc. Tsukune is a type of Yakitori made from chicken mince meat which, in the local context, is similar to the famous Fat Man's minced chicken satay. So now you see what I mean by this place being a specialty restaurant?
The Tsukune comes with a series of flavours in the form of toppings. The "normal" one is the Tare which is simply the minced chicken yakitori dipped in a sweet soy sauce. Then they have a selection of different toppings you can choose like sesame seeds, okonomiyaki (Bonito flakes and mayo), cheese, shiso leaves with mentaiko etc. It's a very ingenious way of extending the menu!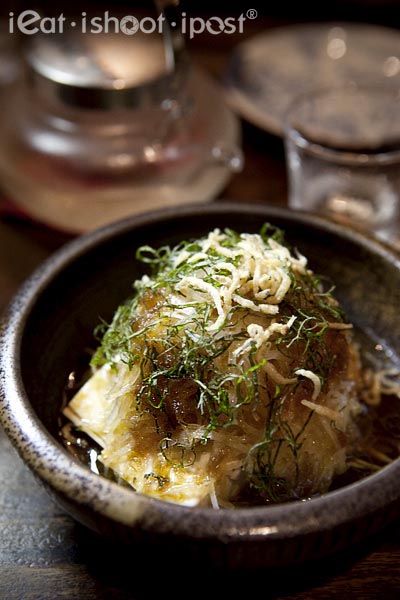 Kentaro-San is the man behind the grill at Tsukune Ichigo and he is the ONLY man behind the grill. He won't allow anyone else grill the meats because that is the only way he can guarantee that the Tsukune is done to his satisfaction. So, that is why your chicken Tsukune is always nicely charred on the outside but still wonderfully juicy on the inside! I found that the original Tare is still one of the best followed by okonomiyaki. But if it is your first time there, then the best thing to do is to order their mixed set (5 sticks for $14) so that you can taste a few of the flavours before deciding which one you like. 4.25/5
Now, if you ask Kentaro-San what to eat, he will always tell you to order Tsukune, because that really is his specialty. However, they do have other chicken parts like the gizzard and neck which you can order. In terms of the side dishes, we had the Daikon Tofu salad which my wife really loves. The combination of tofu with soy sauce and cooked daikon is a refreshing complement to the Tsukune. 4/5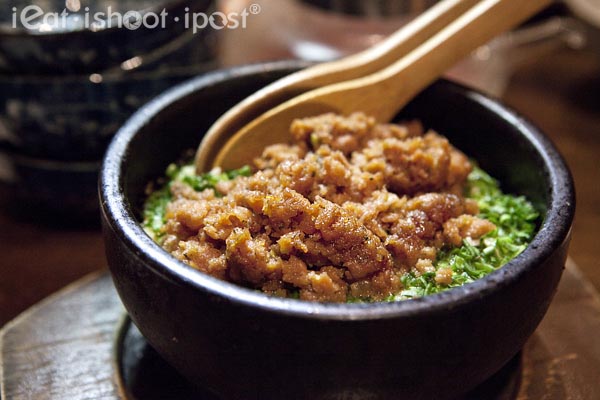 We saw lots of people ordering the Soboro Don (minced chicken on rice) which was also recommended by our waitress. The flavours are good but our rice that day was a little overcooked such that they were broken and mushy. Not quite the pearly, al dente, Japanese rice that I was expecting, but then again, remember what Kentaro San recommended? Right….. Tsukune! 3.5/5
Conclusion
Great place to head for after work with your colleagues for a drink and some Yakitori! Although this place has been opened for 6 years, it is still very much under the radar. Unlike a lot of other restaurants which make it very easy for you to enter, the large foreboding sliding wooden doors in front of the restaurant make it the most difficult restaurant to enter! But once inside, the convivial atmosphere makes for a very nice place for friends to gather, have a few drinks and nibble on chicken satay… I mean Tsukune.