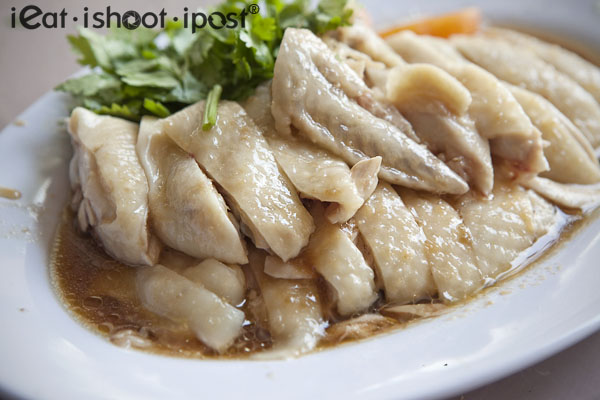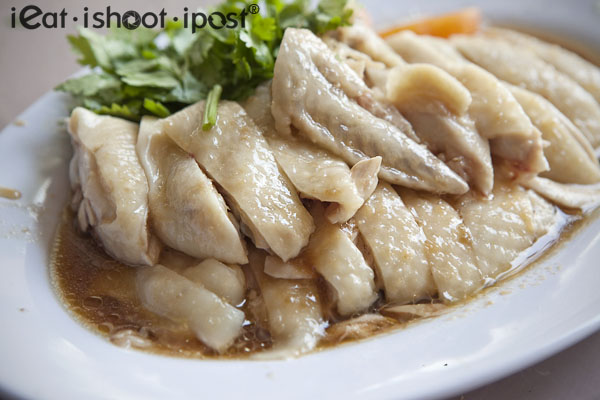 Half Chicken $9
One of the big differences between the Chicken Rice of old and the modern day Chicken Rice is the sauce that they douse over the chicken. Some places like Yet Con still persists in traditional Hainanese Style Chicken Rice where the chicken is served without a sauce. This is the way my mother-in-law still serves her Chicken Rice. Our modern day chicken rice comes with a soy based sauce partly because our chicken nowadays don't taste as "chickeny" as the free range chickens of the past. So the sauce is necessary to give it a bit more flavour. Some say that this is the Cantonese style of chicken rice, but in Singapore, this style is now widely accepted and my kids prefer it this way.
Tong Fong Fatt is actually an old brandname, but quite new as a chicken rice brand. The old Tong Fong Fatt stall was at Chong Pang village and used to sell sugarcane juice. When Augustine Koh took over his father's business, he decided to partner with his brother-in-law to start selling chicken rice at ABC Brickworks food centre. This was back in the mid nineties, so it is quite recent compared to our other well known Chicken Rice stalls. Augustine tells me that he decided early on that he would make a Chicken Rice which will appeal to the younger generation. That meant that the chicken has to be really tender and slippery and the sauce needs to be really special.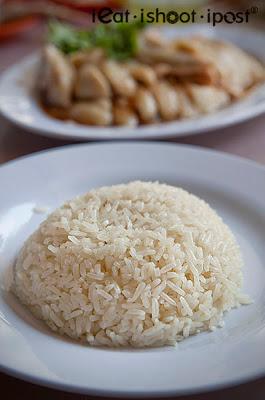 Rice 50 cents
Much as I would love to say that I love everything traditional, I must admit that I actually find the chicken here delicious. I thought the texture was very good. The meat was tender and the skin was slippery and as smooth as Ipoh Hor Fun. The secret sauce which I feel is the thing that really sets Tong Fong Fatt apart from the rest of the chicken rice places has got that special something. I was told that 12 ingredients actually go into making the sauce and it was a recipe which Augustine had come up with through trial and error. 4.5/5
Now Augustine is not Hainanese, he is Teochew. Nowadays, you don't have to be Hainanese to serve Chicken Rice just like you don't have to be Teochew to serve Teochew porridge. Being Teochew, we like stuff just a little on the sweet side. When I tasted the rice, there was that nice sweet aftertaste after you swallow the rice. I found out later that the rice was cooked with a small amount of rock sugar. I thought the texture of the rice was excellent and I liked the sweet aftertaste which we Teochew say is "Karm Karm". 4.25/5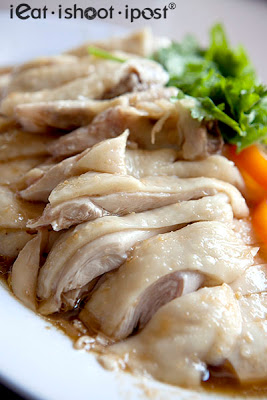 Tender slippery chicken
I also like the ginger here very much. It's not raw ginger like what some places serve, but a nicely simmered concoction of ginger with chicken oil. It could have had a bit more kick but I am not complaining. The chilli on the other hand lacked character and did not have that fragrant citrus lime zest.
Conclusion
I enjoyed this chicken rice so much that I am beginning torealizethat I am indeed the new generation of Singaporean even though I love all thing traditional.