This stall is closed!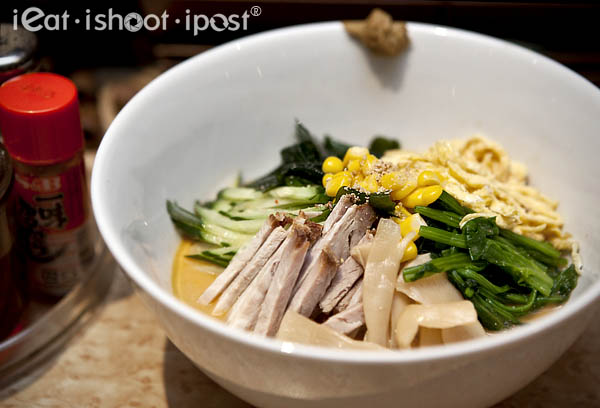 Hiyashi Chuka Cold Ramen $14
I finally come to the end of my Ramen Rampage! These ten Ramen posts represent what I think are the top ten Ramen places to eat in Singapore based on our ieat community recommendations. Of course, there will be new Ramen-yas opening up in the future and I will certainly keep an eye out for them after a brief respite. We will run a poll next to find out which of them is the favourite amongst our readers.
For the final Ramen-ya to be featured in this series, I have selected Noodle House Ken. I think Noodle House Ken deserves the final spot because it is one of the very few places that you can eat Ramen past midnight! That and also because the Hiyashi Chuka (Cold Noodles) is rather shiok!
Ken Noodle House has some of the best noodles in my opinion and you can really appreciate it when you eat the Hiyashi Chuka. The texture of the noodles are sublime and beyond my ability to describe it in words. All I know is that when I first put it into my mouth and chewed on it, I knew immediately that they stood out from all the rest of the Ramen places I have eaten at. They are resilient, smooth and wonderfully chewy. I was told that the noodles are imported from Tokyo but unlike the other Ramen-yas who order their Ramen from major suppliers, Ken sources his Ramen from a cottage industry supplier. So his ramen is a little different from the other Ramen-yas. His ramen appear is a little more glassy and the surface is smooth. The bite is rather like the translucent mee pok which you can find at some places, but it is much more refined.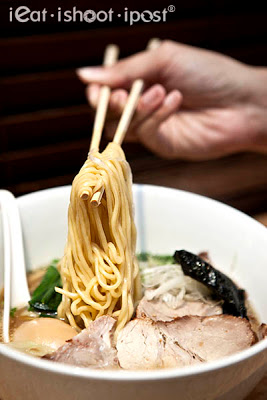 The Hiyashi Chuka is Ken-san's own invention. This is another thing I like about Noodle House Ken. In Japan, different Ramen-yas try to outdo each other by coming up with new flavours. This gives different Ramen-yas some personality. Noodle House Ken serves Ramen that Ken-san enjoys and it is his personal style of Ramen, he doesn't try to copy others. According to him, the Hiyashi Chuka can't be found in Japan since it is something that he thought up himself.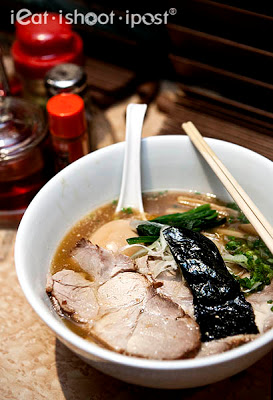 Shoyu Ramen $14
Of the "normal" soup Ramen, the one which I would recommend is the Shoyu Ramen. You are not going to Noodle House Ken specially for the Shoyu Ramen. However, if it is past 10pm and you have a Ramen craving, then it is a much better alternative to opening up a packet and boiling some water. The Shoyu Ramen is competent but it is the Hiyashi Chuka which I would order at Noodle House Ken.
Hiyashi Ramen: Noodles 4.75/5, Sauce 4.25/5, Charshu 3.5/5
Shoyu Ramen: Noodles 4.5/5, Soup 4/5, Charshu 4/5
Ken San



Conclusion
After trying the Hiyashi Chuka, the noodles at Noodle House Ken has become my gold standard to measure all other noodles. Noodle House Ken is not your usually polished Ramen joint. It is dank and dinghy and reminds me of some of the stalls in the back alleys of Shimabashi in Tokyo. Ken owns and operates the place and it exudes his personality which is what makes the place special.