What I missed most while I was living overseas was a hot cup of Teh Tarik and Roti Prata for breakfast. Oh, you can try to make Teh Tarik yourself at home of course, but it's not going to be the same. Let me explain why.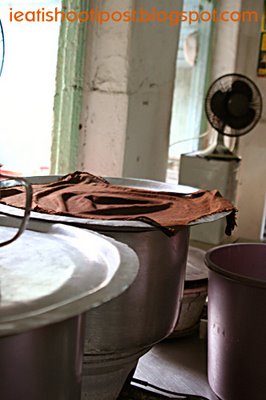 First, you have to boil water the traditional way and that is in a big aluminium pot.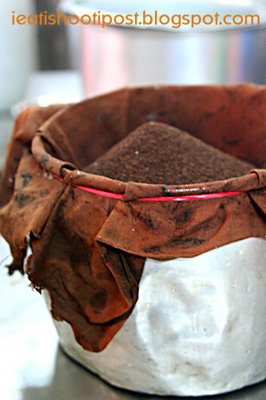 Next, put a piece of muslin cloth (Make sure its been used at least a few hundred times) over a smaller aluminium pot and pour a mound of fragrant and strong tea dust from a big plastic sack (probably from India, Indonesia or Malaysia but definitely not Lipton) into the pot. Next you add water till all the tea dust floats up and almost overflows. Strain the tea into a big stainless steel cup, add evaporated and condensed milk and get ready to……..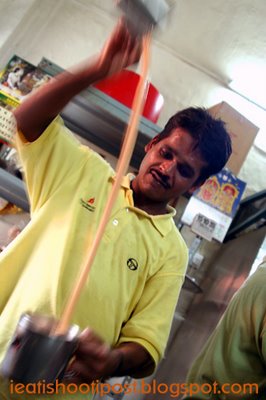 T A R I K! (Pull). Pulling the tea adds bubbles into the tea and cools it down. Oh, it also helps if you are Indian. Adds authenticity, know what I mean?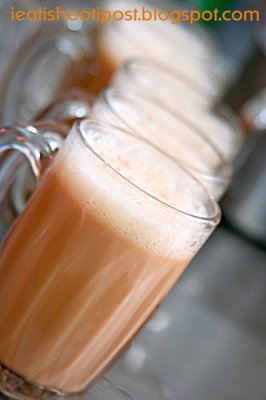 Take a sip and let the sweet aroma of comfort flow down your throat…. gulp, smack, ahhh! Ain't nothing like a really good Teh Tarik. And this is one of the best ones I have tasted! I tried doing this at home with the same ingredients but it is just not the same. 4.5/5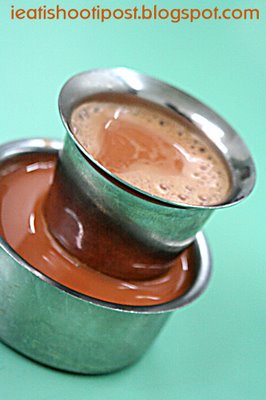 Those who are a bit more adventurous may like to try the Masala Tea. Really good for clearing the palate after a spicy meal. I was told the lassi here is pretty good too, but never got around to try it. Found the spice in the Masala Tea a little to overpowering for me. 3.5/5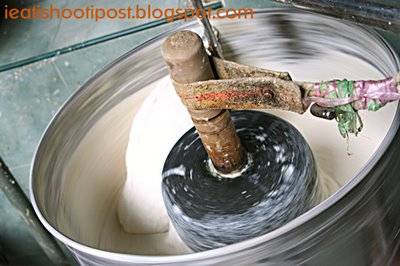 Fascinated to see how they actually grind the rice to make Thosai. If you never really liked Thosai before, you will see the light when you try this one. This restaurant is famous for it. They also have pratas but what you see on the tables is the Thosai. Most shops simply buy rice flour to make Thosai. Here you can taste the difference when it is done the proper way.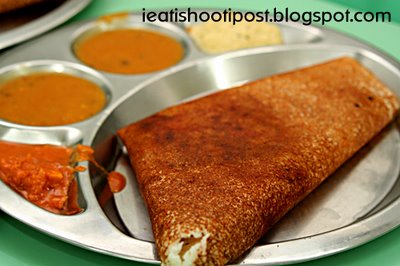 Please bear with me while I rave about the Thosai. Crispy on the outside, and fluffy on the inside. Never had it so good before. And the curries are so.. umami (savoury), so shiok, so yummy. I don't mind being a vegetarian if all vegetarian food tastes this good.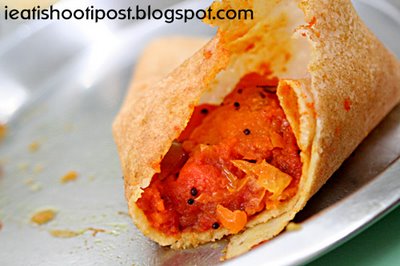 That potato masala just combines so well with the Thosai. Its not overly spicy, and has the right level of saltiness and just enough tang to get your salvary glands working. The potatoes are also really creamy and sweet (I think they use those local Indonesian potatoes which are small and the flesh is really yellow and creamy). 4.5/5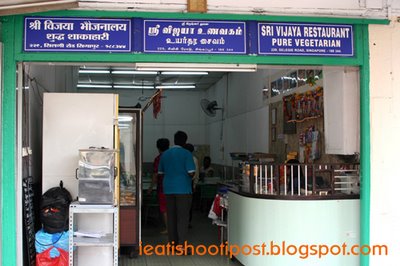 Conclusion
Still thinking about it few days after the experience. Simple yet Shiokapendous. Best Thosai ever tasted FULLSTOP.
8.25/10 (T3.5+V3+S1+E0.75)