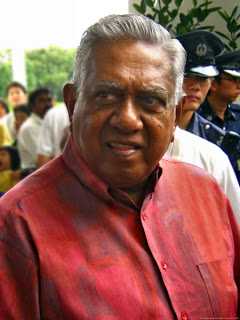 In my post on Kway Guan Huat Poh Piah, I mentioned that this is one of the stalls that our President frequents. You might have noticed that I also created a new label called "President's Picks" which showcases some food that President Nathan likes to eat. So, aside from Kway Guat Huat, I also know that our President drinks the Teh Tarik at Hilmi Sarabat Stall as well as tar pau the prawn noodle soup from Wah Kee Big Prawn Noodle. ($4 portion, not the big prawn one).
Now, whether our President is a foodie or not is anyone's guess, (I am placing my bet that he is) and you might be wondering, "So what?". Well, I think that being a man who can basically have access to any food that he wants from anywhere around the world, he should have quite a discerning palate. Anyway, I think he has done a great job as President and this is just my simple way of honoring him.
So, do you know of any other stalls that the President frequents? Do write in and let us know!
There is also another new label called "Heritage Hawkers" which lists out all the Hawkers that have been feeding Singaporeans for generations. Eateries like Zam Zam (who just turn 100), Hock Lam Beef Kway Teow, Tong Ya Coffee and Saji's Indian Food are just some examples. I am trying to cover as many of them as I can, so if you know of any that should be part of the list, please write in to tell us as well!