This Stall is closed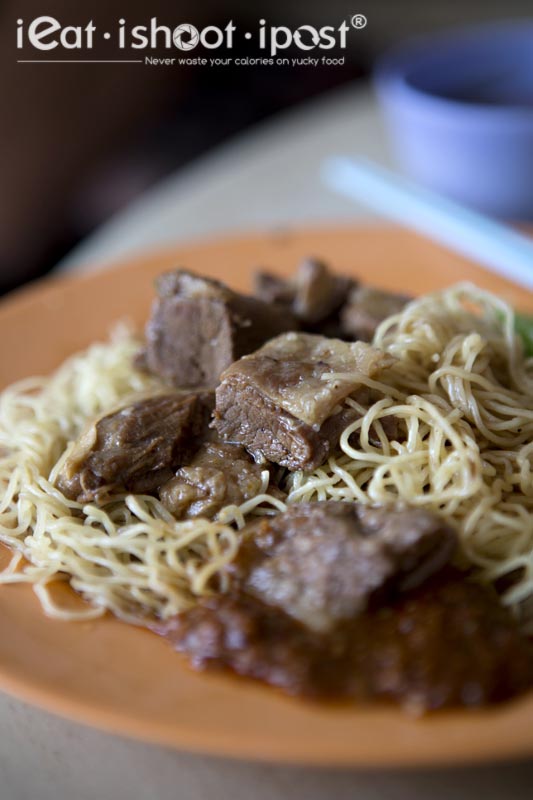 I just realized how much I love Ngou Lam Meen (Beef Brisket Noodles)! But you know, there isn't that many famous Hawker Stalls around where you can find this dish nowadays. I suspect it is because the price of beef has gone up so much that it is too expensive to be able to serve a decent plate of Ngou Lam Meen for $3 or $4. So we end up eating this dish either in the "Kitchens" of Crystal Jade or Imperial Treasure. That is such a shame since this dish can be so good especially when there are lots of tendons that have been stewed till they are wonderfully sticky and collageny good!
The secret to a Ngou Lam, aside from the secret recipe, is the cut of beef used in the stew. Traditionally, it should be Beef Brisket, which is the part of the beef that is equivalent to pork belly. The meat here is tough and the layers are separated by connective tissue and fats so you can't eat it as a steak, but when it is slow cooked in a stew, all that connective tissue breaks down into lots of flavour and enticing texture! Some places serve Ngou Lam using cuts of beef, but the other cuts just can't compare to brisket.
The stall here uses only Beef Brisket to make their Ngou Lam. They used to serve tendon as well, but nowadays, the price of tendon has skyrocketed, so they can't afford to sell tendon anymore which is a real shame. The gravy is excellent and the beef has a wonderful beefy, five spice flavour about it that got all our kakis raving from the first mouthful! Everyone was chewing on the beef holding their chopsticks in the right hand and showing a thumbs-up with the left! 4.25/5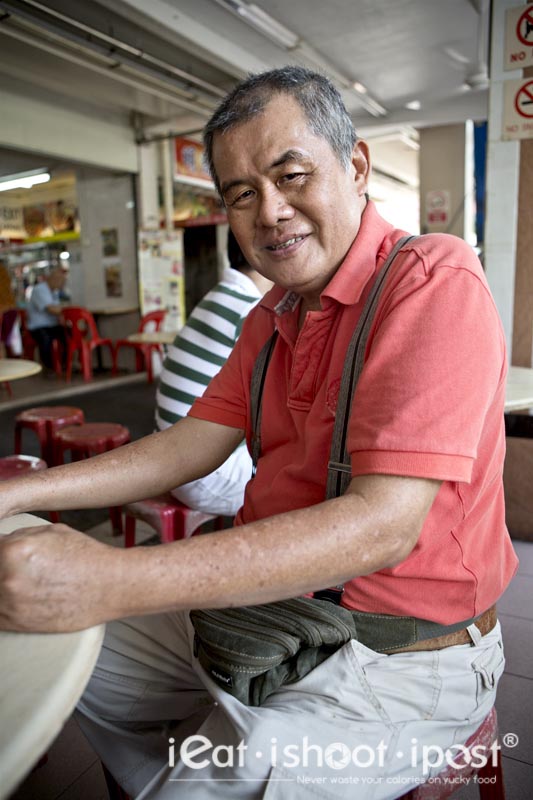 Mr Wong has been running the stall for the last 30 years but it was only in the last 6 years or so that he started focusing on Ngou Lam Noodles. The stall's original signature dish was the Rose Wine Chicken noodle which is the dish shown on the logo. His boast about his Ngou Lam recipe being worth $300K isn't something that he just plucked out of thin air. Mr Wong tells me that there have indeed been potential investors who have been discussing with him about the possibility of franchising his Ngou Lam Noodles and that was the price being negotiated for his recipe!
Conclusion
So was the Ngou Lam recipe worth $300K? Well, only an investor can tell you that, but for me it was the best Ngou Lam Meen I have eaten for a long while, so its definitely worth the trip and the $4.50 I paid for lunch!
Update 27 Oct 2012
The stall is now closed. They are moving to Blk 127 Bukit Merah Lane 1, #01-230, Singapore 150127 from the middle of November 2012!