It's Chinese New Year time again and that means it's time for feasting!
I don't know about you but I find that as I get older, my taste preferences change somewhat and things that I used to loathe when I was a kid suddenly seems to be more tasty! My wife likes to tease me and say that I am fast becoming an Ah Pek! (Old Uncle). Well, one of the things that I am beginning to like which I hated when I was a kid is Sea Cucumber. I have this theory that as we age, our body needs more collagen, so naturally we develop a taste for collagen rich foods like Sea Cucumber and Ter Kar (Pig trotters). Perhaps it could be that a lot of the older folks in the past have no teeth and so they have to eat stuff that they can gum on? Then again, that doesn't explain why the Europeans have no preference for this type of food when they get older, right?
In order to find out more about sea cucumbers, I hooked up with another pre-pubecent Ah Pek friend of mine who arranged for me to meet the owner of Tam Kah Shark's Fin in Chinatown.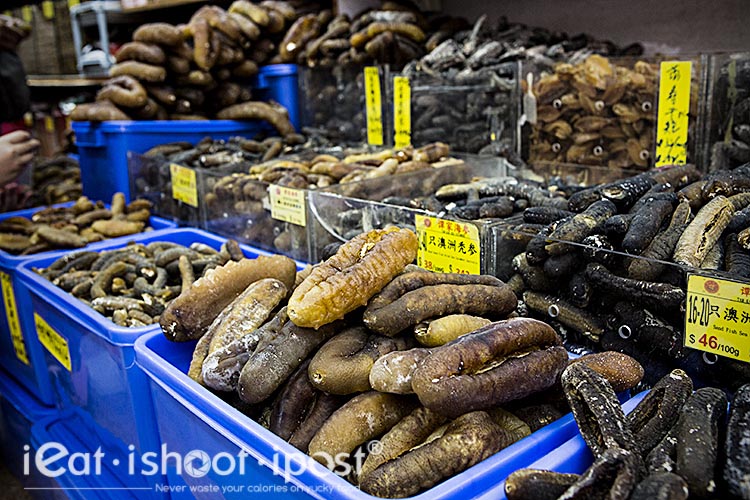 Tam Kah Shark's Fin is a Macau based company which has been in business for over 100 years. They set up shop in Singapore in the late nineties and were possibly the first ones who introduced the Pen Chai to the Singapore market. I have always only walked past such shops as I had never had the need to buy any of the dried food stuff. They basically carry all the precious dried food like sharks fins, abalone, scallops, fish maw, fatt choy and of course sea cucumbers.
The number of sea cucumbers on sale was bewildering and for a while I was pretty lost as to how to start writing about this enigmatic sea creature. There must have been over 30 different boxes of sea cucumbers in the store!
Let's start by stating categorically that the sea cucumber is an animal and not a vegetable and it's certainly not an ocean version of the cucumber. (I am sure most of you know that) In fact, they belong to the same family as the star fish. I imagine that God must have taken a sea cucumber, pressed it into a ball and pulled out its five legs to create the starfish! The good thing about these sea creatures is that they are not endangered. So they are actually sustainable seafood which you can eat without feeling guilty.
So what do you need to know if you want to buy sea cucumbers?
Well, I found that even though there are over 30 different boxes of sea cucumbers at the stall, you only need to know three things. 1. Do you like them more crunchy? 2. Do you like it more jelly? 3. Are you buying them for medicinal purposes. The prices will depend on where the sea cucumber comes from and how big they are. Generally, the bigger the sea cucumber, the more expensive it is. (Within the same species). So even though they have so many boxes of sea cucumbers, there are really only a few species which are sorted according to size and place of origin.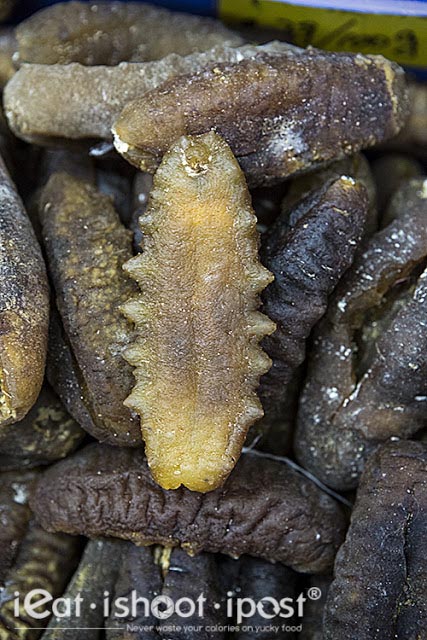 The boss tells me that the older folks favour the 猪婆参 or White Teat Fish because these sea cucumbers turn into a nice gelatinous mass when braised for a long time. 猪婆参 literally means "Pig Sow Sea Cucumber" and is so named because the underside of the sea cucumber resembles the teats of a lactating female pig! These Sea Cucumbers can range from $30+ to $50+ per 100g depending on their size and quality. If you were to pick the Sea Cucumbers yourself, go for the ones that look nice and plump, they are considered to be better quality than the lean looking ones.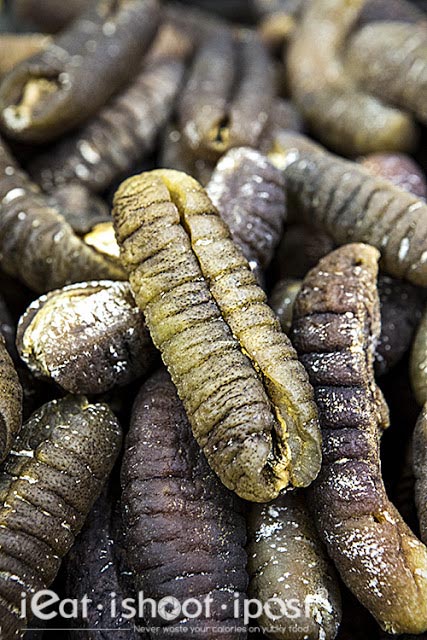 The younger folks tend to go for the Sand Fish Sea Cucumber 金秃参. The name in mandarin literally means "Gold Baldy" and I am guessing the surface of the creature must resemble the head of a Shaolin monk. This type of sea cucumber tends to have a bit more texture and can be cooked for a long period of time and still maintain its shape. They are also priced at between $30 to $50 per 100g.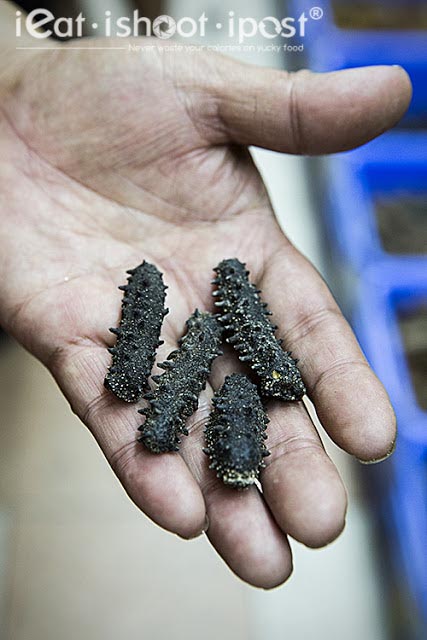 Japan Spiky Sea Cucumber 刺参
The spiky sea cucumbers from Japan are the most expensive of the lot with a price tag of up to $2880 per kg. People tend to buy them for medicinal purposes as they are supposed to have anti-cancer properties. Although these creatures are tiny, they do expand considerably when rehydrated. Still, this type of sea cucumbers is best left to real afficianados, I think.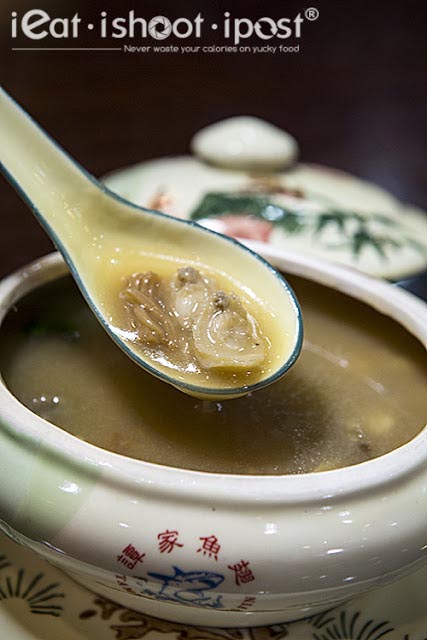 Tham Kah's business is vertically integrated. So not only do they bring in the dried seafoods, they also have a factory prepares dishes like Buddha Jumps over the Wall, Pen Chai and Sharks Fin Soup for people who want to buy them ready prepared so that they can just heat it up at home. They also run a restaurant where you can have a meal. The boss introduced us to a very nice lobster, scallop and abalone soup which is available for takeaway orders. This soup was introduced to give customers an alternative to the shark's fin soup. This is basically the chinese version of lobster bisque and it is very good. To make the soup, the lobster shells are roasted before slow boiling in a rich chicken and pork stock for hours. Dried scallops and baby abalone add that extra umami into the soup. It costs $45 for a pot which can feed 5 which really is quite reasonable for a soup of this quality!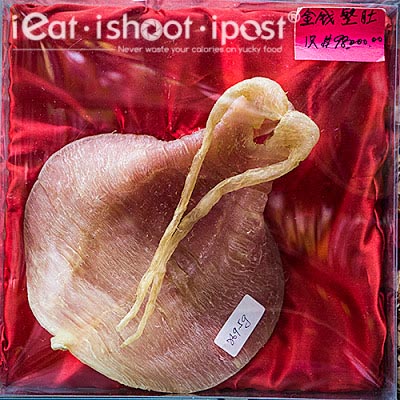 Conclusion
So are you a fan of sea cucumbers or is it just one of those ingredients which appear during festive occasions that you just eat? Aside from sea cucumbers, the store also sells other delicacies like fish maw which I shall have to write about in a future article. One particular fish maw costs $98,000 just for a single piece! Talk about food that is fit for emperors!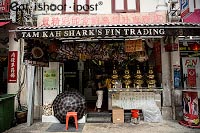 Thanks to the owners of Tam Kah Sharks Fin for assisting with this article
References: