The Pub. In Singapore that means the Public Utilities Board. In England that means a place where one can order a beer and some food.
The Bar. For some people, that is the where you are called to after years of reading law. For others it is where you go to sit on a high counter and order drinks and cocktails, try to drown your sorrows or just wait to see if the Bartender will drop the bottle that he is twirling in the air.

Then there is the Gastropub, which basically means a Pub that sells more interesting food than the usual Pub Grub like fish and chips, bangers and mash and steak and kidney pies. If your Bartender serves you food with your cocktails while you sit at the bar then you have a Gastrobar.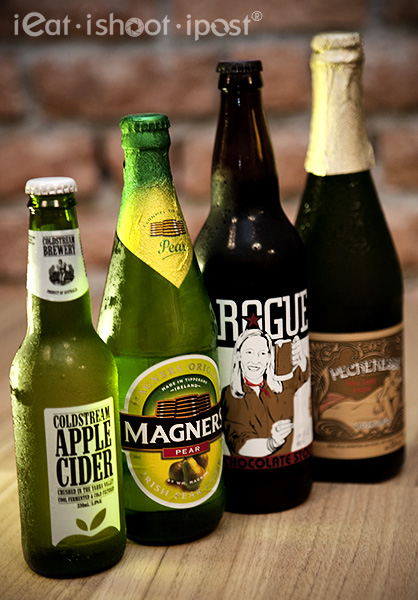 Just a few of their 200 plus beers
Sque claims to be neither of the above. It calls itself a Casual Dining Bistro. I guess in a sense, it is a small Bistro-ish restaurant and it is definitely casual. But how do you then factor in the 200 plus variety of beers that they serve? A place where you can get a beer and interesting food would then classify it as a Gastropub wouldn't it?
Semantics aside. I hope you get the rough picture of what Sque is all about. You come here, pick from a very interesting list of drinks which includes stuff like a low alcohol Peach Ale, a Shandy like drink that is suitable for ladies and real men like me who get red after one drink, Chocolate Stout and Apple/Pear Ciders and then get some nice and savoury gourmet grub to go with it.
If you are in the mood for slow food, then go for the escargots. Rather than giving you just snails cooked in garlic butter, they are fried with an assortment of mushrooms and served with garlic bread which I felt was a much better way of eating snails. Actually if you ask me, I rather enjoyed the mushrooms than the snails themselves but I guess they do add to the flavour of the dish as a whole. 4.25/5
Bone Marrow is in vogue at the moment and most of the time it's simply grilled with salt and pepper. Sque does it a little different. The marrow is first mixed with wild mushrooms, garlic and parsley then topped with a savoury buttered crumble. It's less rich than eating it neat but still something that can be quite jerlat (hearty, oily) which is a great excuse for something bubbly with a bit of tang like the Apple Cider. 4/5
And for those henpecked husbands whose dietary adventures are limited by the prospect of an interrogation when they get home, the Sque Salad is what you should order. This "Salad" has got cubes of chedder cheese and slabs of roasted Kurobuta pork belly on a tiny bed of baby spinach to justify its name. It's called a salad just because it is all served in a bowl. Put the pork belly one side and the salad on the other and you could well call this roasted pork belly. So after some Pork Belly and a few swigs of beer, you can confidently go home and tell your wife, "Honey, I had a nice and healthy Salad for dinner tonight…..Hic!" 4/5
For the other henpecked husbands whose wives are always complain that they are too scrawny and need to eat more meat to beef up their flat "pects" (Pectoral muscles, you know, man boobs), then I highly recommend the Beef Rib which is for me the best dish of the evening. The Ribs have spent 72 hours slowly cooking in a water bath and are fork tender layers of gelatin and meat waiting to melt on the palate. Spiced with cumin, smoked garlic and lemon zest, this dish has Emmanuel Stroobant's (He's the owner) influence of fusing local spices to western dishes. 4.5/5
The Belgian Chocolate Mousse is again a misnomer. It really should be called Masala Tea Mousse. Ok, maybe it does use Belgian Chocolate as one of the ingredients, but when you take your first mouthful, I bet you that the first thing to come to your mind is "Masala Tea". Whatever it may be, the Indians have known for a long time that the Masala mix of spices makes for great desserts and is a good way of aiding digestion. 4/5
Conclusion
So what would you call a place like SQUE? Casual Dining Bistro, Alehouse or Gastropub?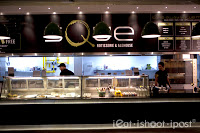 This was a media invited review