Congrats to Singapore Fried Hokkien Mee for being awarded the Bib Gourmand in 2023!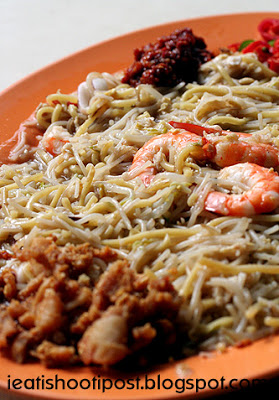 Did you know that you can't actually register a company name with the word Singapore anymore? I guess it makes sense since everything is already Singapore this and Singapore that. I reckon they should do the same with "Raffles". (or have they?)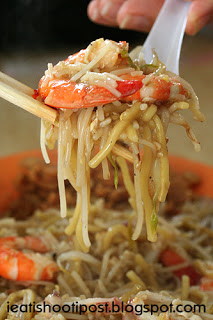 Anyway I think the name Singapore Fried Hokkien Mee is very apt since Hokkien Mee is very uniquely Singaporean. You can of course find it in other countries nowadays but they are never as good or as varied as the ones here. I have been on record (Sunday Times) to say that Hokkien Mee is grossly underated in Singapore and that it is my first hawker dish I would eat when I get back from overseas.
To be completely honest, my first spoonful of this Hokkien Mee was pretty unmemorable. BUT that was before I added the sambal chilli and a piece of the crispy pork lard. Boooom! Phwah Sayah! Shiok lah! For a guy who does not usually take chilli, that is a big complement. The sambal here is very tasty and not overly spicy. And the pork lard, oh the pork lard, one of the best I have ever tasted. Light and crispy and oh so pang (fragrant). Why, oh why, do you tempt me so! Oh heavenly pork lard? The combination of the noodles, chilli and pork lard really made my day! 4.5/5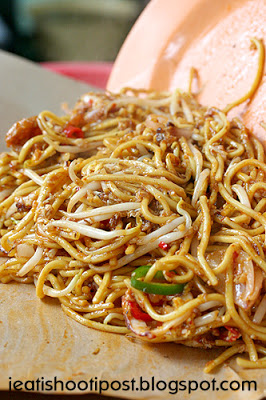 Lovers of Chinese Style Mee Goreng will be very happy to know that this stall also fries a pretty mean Mee Goreng. Actually if you think about it, the ingredients are almost identical except for the addition of Tomato Ketchup. So any HKM stall should be able to fry a Mee Goreng. The Mee Goreng was a bit dry that day but I felt it could be easily fixed. Tastewise is as good as the ones that I usually eat at seafood restaurants, but at a fraction of the price. 4/5 Please note that Mee Goreng is only available at off peak periods ie in the afternoons at around 4 to 6 pm as they get too busy frying HKM during the peak periods.
Conclusion
If you like to eat your HKM with sambal, this is your place to be. If you don't then maybe this is the place where that will all change!