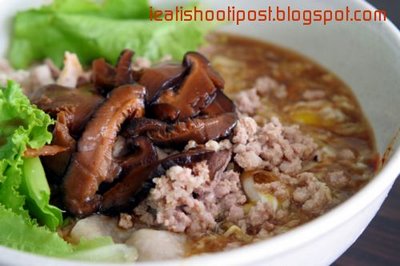 Special Bak Chor Mee with Egg
I am very excited today to report on the newly opened Seng Kee Bak Chor Mee, the second best Bak Chor Mee (BCM) stall in the WORLD! (The best one we still haven't found).
Now there has been much discussion about the difference between Mee Poh Tar and Bak Chor Mee and there will be people who would stick out their necks to define the 10 different subcategories of Mee Poh. The way I see it, Teochew Mee Poh Tar is a spectrum of different varieties. On the one end, you have Mee Poh Tar, which strictly speaking, is just Blanched Mee Poh tossed in Chilli and Oil whith some Fishballs and maybe Fish Cakes thrown in. Bak Chor Mee is right at the other end of the spectrum, where there is the same Mee Poh, but where fresh sliced pork, liver and minced pork is cooked to order and added to the noodles. In between, some would have fresh prawns, fried wantons etc etc.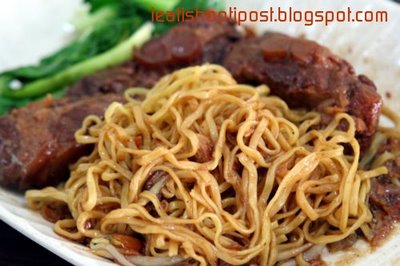 Let's start with the Pork Rib noodles. The noodles were QQ (Al Dente) and with a special secret black sauce which I really enjoy. The sambal chilli is also really shiok (more flavor then just plain hot). The Pork Ribs were stewed till the tendons have all become gelatinised and the soft bones nice and edible. 4.25/5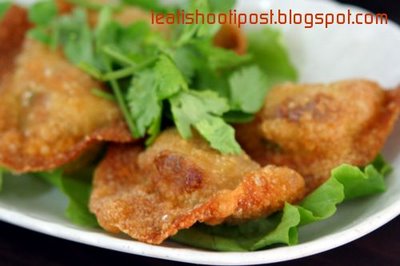 Next rave is the fried wanton (Keow). By far the best fried wanton I have eaten so far in Singapore. Crispy on the outside, a mixture of water chestnut, num zhor (fermented bean curd), mince pork, Ti Poh (Dried sole fish). I could just have a big basket of this and die a happy man.
4.5/5 (The world's best is the one I had in Bangkok but this one is just down the road from my house)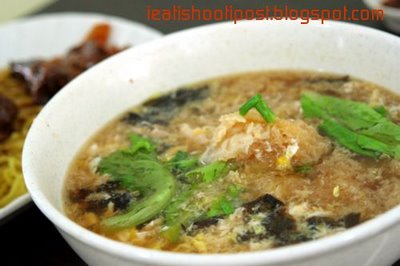 Phwaaa Say! I have never tasted a soup this good that goes with Bak Chor Mee. Now this is the real STAR of Seng Kee. Its got fish maw, mince, egg, pork slices, seaweed. Man this soup is damn shioaaaaakadelicious! 4.5/5 (You would be hard pressed to find Fish Maw soup as good as this outside of a high class Chinese Restaurant! Don't compare with Buddha jump over the wall lah! This one might get him meditating very hard)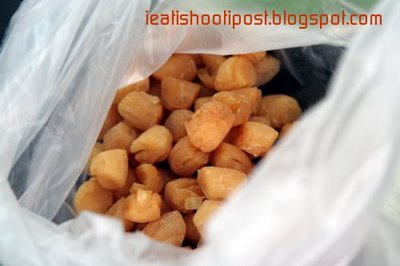 Specially selected dried scallop
You are looking at some of the secret to the soup base. Beside the specially imported dried scallops, there's Grade A fish maw (Threadfin no less), old mother hen, Ti Poh (Dried Sole fish) and other undisclosed ingredients.
Each bowl of soup is cooked on the spot. and all the pork and ingredients are added at the last minute. Mr Lee is a Teochew man who is passionate about his food. Everybody knows that Teochews are very Hao Lian (proud) when it comes to their food. He can be Hao Lian because he deserves to be. Its the details that matter and he makes sure that everything is done to perfection.
Seng Kee has been in business for over 20 years (where have I been?) and have just moved over to the new location for 2 months. Mr Lee's trade mark is the way he makes lots of clanging noises when he is cooking his Bak Chor Mee.
Conclusion
This is one Bak Chor Mee stall that you really must try. The real stars are the Fish Maw Soup and the Pork Ribs Noodles! Kudos to the makangurus at the makankaki forum.
4.5/5 I am a really happy Teochew Ah Hia today!