This stall has shifted
You all have heard about the famous Rex Curry Puffs right? You know of course, that there really isn't a stall called Rex Curry Puffs. Rex was actually the name of a cinema which in its heyday was a name that kids would scream with joy whenever daddy or mummy mentions it. Those were the days before DVDs, before VCDs and even before videotapes. So you only got to watch movies in cinemas when it was airing or you would have to wait for a year of two before it appeared on TV. So, going to cinemas, like going to a fast food restaurant, was a real treat. That was the golden age of movies (for me) where names like Rex, Odeon, Capitol, Lido and Cathay conjured up grand opera like cinemas and when the most popular cinema snack was the Kachang Putih presented in cones complete with a snippet of yesterday's news.
But it gets more confusing. (Moving back to the topic of curry puffs) There was not one but at least two curry puff stalls there. There was the Curry Puff served at Selera Restaurant, which was located at the junction of Selegie and Mckenzie roads and Old Chang Kee which was a little further away from the main road. So when people say "Rex Curry Puffs" which one are they actually referring to?
I did quite a bit of research on this on the internet as well as asked a few of my baby boomer friends and I must say that some of the details are quite muddled. But I think what I managed to piece together was that Selera was the one that had the longer queue and you would go to Old Chang Kee if you did not want to queue that long. No one could actually tell me if Old Chang Kee was known as Old Chang Kee back then. I mean, logically it should be called just "Chang Kee" right? Imagine opening a brand new stall and calling it "Old" something. Sort of like calling yourself "Lin Lau Peh" (Old Daddy) when you barely have hair in the underwear right? OK, here is where I would really like to hear from those who still remember the good old days, do let us know about what you remember about "Rex" Curry Puffs!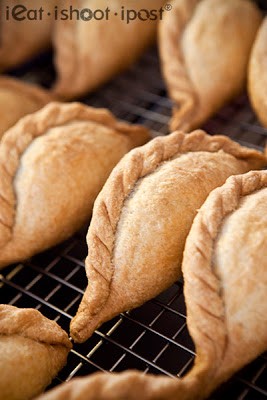 Speaking of Curry Puffs, the name really is a misnomer right? Just what is so puffy about a Curry Puff? A real Curry Puff is more like the Indian triangle shaped curry puffs where the pastry is actually puff pastry. The term "Curry Puff" can possibly be attributed to the founder of Polar Cafe, Mr Chan Hinky, who bought over an Indian man's curry puff recipe just before WWII.
Looking at the Polar Curry Puff today, you can understand why he would have called it "Curry Puff". Other styles of Curry Puffs like the Malay Epok Epok, is actually quite a different dish. The Epok Epok is said to have its roots in the Portugese empanada. It does seem like the Epok Epok was in existence even before the Curry Puff but has since also been called Curry Puffs or "currypup".
Then there is the Hainanese style Curry Puff which has a shortcrust pastry more like a cornish pastie and was probably invented by some Hainanese cookboy who married Chicken Curry which he learnt from his Nonya Mem with Cornish Pastie which he learnt from his Colonial Mem. (I haven't been able to find any history on the Chinese style Curry Puff, so if you know something, do share.)
What ever it is, I guess it is safe to say that "Curry Puff" in Singapore refers to any semi circular shaped pastry which has curry in it.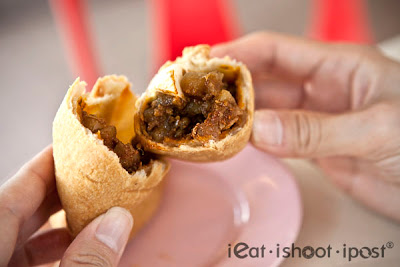 If you enjoy chilli padi, you will enjoy the Selera version of the Curry Puff. The rempah is robust and gutsy, designed to push palate receptors past their pain threshold and induce relaxation through the subsequent release of endorphins. Ok, in layman terms, it hurts so good and you will break a sweat and feel relaxed later on. But that is just me, for those whose palates have been trained to endure pain, this curry puff may not be spicy enough. I have a low pain threshold for spicy foods and I go for flavours rather than heat, so this one is not really for me. 4/5
Conclusion
The Curry Puffs here are famous and there are many fans who still swear that this is the best Curry Puff in Singapore. The high turnover means you always get it nice and hot with the flaky, buttery crust and the spicy, sweat inducing rempah inside.
So, do you recall Rex Cinema and the curry puff scene back then? Do let us know if I got the details right!