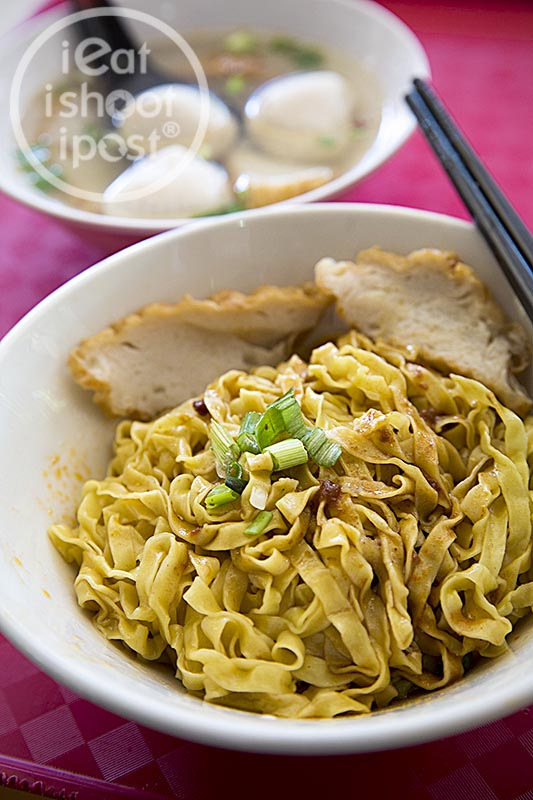 I get very excited when I come across a bowl of hawker food that is done with passion. I get even more excited when it is done by Gen Y hawkers AND doing it better than a lot of the more established stalls out there. It is conventional wisdom that our new generation hawkers can't be as good as the older ones. But I don't believe that it has to be so. With better ingredients, better technology and a more scientific approach to our hawker dishes, what is there to prevent a Gen Y hawker from making a better bowl of fishball noodles than their forebears? As far as I can see, the only thing that is holding them back is this very illogical Singaporean mentality of not wanting to pay a higher price for better quality hawker food while happily forking out the cash for the latest food fad.
Unless we can signal to Gen Y hawkers of our willingness to pay more for a better bowl of noodles, then there is no way that fishball noodles can evolve to the level of Ramen noodles. There is absolutely no reason why it shouldn't. After all, I have heard that the Japanese have visited Singapore to try and learn how we make our fish balls. Now, if we don't do it, soon they will be making a better bowl of fish ball noodles than us!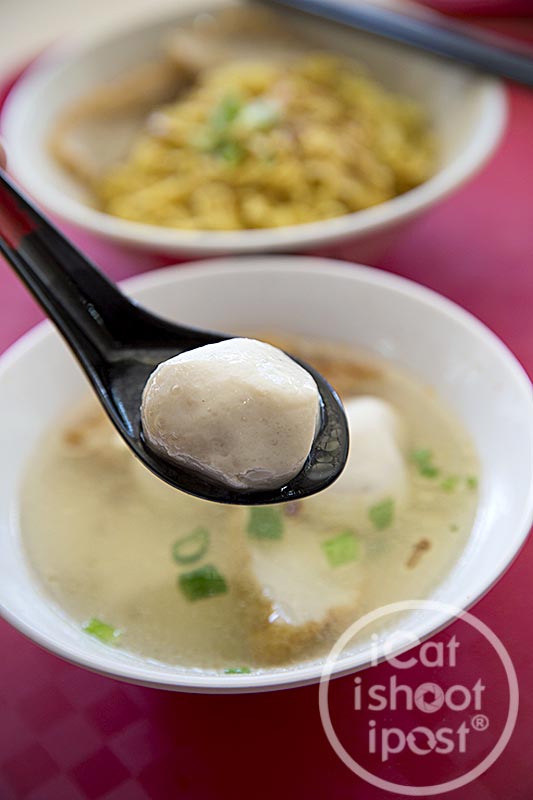 A few of our other hawker dishes like Prawn Mee and Bak Kut Teh have already paved the way of progress. These dishes have been able to break the typical $3 price ceiling of a hawker dish and their future is quite secure. Can fishball noodles do the same? Can it be elevated to a level where it can be exported overseas as a Singaporean dish much like how Sarawak Kolo Mee or Ipoh Hor Fun is now doing here? Or will fishball noodles continue to be regarded as a $3 dish with a uncertain future? What Gen Y hawker will be willing to continue to make their fishballs by hand unless there is prospects for them to own a Condo and a car and send their kids to pre-school?
My vision for the future of fishballs is a Ramen-ya concept where the noodles and fishballs are both made fresh on the premises. The technology to make excellent noodles in a small space is already available, thanks to the Japanese love for Ramen. I have attended Ramen classes at Eureka Cooking Labs and I can tell you that the machinery, the ingredients and the knowledge for making the perfect mee pok is already available in Singapore. What would it take for some enterprising hawkerpreneur to turn back the clock and resurrect the art of making of noodles with the same precision and passion of the Japanese? Won't you like to taste artisanal mee pok tar?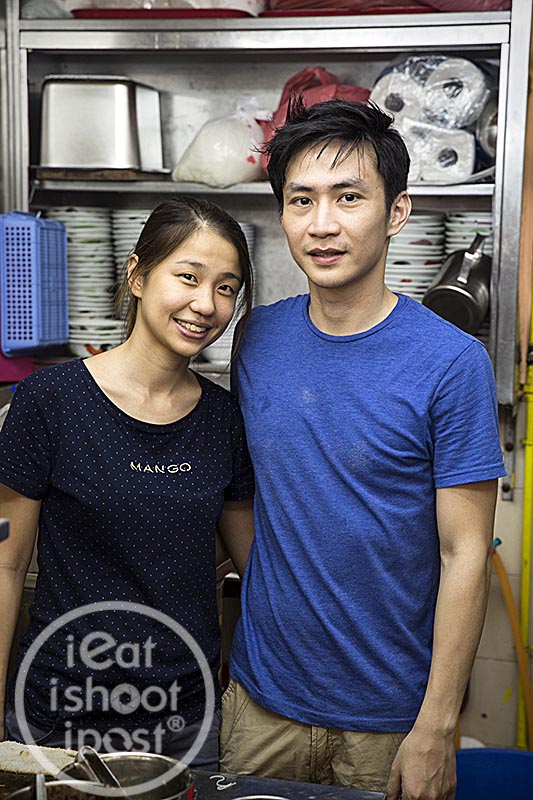 I am glad to have met Joanne and Daniel who share my vision. These two Gen Y graduates just happen to be fishball hawkerpreneurs. They wake up early to start making fish balls at Old Airport Road Food Centre at 4.30am in the morning! Over the next 3 hours, they will be beating the fish paste, hand molding the fish balls, as well as preparing the sambal chilli and the pork lard. By 7.30am, they are ready to present their bowl of mee pok tar!
This bowl of fishball noodles is easily one of the best I have eaten for quite a while. The fishballs and fishcake are excellent and have a quality about them that sets them apart from the rest. I was told that they use only pure fish meat without the addition of any flour in the preparation of the fish paste. The combination of the sambal chilli, vinegar and lard is just right. Not too spicy, not to sour but enough to bring out the taste of the noodles. The fishcakes are very very good. It's tender, bouncey and juicy with just the right amount of saltiness. 4.5/5
Is it perfect? By his own admission, no. Daniel feels that it can be better and more consistent. But that is going to require a central kitchen where he can better control every aspect of the fishball making process. He also feels that the noodles can be better but so far what he has is about the best that he can get from his supplier. He too feels that making his own noodles will be a big step towards that perfect bowl.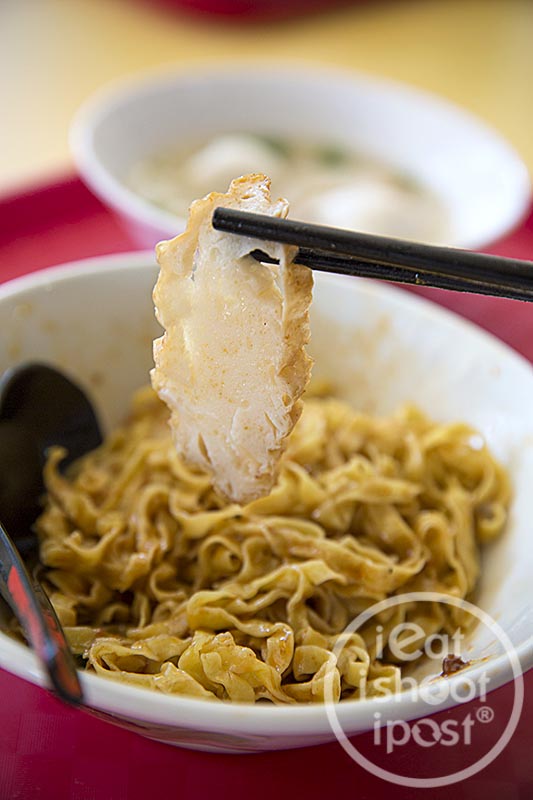 What this all means is that they cannot remain a single stall in a hawker centre. Indeed, they have already expanded to two stalls. One here at Old Airport Road and one in Redhill. The challenge is to be able to set up a central kitchen with several stalls across Singapore selling the noodles. That will be the only way to justify the cost of running a central kitchen. This seems to be the only way forward at the moment given the limiting factors of manpower and the perceived price ceiling of a bowl of fishball noodles. The challenge of having a few stalls run by workers will be the loss of that personal touch.
One possibility, and this is the one that I have been alluding to earlier in the article, is to open an artisanal fishball "Ramen-ya" like restaurant where each portion can be priced similar to that of a bowl of Ramen. This would mean that this couple can continue to prepare the dish themselves, everything from making the noodles and the fishballs to cooking and assembling the final dish. Of course, the higher price must be justified by easily perceivable quality and taste. I believe there will be a significant segment of Singaporeans who are discernible enough to support this, just as we have supported prawn mee and bak kut teh.
Conclusion
A very satisfying bowl of fishball noodles! With Gen Y hawkers like these, the future of fishball noodles is secure at least for another generation!
Postscript:
Joanna's father was the one who first started Ru Ji Kitchen (Blk 44 Holland Drive) over 10 years ago having learnt the skill from his brother who sells fishball noodles at Ghim Moh Food Centre. His passion for his fishballs was soon recognized and he was invited to represent Singapore overseas during Singapore Day celebrations. Joanna and Daniel started off by helping her dad with fried bee hoon in the stall next door before deciding to focus on fishballs.