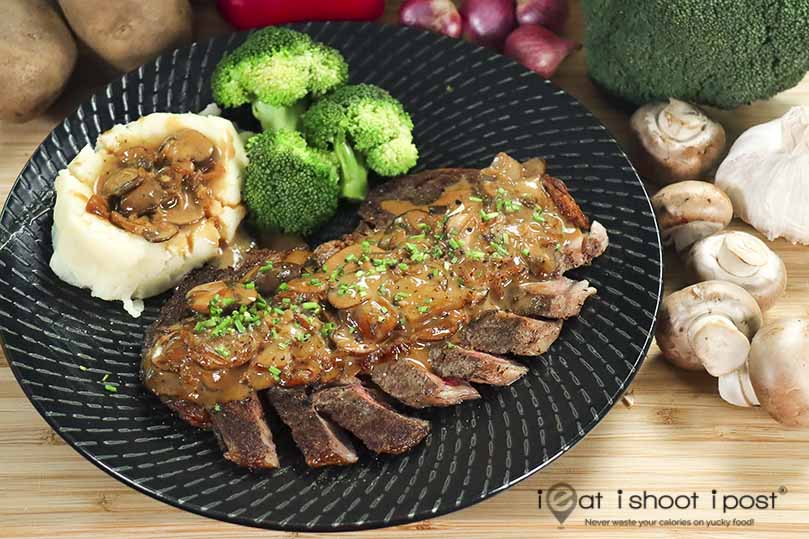 A nicely charred ribeye steak with a luscious mushroom sauce is a gourmet dish that you can easily make at home with a few simple ingredients delivered to your doorstep with several taps on your keyboard! It doesn't take a lot of time to do and would be infinitely better than a steak that you order for home delivery!
All necessary ingredients were sourced from RedMart. Click on the ingredient to add to your cart.
Ingredients
RedMart label – Angus Ribeye Steak x 2
RedMart label – Pure Olive Oil 1 Tbsp
President Butter 1 Tbsp
Salt and black pepper
Mushroom Sauce
Redmart label – Gourmet Swiss Brown Mushrooms 1 punnet (200g)
Shallots 4 or one small onion
Garlic 2 cloves
Knorr Beef Cube 1/2 cube
Bulla Light Thickened Cooking Cream 1/2 bottle
Cheong Chan Thick Caramel Sauce 2 tsp
De Nigril Balsamic vinegar with grape must 1 tsp
Sides
RedMart label – Russet Potatoes
RedMart label – Australian Broccoli
Method
1. Pat the steaks dry and sprinkle with salt and black pepper on both sides.
2. Heat pan and add butter and oil
3. Pan fry ribeye steaks 1 min on each side for medium rare. 1.5 mins for medium
4. Remove steaks and tent with aluminium foil and allow the steaks to rest.
5. Add chopped shallots and garlic to pan and fry till fragrant
6. Dissolve 1/2 cube of beef stock in 1/4 cup water and add to the pan
7. Add thickened cream to pan and bring to a simmer
8. Add caramel sauce and balsamic vinegar and adjust to taste
Serving suggestion
This mushroom sauce goes really well with mashed potatoes! To make mash potatoes, peel russet potatoes and boil till they are soft. Then add butter, salt and white pepper and mash!
Hope your ribeye steak with mushroom sauce works out for you! Happy cooking!

Check out other recipes using ingredients available on RedMart:
Tea-smoked Salmon recipe
Crispy Chicken with Colonial Curry Sauce
Sweet and Sour Pork Recipe
Mapo Tofu Recipe
Also read about: RedMart supplier stories
Red Dot Farm – high tech veggie farm
BluCurrent – smart fish farm
Seng Choon Farm – egg farm
Disclosure: this post was done in partnership with Redmart
Disclosure: Some links above are affiliate links, meaning, at no additional cost to you, we will earn a small commission if you click through and make a purchase.