23 Jul 2020: This restaurant is now located at 474 Tampines St 43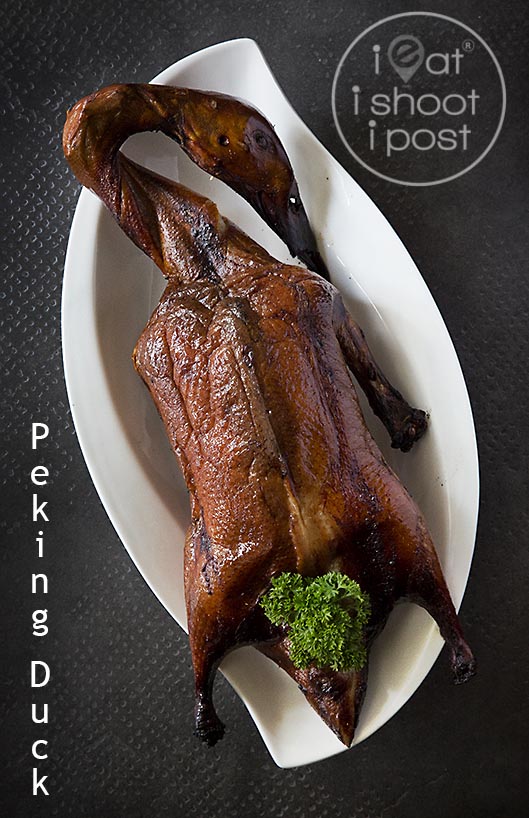 It's one thing to know how to cook and another thing to be committed to the art of cooking. Some people might know all the steps needed to make a dish properly but would take short cuts for the sake of practicality. I am one of them. Yes, I do know how to make dashi properly, but it just takes too much effort to procure Katsuobushi blocks and shave them by hand. Even if I did buy the ready shaved Katsuobushi, I am still pressed for time to properly extract the umami from the Konbu. So, oftentimes I end up using dashi powder instead. Things might be different if I weren't running a clinic full time and had the whole day to cook a meal!
I always imagined that in the good old days when the pace of life was slower and all that little nonyas do were to stay in the kitchen and cook, then the tables would be reversed. Instead of taking short cuts, one would have to come up with recipes which are complicated and involve many steps. After all, what was one to do with the rest of the waking hours if all the cooking was done in an hour? So they had to come up with a recipe like Kaya for example, where eggs, coconut milk and sugar had to be constantly stirred over a double boiler for 8 hours to reach that caramelized, velvety consistency. It's something which very few people would do nowadays.
But there are passionate chefs out there who really do know how to cook and who insist on doing things the right and proper way. Chef Tan Yong Hua of Restaurant Home is one of them. You may or may not have heard that there was a Singapore Chef who recently defeated Ironchef Chinese in the Thai IronChef series. Well, Chef Tan – He the man! It is no mean feat to be able to defeat an Ironchef and we should all be proud of our very own home grown talent.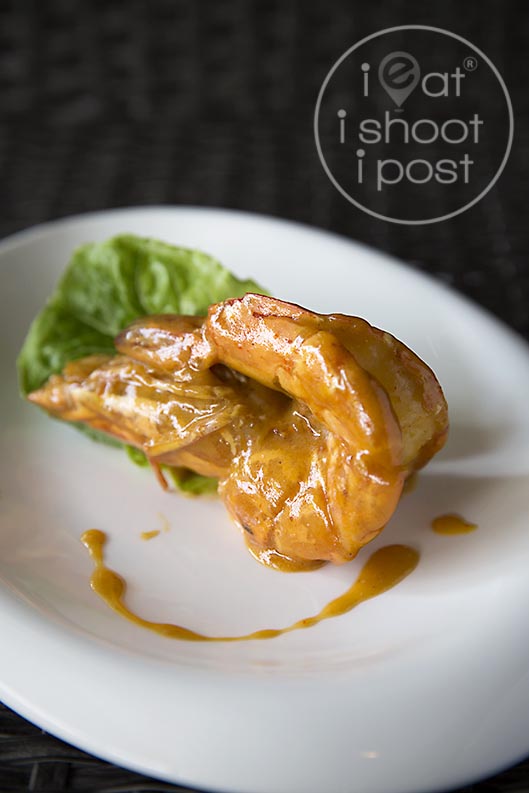 Now, since Chef Tan managed to beat Iron Chef Thai-Chinese, the obvious thing that one would want to do is to taste the IronChef beating dishes, right? To me, this is the most obvious thing to do. So I was very surprised that there wasn't a special section on the front page of their Menu with the heading "Ironchef Dishes"!
After a bit of enquiry, we did manage to order one of the dishes — the lemon prawns. Now, you probably wouldn't give a hoot about lemon prawns usually. This is the kind of dish which you would expect to find lying in the Bain Marie at some catered buffet meals where prawns or some other deep fried protein is slathered with a generic lemon sauce, probably reconstituted from a packet mix. But this lemon sauce was unlike anything that I have tasted before. Chef tells me that the sauce is a melange of flavours which include chilli oil. It was far from being the one dimensional sweet and sour sauce with dishwashing liquid lemon scent. The flavour was complex and balanced with a subtle lemon aroma which you detect at the end of the palate. It was indeed cuisine worthy of an Ironchef! 4.5/5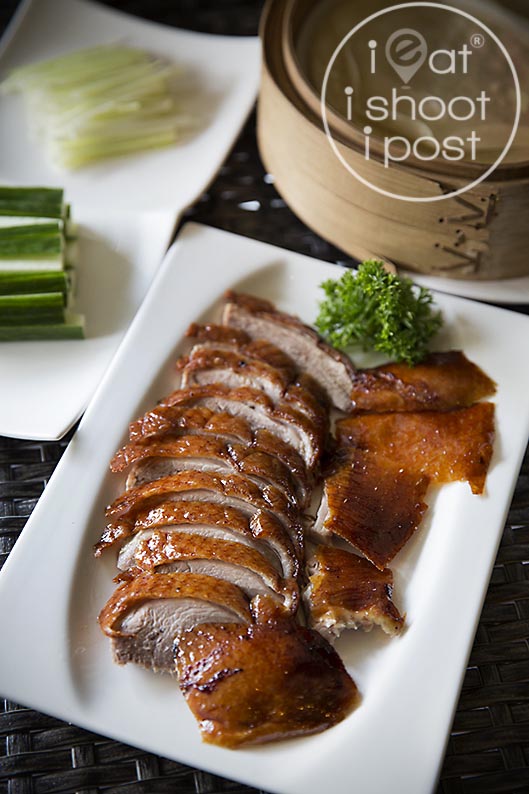 The restaurant's lychee wood fired oven is the pride and joy of Chef Tan. Of late there has been many Peking Duck specialty restaurants in Singapore and wood fired ovens are no longer the novelty that they were in the past. But I will say that unlike the other restaurants, Chef Tan is probably the only Chef owner of a wood fired Peking Duck roasting oven!
Chef told me that his recipe is quite unique as it is one which he managed to coax out of a famous Peking Duck chef after a few drinks during a visit to Beijing. The skin is crisp and the duck is tender but what really won it for me was the sauce which had a unique flavour that I have not come across before. Chef tells me that the secret in the sauce lies in a secret blend of four Chinese herbs which are steeped in water and steamed for 8 hours to fully extract their flavours. The water is then used to make the BBQ dipping sauce. I spent most of the time trying to figure out what gave the sauce such a pleasing flavour and that is the sign of a really good dish! 4.5/5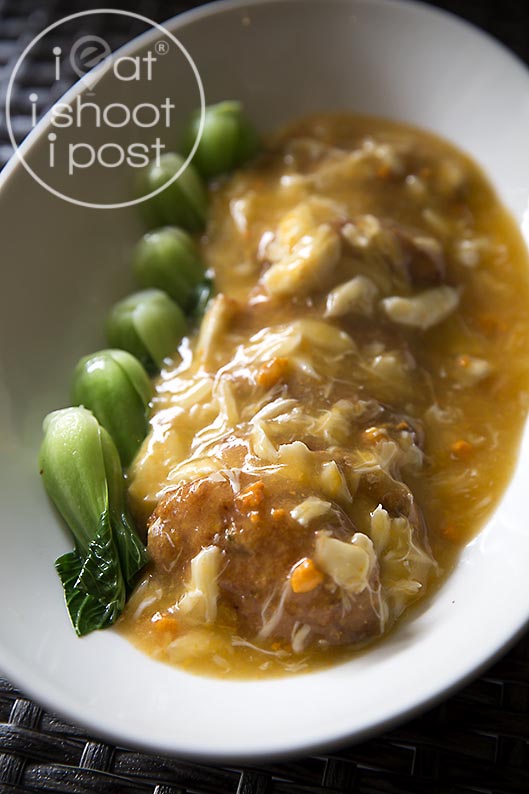 Just like the lemon prawns, the Pipa tofu caught me totally by surprise. Yes, you are probably wondering what all the fuss is over this very common Cze Char dish. For me, the first bite of the tofu was a moment of epiphany when I suddenly realized what Pipa tofu is supposed to taste like. The inside of the tofu was airy and light with the structure almost like a crumbly sea sponge. The deep fried skin has a wonderful savoury nutty aroma which was amazing. Chef tells me that he makes his own soy milk at the restaurant from quality soy beans. He then makes the tofu by mixing the soy milk with egg and steaming it to firm it up. Then he mixes the tofu with prawn paste before molding it with a soup spoon and deep frying it. It was an unexpected delight! 4.6/5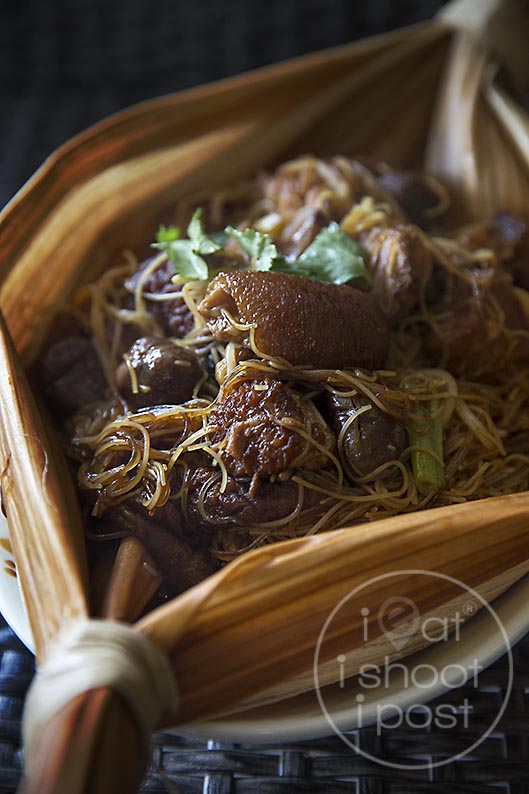 Chef Tan tells me that he goes the extra mile in order to make sure that each dish is distinctive to Restaurant Home. This can only be done if one goes right down to the basics and make their sauces, and stocks from raw ingredients. His braised pork trotters are no different. The holy grail of pork trotters for me is that elusive "Maling Kong Bak" flavour in the meat. A nostalgic flavour which I grew up with. Yes, you can easily get it by opening a can of Maling Kong Bak but to be able to find that distinct flavour in a freshly made braised pork is not easy. The only other place where I have ever tasted it was at the old Oasis Taiwan Porridge restaurant when it was still at Kallang. Sadly, that elusive flavour is missing from their braised pork after they moved to Toa Payoh.
So imagine my joy when I detected it again in Chef's pork trotter bee hoon! The pork trotters have been braised for a good 5 hours to reduce all that collagen into gelatin which gives the sauce that wonderful lip smacking stickiness. And unlike the canned Maling Kong Bak, the meat is tender and unctuous. My only grouse is that the bee hoon could have had more tensile strength and bite instead of easily breaking into shorter pieces. Still, it is a dish which I would order again when I next visit. 4.25/5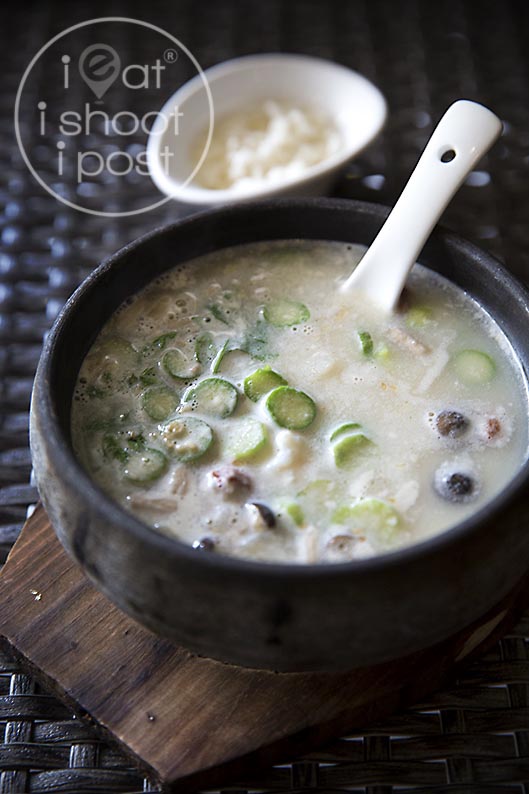 Chef spent his childhood growing up in a kampung and was exposed to communal cooking at a young age. As such some of his dishes like the Ter Kah Bee Hoon are a homage to his kampung days, as is the rice porridge. This is the kind of overnight dish which mom used to make by throwing all the odds and ends into a soup and then pouring it over a bowl of rice to make a one dish meal. Chef has elevated this simple hearty dish to the restaurant level by using fresh seafood and a very robust superior broth. This is the kind of dish that will really satisfy when you are down with a cold and need to clear the sinuses and warm the tummy. 4.25/5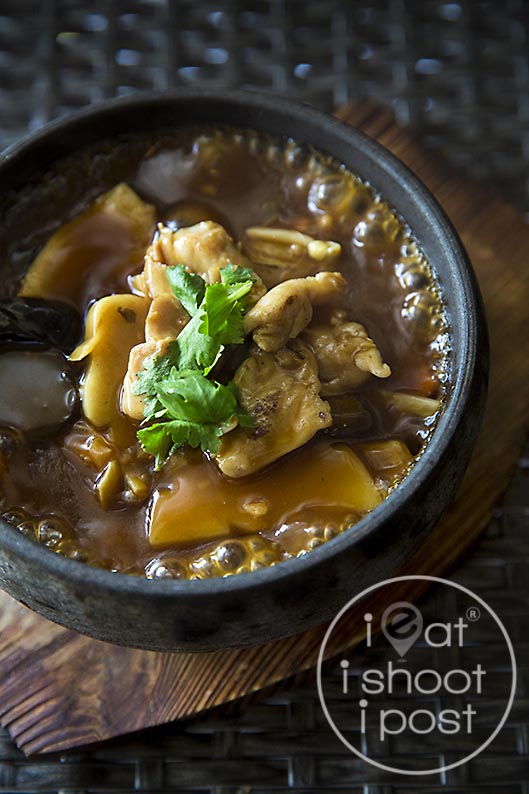 A quick word about about the rice here. This staple is often overlooked and most restaurants will simply cook their rice in the rice cooker. But here, Chef uses only the best grade Thai Hom Mali (Jasmine) rice and cooks it in the steamer to produce a rice which is extra light and fluffy. You would want a big bowl of this rice when you eat dishes like the braised chicken in hot stone. I like this dish because the sauce, like everything else in the restaurant has got its own distinct deliciousness. I just felt that it could be priced cheaper because when you compare this with the pig trotter, it just seems a little overpriced. 4/5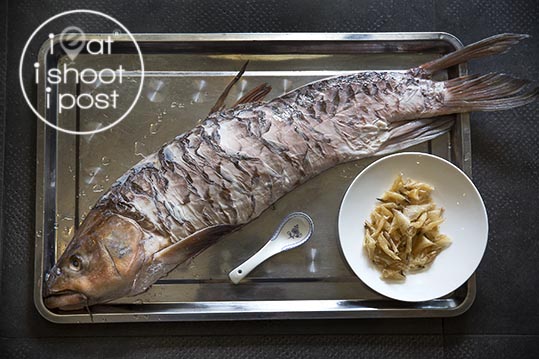 I have written about Empurau (忘不了/Mahseer / Ikan Kelah) before at Zai Shun. This very well sought after, legendary "King" of the Malaysian river fish can go for as much as $800/kg at some places. Although I managed to try it at Zai Shun, their specimens are all less than 3kg. For the ultimate experience, the Empurau needs to be at least above 5kg. The flesh then becomes really milky and sweet with omega 3 fatty acids. Chef only buys the large Empurau and uses it to make a few dishes. I am trying to see if we can organize a makan session and get him to bring in a 9kg Empurau for everyone to share! Would you like to come?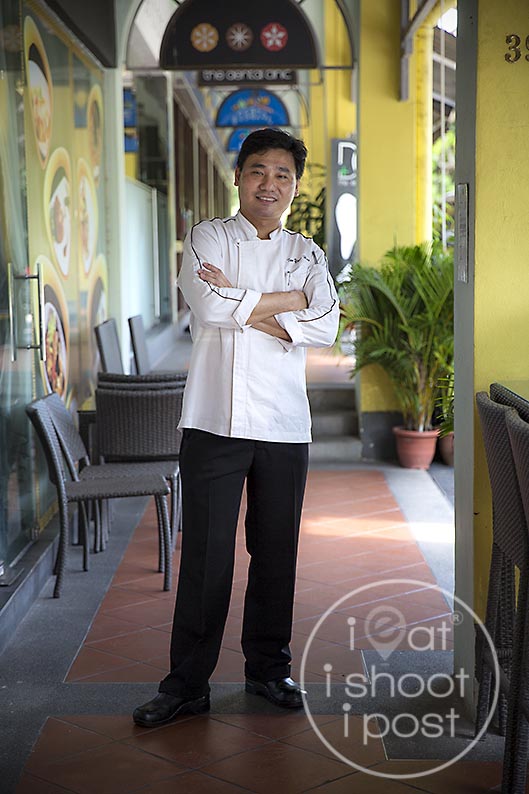 Venturing into Baos
Since circuit breaker, Chef Tan has started making soft and fluffy baos, the type you'd drive into Johor and wait an hour for.  They are now available for pre-order by calling 6465 1698.

Conclusion
It has been a while since an eatery made it into my "Really Must Try" list. I think that Restaurant Home really deserves it. The food has got character and is made will lots of passion. The setting is comfortable and homely and its easy to find parking. Chef's defeat of Ironchef Chinese is well deserved and is something that should make all Singaporeans proud!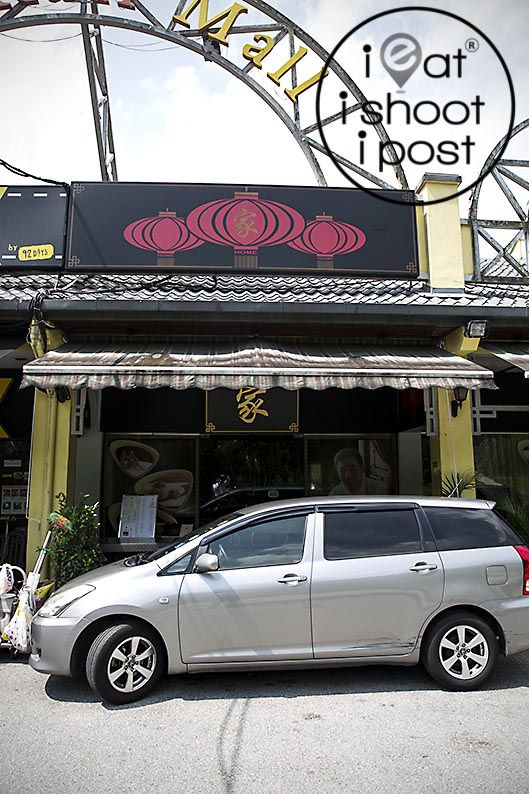 Post Revisions:
This restaurant has relocated twice since it was originally published
Address updated 23 July 2020