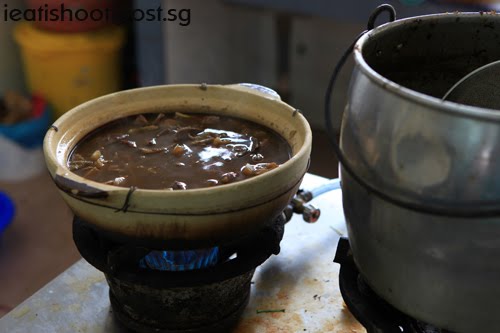 Claypot of Beef Stew
Malaysian Food really Boleh.
When it comes to beef, there are just some dishes that Singapore can never match up to Malaysia. One is the Chinese Style beef stew and the other is the Ramly Burger. These dishes really rely on the Malaysian Cow which are the ones you see eating grass along the side of the road when you are driving along the country roads. These cattle have a different taste from the Australian and American beef that we get in Singapore. Sure, these "Ang Moh" beef might be good for steaks, but when you want something with that rustic taste, your cow just has to be the one that has been chewing grass under the tropical sun!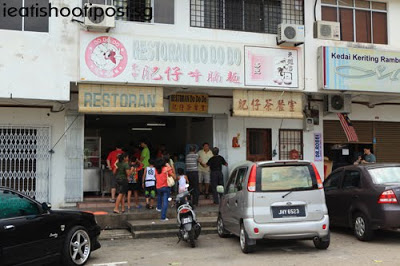 We were on our way back to Muar from Gunong Ledang (Mt Ophir) recently when Cactuskit, whose sonar must have been fine tuned to the vibes of the stewing beef, just turned off the main road and landed us in front of this very authentic looking stall the middle of nowhere.
We had just spent most of the day playing at Mt Ophir waterfalls and it was 3pm on a sleepy Sunday afternoon. Everyone was pretty hungry because we did not pack lunch that day having had a pretty late breakfast. So finding a busy restaurant in Tongkok (yep middle of nowhere) was like finding a nice cold can of coke in the dessert.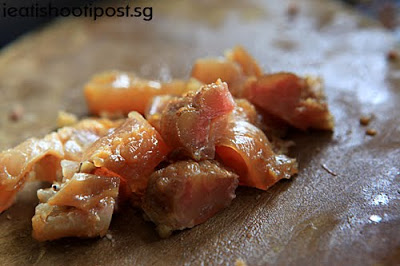 Anyway, both Cactuskit and I knew we had stumbled upon something special when we started talking to the boss. This man is the kind of man who would have been a Gordon Ramsey if he had been born in the UK. This guy had so much self confidence that Anthony Robbins have to be washing toilets if he could spread his self confidence around.
"You cannot get a pot of stew like this in Singapore!" he said, "Because you all don't have Malaysian cow". Then he went on a round of self proclamation that would make Kim Jung Il look like a nominated MP.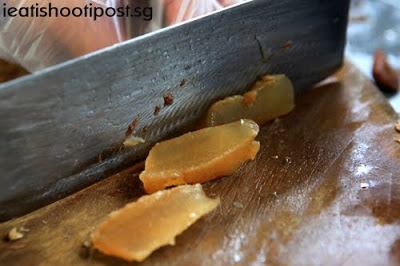 Cattle Calves (A part of the cow which they don't import)
But, hey the guy has got the goods to prove it. He picked up a piece of gristle that looked like a bar of soap and proudly proclaim that this was the part near the hooves and said categorically that you will not be able to get in Singapore. I frankly can't work out the anatomy, but it looked like a very thick piece of tendon. And yes, you don't see this sort of stuff here.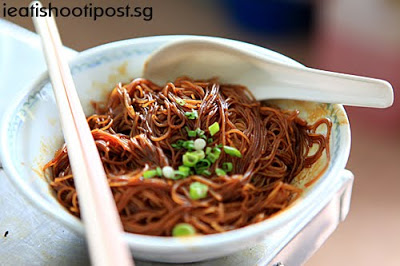 Anyway when the soup came, everyone agreed that this was indeed a very special pot of stew and that the stall will be entered into the GPS as a Must Visit place whenever we are around the Muar/Malacca vicinity. 4.5/5
Conclusion
Can you imagine how many hidden gems like these are just waiting to be discovered within a few hours drive from Singapore? I am planning build up a list of places to go in Johor and indeed Malaysia. So do write in if you can help contribute to the Malaysia Boleh Makan List!