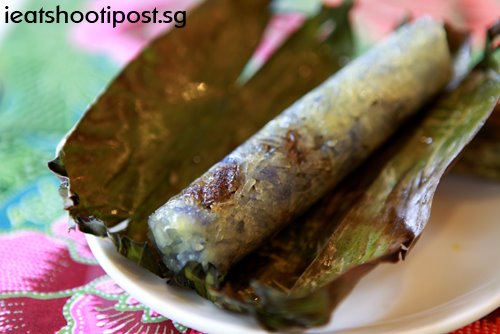 I met Melvyn the videographer recently while filming for Planet Food. As we talked, we thought it would be fun to make some Video Blogs (Vlog) on Singapore Food. Since Nonya food is still very much the rage at the moment, we decided to start with the one dish that I have been curious about ever since watching "The Little Nonya". It's none other than the Rempah Udang. In this Vlog, Bibik Kathryn from Peramakan restaurant will show us how to make Rempah Udang .
Bibik Kathryn grew up in a traditional Nonya family where, very much like the Little Nonya, she was trained to cook since a very young age. She is very meticulous about only using the best ingredients and cooking the traditional way. You only have to taste her food at Peramakan to know how much passion goes into cooking her dishes. Her Beef Rendang is still slow cooked over a charcoal fire and so far is the most tender Beef Rendang I have ever tasted.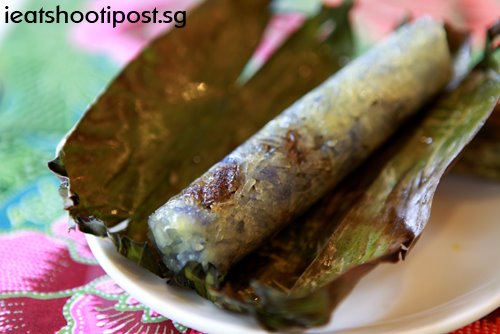 Rempah Udang
One of the things that used to baffle me when I watched Little Nonya was the fact that they kept saying that Rempah Udang was a dessert. I have eaten many similar snacks which consist of glutinous rice with shrimp filling wrapped in banana leaves before, but I have never considered them to be desserts. So it was quite interesting when Rempah Udang turned out to be sweet! Kathryn explained that the savoury version of the dish is actually known as Pulut Panggang and should not be confused with Rempah Udang. Ah, now at last I know just what Zhor Zhor (Great Grandma in the Little Nonya) was talking about.
Here are the ingredients if you want to make it at home.
Rempah Udang Recipe
Ingredients
Rice
Glutinous rice 500g
Bunga Telang juice 1/2 cup
Santan 150ml
Salt 1 teaspoon
Soak rice overnight and steam with the rest of the ingredients.
Spice Paste
Lemongrass 40g
Young tumeric 30g
Red chillies (deseeded) 60g
Red chilli padi 6
Shallots 70g
Pounded together and fried till fragrant
Filling
Fresh prawns 200g
Dried prawns 100g
Freshly grated coconut 50g
ikan bilis powder 2 teaspoons
Fry together with spice paste
Others
Santan 200ml
Oil for frying
Banana leaves 15cm x 15cm 15 pieces. Blanched in hot water.
This next clip is my attempt at rolling it.
Many thanks to Bibik Kathryn from Peramakan for sharing her recipe with us. Here are the contact details should you wish to order some Rempah Udang from Peramakan.
Link to my last post on Peramakan
Disclosure: Some links above are affiliate links, meaning, at no additional cost to you, we will earn a small commission if you click through and make a purchase.