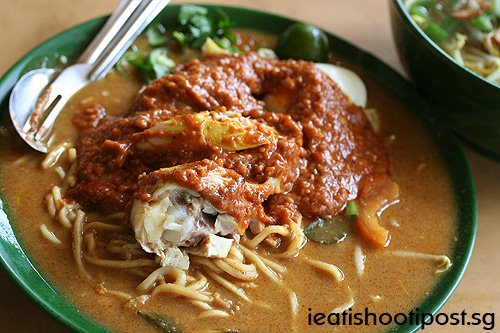 With smart
There is something about the way how our Malay friends use the English language that is very unique. In particular there are several English words that somehow resonate with the Malay culture. I am talking about words such as "Power" and "Relac"(Relax). Somehow, they managed to take very ordinary words and turn them into superlatives with a cool edge to it.
On the other hand, we Chinese use Malay words to express our superlatives. So we adopt Malay words such as "Shiok" and "Lawar" to convey extremes in expression. Somehow, Malay seems to be a language that is quite capable in conveying "coolness" much better than say, my own dialect, Teochew. The expression "Jing Hor Jia" (very nice to eat) just does doesn't sound as delicious as "Shiok Man!" or "Power!". There are of course ways of emphasizing superlatives in Teochew, but they involve invoking one's parent's, so it should not be encouraged.
Anyway, this Mee Rebus is called "Power" Mee Rebus. I am reminded that our SuperSatayMan also calls his satay, "Power" satay. Evey wonder how a certain dish can have "Power"? Power to do what? Power to boost the excitement levels perhaps? Or some sort of mysterious Power that will mesmerize you into a subtle addiction? Or maybe it just refers to the fact that this particular Mee Rebus has got a whole chicken thigh in it and a whole ladle full of Satay Sauce sitting on top of the chicken and noodles? How to describe such a dish? Perhaps the word that comes to mind is — Power!
This is one Mee Rebus to behold. The peanut sauce really gives the Mee Rebus sauce a big boost in ooomph and the chicken also makes it a real treat. Not bad for a $3 plate of mee rebus! 4.25/5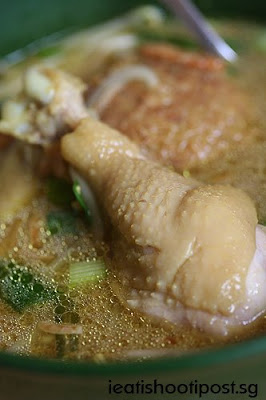 If the Mee Rebus is Power! Then I am sad to report the Soto Ayam is lack of Power. Good bowl of soup but lack that extra something to make it stand out from the crowd. 3.5/5
Conclusion
Mee Rebus with chicken and Satay Sauce. Doesn't something inside you just want to shout out "Power!" as well?