Advertorial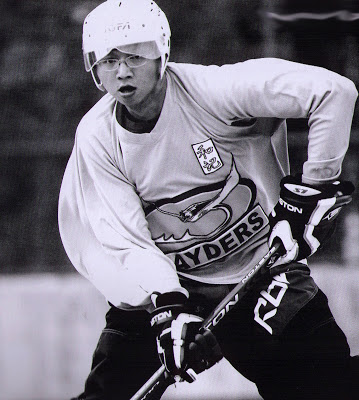 Khu Soon Hin, Rojak Man by night, ice hockey coach by day
So what does a photo of an ice hockey player have anything to do with food?
Well, like Clarke Kent, when this National Ice Hockey player isn't in his "Superman" suit, he lives his life incognito as your friendly neighbourhood Rojak man. I guess when you are buying his rojak, little would you imagine that the wooden spoon that he is holding in his hand can suddenly become a lethal weapon that can hurl a piece of You Char Kway across the air onto an unsuspecting patrons plate.

Khu Soon Hin is just your average everyday Singaporean with passion for a sport that he promotes and shares with a team of youths from his neighbourhood. He is one of 57 individuals and organizations who have been honoured at the inaugural POSB Everyday Champions award ceremony. The purpose of the award is to acknowledge individuals and organizations who have made that extra effort to motivate and inspire others to connect and grow through sports.
Soon Hin told me that he used to live near Rex Cinema as a kid and there used to be an ice skating rink there. He would get in the rink to play catching with his friends. After a while the interest grew and he started playing ice hockey. At night, he helps to run a rojak and cuttlefish kangkong stall at the Pasir Panjang Food Centre. He says that they are one of the very few stalls which sells a special toasted and pounded cuttlefish which his parents has been selling for 30 years.
He was quite modest about the hawker stall which he helps run. They are proud of their food of course, and they have managed to get some accolades from the usual sources. But by his own admission, when he is selling rojak, he is just like any other hawker there in the food centre, working hard to make a living.
However, it is his passion for ice hockey and the fact that he now has a group of youth all looking up to him that has become his life's modus operandi. His life is testimony to how sports can turn ordinary people into people of influence who can inspire others towards excellence. It is not just about the sports of course, but about life and living it to the fullest.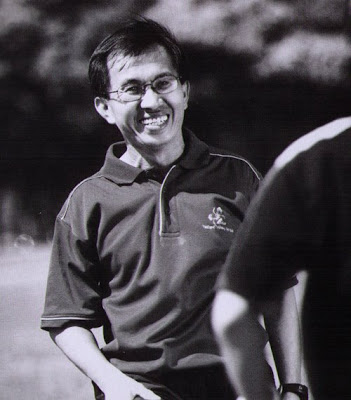 Joel Tay, Coach of Cedar Girls Athletics Team
This is the first year that the POSB Everyday Champions Award is being held and it received a record number of almost 3,400 nominations. Of these, the judges have chosen 57 to receive the awards. These people come from all walks of life. Some are individuals like Soon Hin while others are coaches or organizations. During the event, I bumped into Joel Tay, whose family just happen to be patients of mine. Joel is an athletics coach at Cedar Girls School. A lot of parents tend to favour studies over sports and so they might not be supportive of their daughter's sporting aspirations. Joel often steps in to encourage the parents to allow their daughter to develop to their full potential. As a result of his dedication, one of his girls, Clara Poon managed to set a new National 'C' Girls 400m record at the National Track & Field Championships.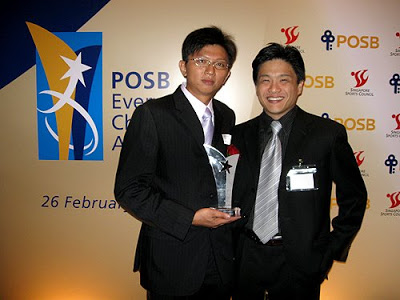 Ice Hockey Rojak Man Khu Soon Hin and myself at the event
These awards are important as part of Singapore's effort to promote sports and a healthy lifestyle. It is so significant that our President Nathan himself was present to lend his support and endorsement. We were told by Dr Vivian Balakrishnan, Minister of Community Development, Youth and Sports in his speech that the President himself does a daily 4km walk in order to keep fit. (Perhaps that is about the length of the perimeter around the Istana grounds?).
So anyway, the awards are not over yet. From now till 15 Mar 2009, you can log onto the official website to vote for your favourite Everyday Champion. The top three POSB Everyday Champions stand to win some cash and by voting, you too stand to win $1000.
You can find out more about who these people are and vote for them by clicking here:
In case you want to try Soon Hin's stall, the address is:


Our kakis had a makan session there, the photos are here.

POSB Everyday Champion website is here