With Amagada, ieatjr and ieatprincess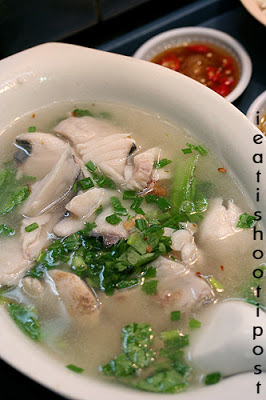 Sliced Fish Soup $5-$7
With the increased emphasis on a healthier lifestyle, I am making a conscious effort to eat more vegetables and trying to substitute meat with fish instead. That does not mean that I am giving up on lard and beef burgers. But as with all things, moderation is the key. So even though you see a post on something really really unhealthy, you must remember that constitutes maybe 4 meals out of a possible 21 meals a week. That underscores what I mean when I say that one should "Never waste your calories on yukky food". Enjoy your food when it is really good and store up your calorie quota at other times.
Smart has been chastising me about not including this fish soup in my series on Amoy St Food Centre. He prefers this porridge (piao ji) over Han Kee. And since Amagada loves fish soup, I found myself at Amoy St Food Centre one Sunday for lunch after Church. I thought that being a weekend, I would not have to contend with the office crowd.
Boy was I wrong. There was a queue of like 20 people and the queue was moving very slowly. What to do? Die die must try, so Kwai Kwai must queue.
Forty minutes later we finally got our fish soup.
Well, the soup was not quite up to our very high expectations, but the fish was very fresh and moist. The fact that each bowl was cooked individually means that the old man made sure that the fish was not overcooked but maintained its juices. Good but not nearly as good as I expected it to be. My vote still goes to Han Kee. 4.25/5
Conclusion
Would not mind eating it if it wasn't for the long queue and the fact that the smallest serving was $5. So which one is better in your books? Han Kee or Piao Ji?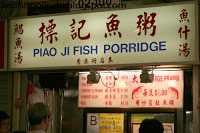 Read my other porridge reviews here.