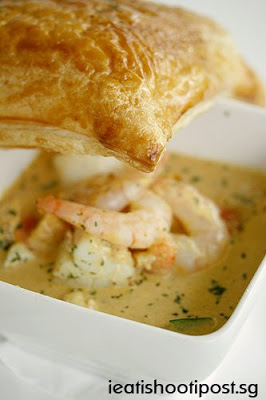 This restaurant is closed
With Big MOG, ieatfamily and friends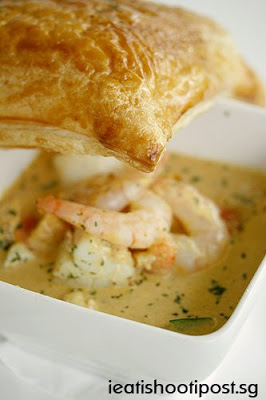 Fisherman's Pie $26++
I think I finally figured out how to make fusion work.
You see, the problem with local fusion is that when stuff tastes too much like the local dish, most people would wonder why they would want to pay so much for something they can get at a hawker centre for a fraction of the price. So the simple solution to the problem is to ensure that what you are serving is 80% Ang Moh and 20% local and not the other way around.
So take for instance Persimmon's Fisherman's Pie. It is more like a Fisherman's Pie than it is like laksa and it worked very well for me. I have a thing for puff pastry with creamy seafood sauce — just love the way the puff pastry soaks up all that yummy creamy sauce oohah.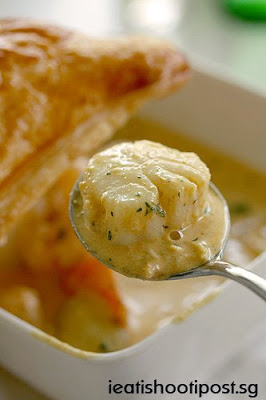 Persimmon's version of the Fisherman's pie marries the classic recipe with a hint of laksa taste but without the coconut cream or the spiciness. It was chock full of fresh seafood and not too jialek. It's akin somewhat to Japanese style curry where you get all that umami flavour of the spices but without the heat of an Indian curry. So when you eat Japanese curry, it is distinctly Japanese but with a Indian influence. Similarly, the Fisherman's pie is still distinctly Irish but with a Singaporean influence which is what I think made this dish work. 4.25/5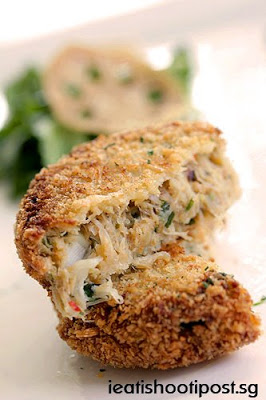 White Pepper Crab Cakes $16++ (2 pieces)
Crab cakes are another of my all time favourite starters. For one thing, it takes away all the effort of having to peel the crab meat yourself. (Some little old lady at the back of the restaurant has already peeled it for you and hopefully she isn't breaking her dentures doing it) This version is supposed to be reminiscent of our famous white pepper crab dish. It was tasty but I felt it needed some sort of creamy sauce to go with it. It would also have been better if it were slighty thicker so that it keeps the moisture in better. 4/5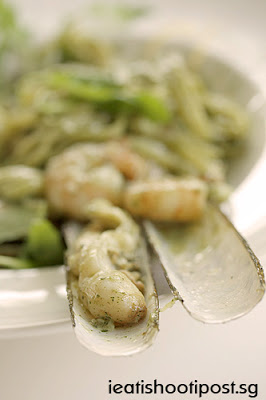 Linguini laksa-leaf pesto $26++
Laska Pesto seems to be the in thing for many restaurants recently. The laksa leaf has such a wonderfully distinct taste that one can't help but think of laksa when you taste it. So even though the pasta dish is only made from olive oil and laksa leaves sans the spices and coconut milk, you still can't help thinking about Laksa. As I have said earlier, I think this version works better because it is still closer to the Ang Moh end of the spectrum than the Singapore end. So you are still eating a Pesto Pasta but with a laksa twist. 4/5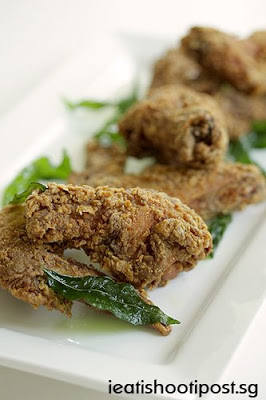 According to Sharon, the Curried Chicken Wings were an inspiration from childhood when mom used to deep fry the leftover overnight curry chicken wings. So we are talking about Chicken Wings which have already been thoroughly infused with that wonderful nonya curry flavour before deep frying. The taste was really good but the problem I felt was that the flesh was not as moist as a freshly fried chicken wing. 3.75/5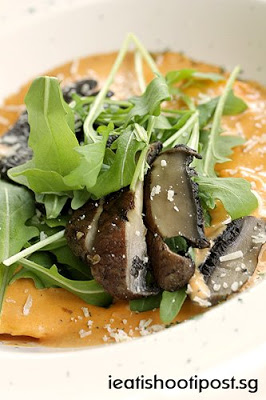 Mushroom ravioli $22
Being an unabashed carnivore with an obligatory concern about my cholesterol levels, I am always on the lookout for vegetarian dishes that can provide me with as much epicurean epiphany as a foie gras lollipop. Although the Mushroom Ravioli is still some way from hitting that threshold, I must say it is a veggie dish that was revelatory in its own right. The Ravioli is filled with bamboo shoots, water chestnuts and mushrooms and is wonderfully crunchy and savoury. But the real gem is in the chilli cream sauce which was surprisingly good. The funny thing is that if I did not tell you it is made of red chilli, you might not have guessed it. It's a little sweet and hinted of the chilli fragrance without the heat. I could think of a few more ideas with this sauce like maybe a lasagna. It blended perfectly with the Ravioli and the wonderfully sweet sauteed Portabello mushrooms. 4.25/5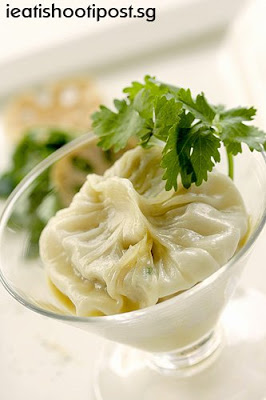 Foie Gras Xiao Long Bao
Since this was a lunch hosted by Sharon (who also owns Epicurious), we also got to taste test some experimental items for her next menu. One of these was the Foie Gras Xiao Long Bao. The concept is a XL Xiao Long Bao (extra big small dragon pao – maybe we should just call it a Long Bao) which has the normal meat filling but with a nice chunk of Foie Gras inside. If you are a meat lover like me who always orders the "meat lover's pizza", you would find this a real treat. However, some of the other people around the table found it a tad heavy. What might be a good idea is to serve it with something like a caramelised black vinegar sauce which provide a bit of zest to the otherwise sluggish flavours of the meat and liver.
Conclusion
I don't usually like fusion very much but I must say that there were a few items here that really did hit the right note for me. The place is bright, cheery and informal and would be great for a casual lunch or dinner. As I alluded to from the beginning, my opinion is that local fusion can only work if the dish was more western than local. What do you all think?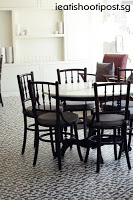 This lunch was hosted by Sharon