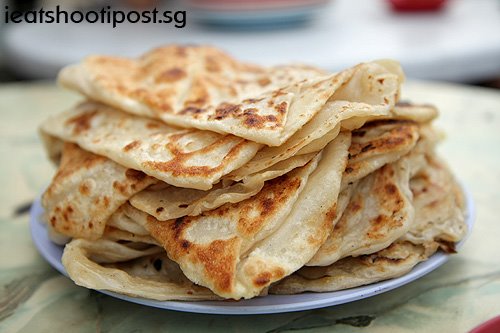 Roti Canai
Ah Breakfast. Of the three main meals of the day, this is the most special one for me because I seldom have the time to sit down for a nice slow meal. So when I am on holiday, I especially enjoy the luxury of sitting down to a breakfast of bacon, sausages, eggs and toast which is usually part of the hotel package. But since we were in Malaysia, I was willing to forgo the bacon and eggs (which I can make at home) for my all time favourite breakfast food, Roti Prata (Roti Canai in Malaysia).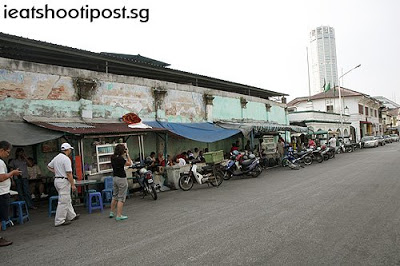 Roti Canai along Transfer Road
This famous Roti Canai stall which is basically set up along the side of an old abandoned warehouse is just the thing that makes your heart pump a little faster — the thought of eating an authentic no-nonsense Roti Canai that is designed to fill your tummy and tillilate your tastebuds. These guys just don't really care about how the Prata looks or whether the amount of oil they use is going to clog up your arteries. They are just there to make the Prata quick, get it on your plate, get it down your stomach and get you out of there.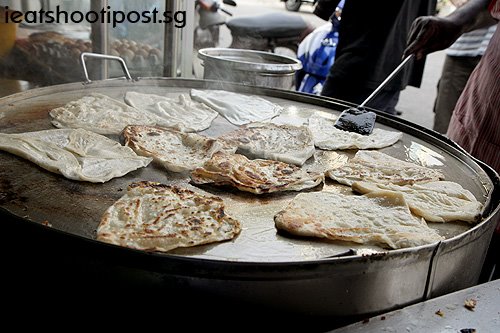 Highly irregular but strangely attractive Roti Canai (Prata)
Everybody says that when it comes to Roti Prata, the Malaysians beat Singaporeans hands down. I could never understand why. Afterall, they are all made by foreign workers from Southern India nowadays. So why can't Singapore Roti Prata be better than Malaysian Canai? Or is it the environment where you eat the Prata that really adds to the flavour and enjoyment of the meal?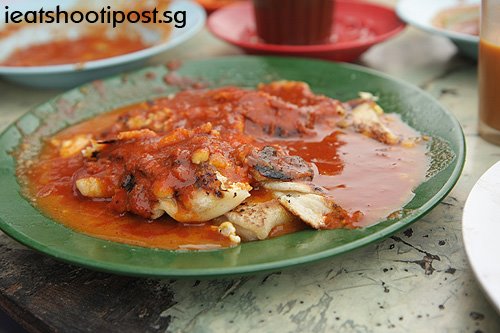 Roti Canai the way most Penangites eat them
We all found the Prata to be very tasty but a little chewy. I guess in Singapore we are used to Prata being more crispy. The curry was nice but I found the dahl to be a little burnt (was it meant to be that way?). Overall, I enjoyed the meal but it wasn't the holy grail I was looking for. 4/5 Perhaps the problem was that we did not eat the Prata the way it was meant to. Most of the people there ate theirs drowned with Dhal and chicken curry.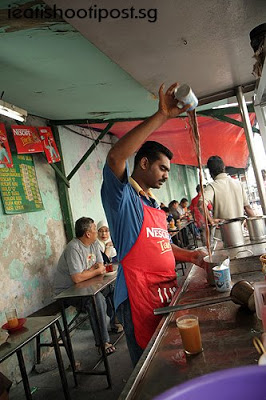 Taste aside, I would still come back here for breakfast just simply to soak in the atomosphere and enjoy the slow pace of life in Penang. There is no address for this place, so I wonder how they would be able to receive their mail, but you can easily spot it if you travel along Transfer Road.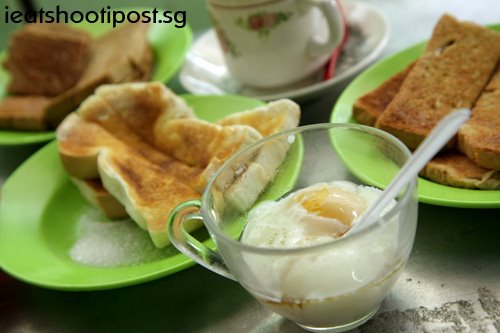 If Kopi and Kaya Toast is more your kind of breakfast, then, I am told, that the place you have to visit is the Toh Soon Cafe which is located along Campbell street, off Penang Road. This little coffeeshop, which really is more like a coffee-alley, really, even has its own bakery where they bake their own bread.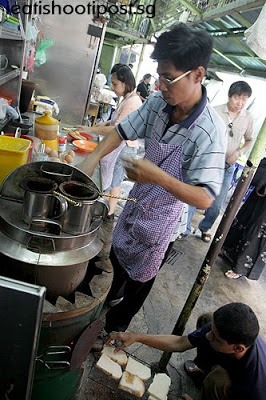 Napalese man toasting bread over charcoal used to boil the water
With the resurgence in the popularity of Kopi and Kaya Toast in Singapore over the last decade or so, we Singaporeans are really spoilt for choice when it comes to getting our Kaya Toast. With competition, the different stalls are always thinking of ways of being more efficient and churning out the Kaya Toast quickly.
Not so in Penang. Here, things still get done the traditional way. Well, I say traditional, but perhaps it is just one of those things that never get fixed because it works. You know how sometimes you just put some scotchtape over a piece of your household furniture and tell yourself it is just a temporary fix and that you would do a proper job later? Well, the way they toast their bread here reminds me of that scotchtape phenomenon.
Here is a bustling coffeeshop, having to churn out hundreds of toastbread each morning and they do it by employing a foreign worker to squat at the base of the boiling water to use that charcoal to toast the bread! I guess maybe they feel that the extra proximity to the earth would impart an earthy flavour to the bread which makes theirs special. OK, I haven't visited any other Kaya Toast places in Penang so I can't tell you if this is the norm in Penang.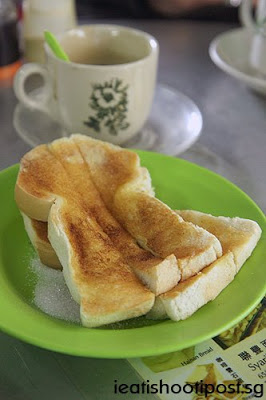 Bread with butter and sugar
As I mentioned earlier, I think we are spoilt for choice in Singapore and the standards of our Kopi and Kaya Toast is better as a lot of stalls use quality butter and homemade kaya to make their toast. However, if you want to have a simple cup of kopi, boiled eggs and eat bread with butter and sugar while relieving the good old days, this is the place to be. The bread here is very old school. It's very dry but airy with little taste on its own. It's a good vehicle for absorbing all that melted butter. 4/5
It's a good thing that our hotel stay does not come with the complimentary breakfast. I hate to be tempted to eat a typical hotel breakfast when there are great breakfast places around Penang where you can have your meal and enjoy the cool morning hours just watching time moving at a really slow pace.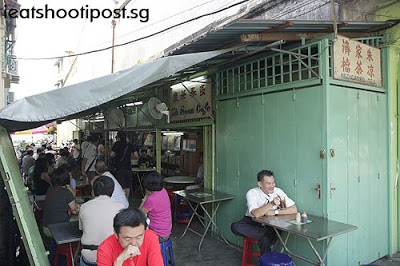 Toh Soon Cafe, along Campbell Street off Penang Road