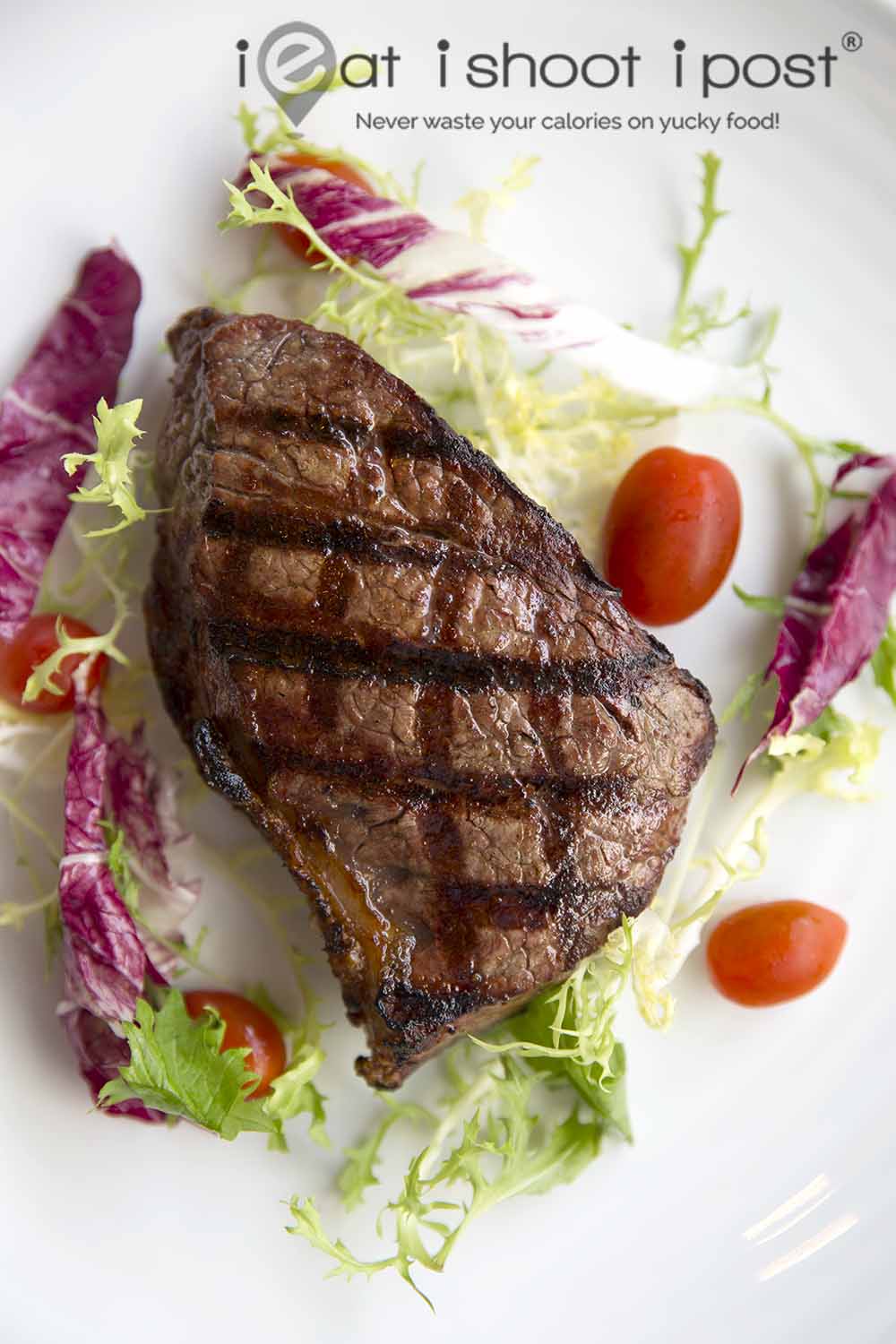 You've probably heard of craft beer, but have you heard of craft beef?  Craft beef is the latest trend to hit the steak industry. Steak connoisseurs are no longer satisfied with commodity beef, ie beef from cattle raised in mega feedlots. Now we want to know where the steak comes from, how the cattle was raised, what it was fed and if the meat was aged after slaughter.
Origin Grill, which opened its doors recently at the newly renovated Shangri-la hotel is hoping to ride this trend by offering a menu of specially sourced beef, lamb, seafood and other ingredients.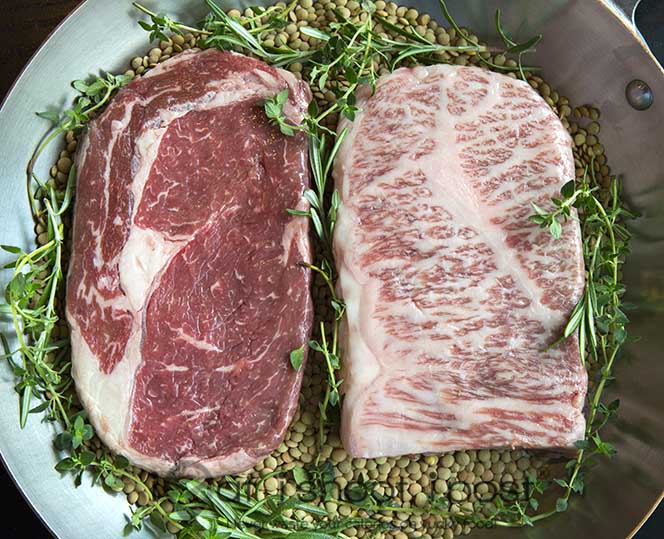 We held a mid-week makan session there recently and managed to sample four of their specially sourced beef.  The one of most interest was the Niigata Snow aged wagyu where full blood Japanese wagyu is aged in a shed under the snow for 30 days to maximize its flavour.   This technique, called yukimuro, (ie snow aged) has been practiced by the Japanese for over 200 years!  In the past, it was primarily used for produce such as rice, buckwheat, daikon and carrots.  The produce is kept in snow covered sheds which maintain temperatures between 0 and 5 degrees with a humidity of 90%.  What results are carrots which are crispier and sweeter as they turn the starch into sugar to better withstand the cold.
Snow aged wagyu, however, is relatively new.  It was first revealed by Takashi Uono, president of Uoshoku Meat, who started experimenting with aging wagyu in snow in 2011.  Snow aging  is different from dry aging in that humidity is high, which minimizes fluid loss.  The meat turns richer and more tender over time as the enzymes break down the protein into umami rich amino acids.
The snow aged wagyu was excellent.  The intense marbling translates to very exhilarating steak experience as each bite is greeted with spurts of rich beefy juices that coats the palate with its sweet, unctuous goodness. The only problem is that it is so rich that you can't really have too much of it!  I didn't get the opportunity to try it alongside a similar grade non-snow aged wagyu, so I can't really be objective about the benefits of snow aging.  But I did feel it was perhaps a little tastier ie more umami, than the normal wagyu.
Among the four steaks, our makan kakis actually preferred the Williams River 400 day grain fed crossbred Wagyu from Northern Queensland which has a good balance of flavour and tenderness without being too rich so you can actually have more steak without feeling jelak.  The marbling score of 5/6 is just right for a steak, I feel.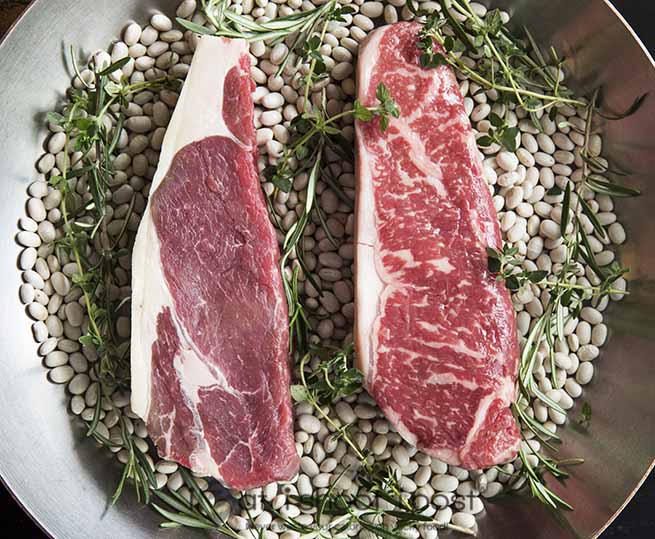 Our kakis also favoured the Rangers Valley 100% Pure Angus from Glen Innes, NSW, Australia, for its robust beefiness.   With a marbling score of 5+, it has a nice balance of fats and meat  and being 100% certified Angus , it has that bold, muscular, beefiness which we all like in a classic beef steak.
I was pleasantly surprised with the John Stone 35 day dry aged grass fed ribeye which come from cattle raised in small manageable farms in Ireland.  These cattle graze naturally on grass and herbs in the summer and silage in the winter.  It is, perhaps the closest to what is the definition of "craft beef".  I have had grass-fed beef in the past but I didn't quite enjoy that metallic aftertaste.  This beef, however, was tender and delicious even though it didn't have as much marbling as the other steaks.
Now, I am sure you all would want to know which is my favourite.  Well, I would say that even though I really enjoyed the Niigata snow aged beef and the Rangers Valley Angus, I think it is the fact that I can taste four different cuts side by side that makes the experience more enjoyable.  The good news is that at Origin you can order a beef tasting platter for two ($208 for 4x100g beef) and do just that!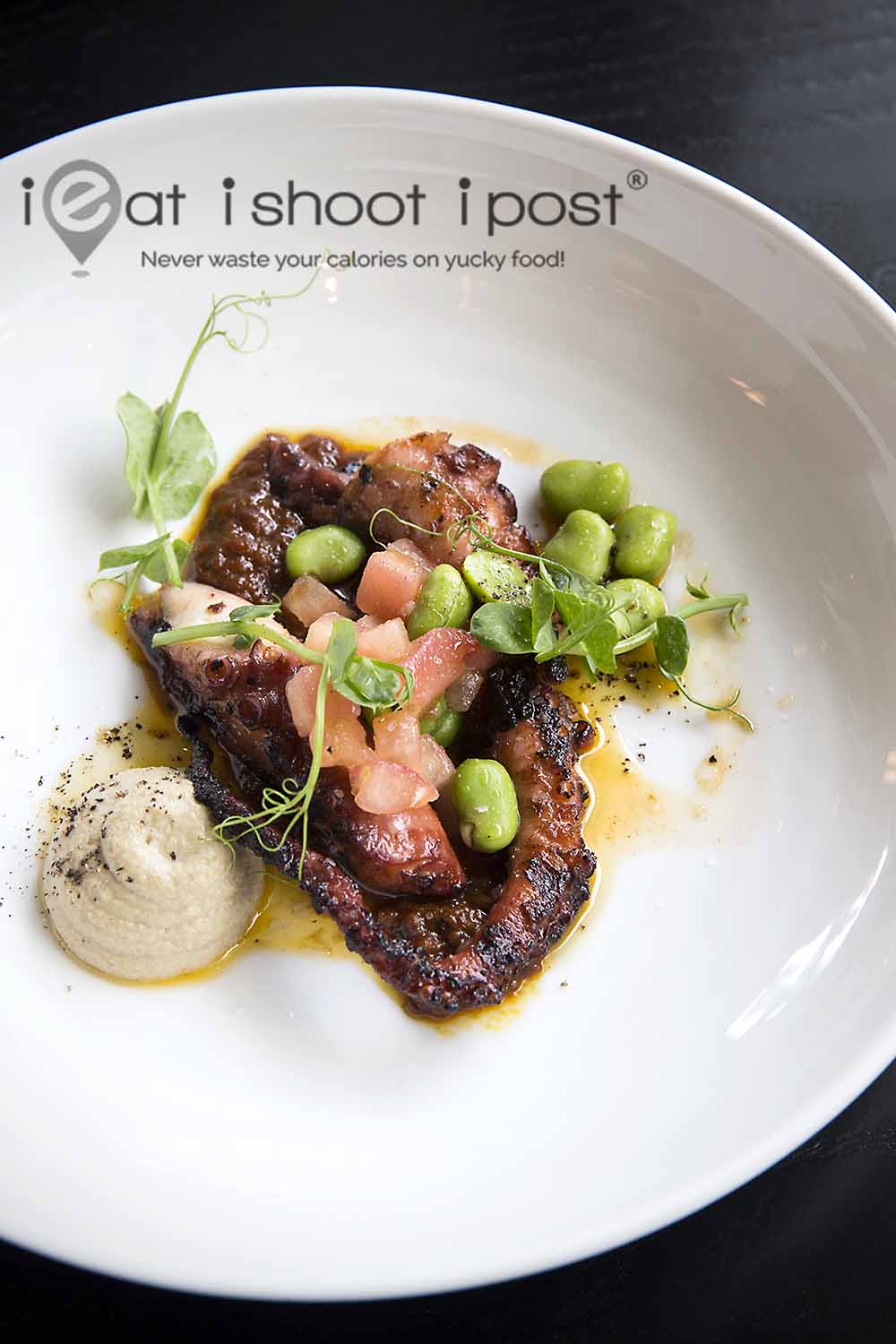 Origin is helmed by the very effervescent Australian chef, Heidi Flanagan who has previously worked in Europe, Indonesia and the Caribbean and her side dishes reflect the various influences.
One dish which really stood out for me was the grilled octopus which has been sous vide till tender and beautifully charred over a charcoal fire before retiring atop a bed of Moroccan tomato jam.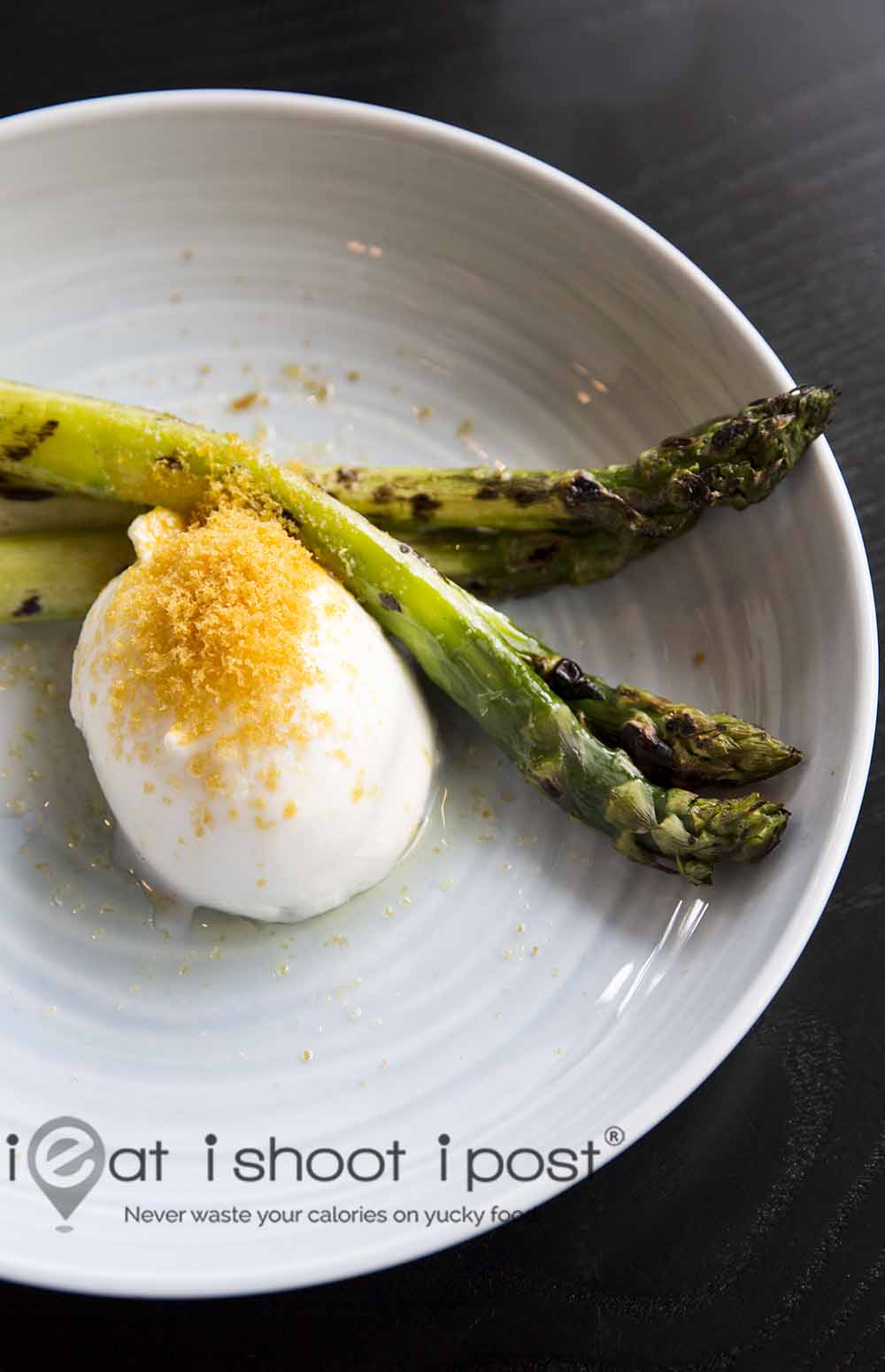 The other starter I really enjoyed with the asparagus served with burrata cheese and shaved octopus eye bottaga. Don't worry about the octopus eye thing, the charred asparagus and the burrata are a match made in heaven!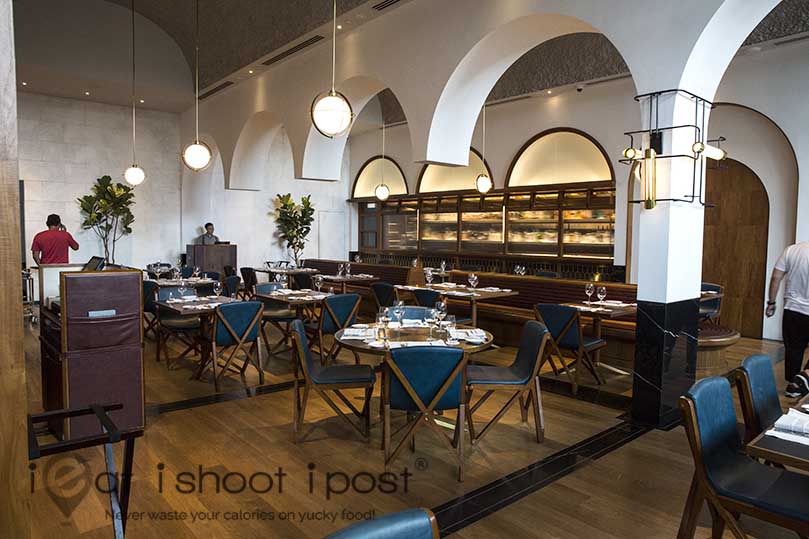 The decor of the restaurant is based on the old school train station though you might only realize it when you are told about it.  I guess it is because most of us have only really seen an old train station in the movies. Have a look at the glass panel that divides the bar from the dining area and you will see the the bottles of liquor behind the laminated glass panel which gives the impression of a train in motion!
Conclusion
Good place to find a selection of meticulously sourced charcoal grilled steaks which should suit any palate!  Their three course executive set lunch starts at $38++ and on Sundays, you can go for the $68++ Sunday roast where you can enjoy a free flow of appetizers. (There is the option for top up for premium cuts)
Disclosure
This was a media tasting.  That means the food was provided with no obligations and no fee was paid for the review.  I am also currently acting as consultant for the lobby lounge heritage hawker project.