Thanks for all support! All pre-order copies have sold out!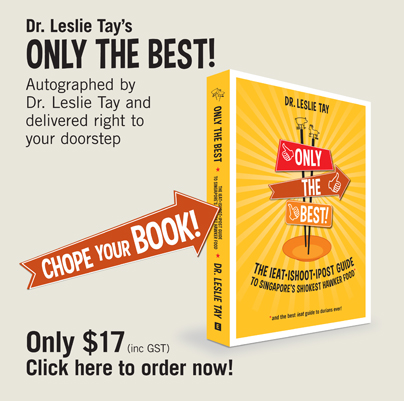 I am very excited to announce that my latest book has just been sent off to the press! We are expecting delivery on 16th November and it should hit bookstores everywhere before December! We are also organizing a special Annual General Makan (AGM) Session on 8 December to celebrate the launch of the book! So keep the date free!
There are many differences between this new book and The End of Char Kway Teow. We have designed this to be smaller (A5) sized so that it is a handy carry around guidebook. More stalls have been added as well as new categories. There is even a special Durian Guide with photos of Mao Shan Wang, XO, Hong Xia etc at the back of the book so that you can bring it along to the Durian stall to double check. For the tourists, there are two maps covering Chinatown and Joo Chiat where you can craft a food trail. As with The End of Char Kway Teow, there is special emphasis on the photos and I am extremely happy with the latest set of pictures in the book! To make for easier reading, I have shortened the introductions and placed little nuggets of hawker trivia all over the book!
You can be one of the first 200 to own a numbered and autographed copy mailed directly to your doorstep at no extra charge! (Wouldn't it be cool if you owned copy #1?)
All you have to do is to visit the website and place your order now! Here is the link: http://www.epigrambooks.sg/?p=5238
Thanks for your support!