With Damien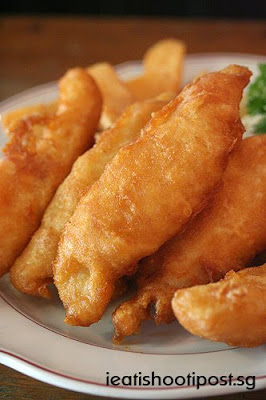 Fish and Chips $16 (6 pieces)
It always fascinates me when I think about how far apart the cuisines of France and Britain are. One one side you have Foie Gras, Truffles and Pressed Duck and on the other side of the channel the national dish is Fish n Chips and Meat Pies.
Many would not think of Fish and Chips as fine dining, but it is the kind of food that you sometimes just crave to eat. Nowadays you can find Fish n Chips in almost every corner of Singapore and there are many different variations of it. The fish can be coated with bread crumbs, thin and crisp batter, tempura or even Hainanese pounded cream cracker batter.
Personally, I still like it with the original beer batter and you can find this over at the Cricket Club, but the problem is that it is only available to members and their guests only. Thankfully, Molly Malone's also makes quite a mean Beer Batter Fish n Chips which is available to plebians like myself.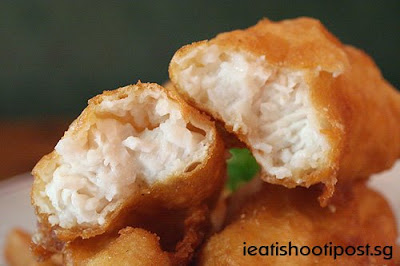 What I like about the batter is that it is crispy on the outside but it has that nice layer of moist and tasty batter on the inside that gives the fish that extra bit of moisture and tastiness. Fishwise they use a very good grade White Basa (Dory) here. I might get lamblasted by the fish fanatics for saying this, but I actually think that you don't really need an expensive fish to make a good Fish n Chips. Any good quality white fish would do. I have tasted Fish n Chips made with John Dory, Atlantic Cod, Haddock and Sablefish and I would admit with a degree of abashment, that I found White Dory to be as good, if not better than the premium alternative. 4.5/5
Conclusion
One of the best Fish n Chips I have eaten. The beer batter is very good and they serve it with malt vinegar and tartare sauce. Funny that you would find such great Fish n Chips in a pub rather than a fish restaurant! Then again, you always find great food in Pubs.