Advertorial
It might sound ironic, but over the last few years while I have been blogging about hawker food, I have become more concerned about the health benefits of what I eat. So while I have been going around Singapore looking for the best hawker food, I felt the need to balance the less than healthy stuff that I eat with other stuff that is more healthy. As a result, I have been taking my five green juice and a big bowl of fruits religiously almost everyday.
Last year I made another drastic change to my eating habits and that is to cut back on added sugar. The medical community as a whole has started to realise just how detrimental refined sugars are to health and have started to place daily recommendations for the amount of sugar you take everyday. The way I look at it, you were given a pancreas that can only produce that much insulin in a lifetime. So if you eat lots of sweets made from refined sugars, then your pancreas has to make more insulin earlier on in life and you would run out of the capacity to make insulin when you reach middle age. Diabetes is then the result.
So last year, I began to cut back on sugars by switching from Teh Si Siu Dai (less sugar) to Teh Si Kosong and eventually to Teh O kosong. From there it was a natural progression to just drinking Chinese Tea. Now Chinese Tea is my staple beverage. Zero sugar, Zero calories, lots of antioxidants and its great for getting rid of cholesterol.
Aside from Chinese Teas, another alternative to the sugared beverages are the Herbal Teas. In general, I think people refer to Herbal Teas as any Tea that is made from plants other than the camillia senensis which is the one plant that is responsible for all the Chinese Teas as well as the more familiar Ang Moh (Western) Teh. Herbal Teas are particularly good if you are sensitive to caffeine and want a nice soothing drink just before bed as they don't contain caffeine.
I was asked to taste test some SOD Tea which is one of these herbal teas that are made from the Rooibos plant which originate from Africa. This is the first time I have come across this particular Herbal tea and it is said to have beneficial antioxidant properties without the caffeine. This tea has an interesting taste which reminded me of Luo Han Kuo but without its sweetness. It is quite pleasant and doesn't have the tannic aftertaste of normal tea. It comes in a few flavours. The Lemon SOD Tea was wonderfully refreshing and best served with ice while the brown rice tea reminded me of Japanese genmaicha (roasted rice green tea) which is a very soothing drink just before bed. These ones come in tea bags which you steep in hot water like a normal tea bag. They also have a version that has probiotics and is supposed to have a slimming effect. This slimming tea comes in a powder form and can only be mixed with cold water. I found this one a little to grainy for me and prefer the other versions.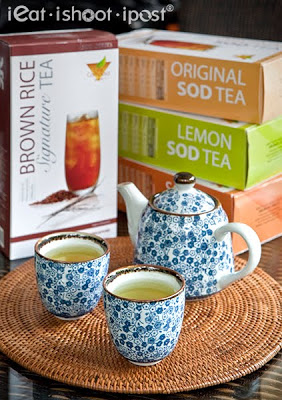 Special for ieatishootipost readers
It's too bad that we just missed the Life Compact SOD Tea Time event on the 8th-9th July, where they gave away 2000 boxes of SOD tea. But never mind, if you are interested to sample the tea, I have arranged for some samples and 100 pc of $5 vouchers for you to use to buy the tea at NTUC, Watson, Unity, Guardian, Prime and some medical halls.
You can pick up the vouchers at Good Morning Nanyang Cafe (recently voted best Kaya Toast in the Sunday Times), 108 Robinson Road.
More information about SOD tea can be found at their website here