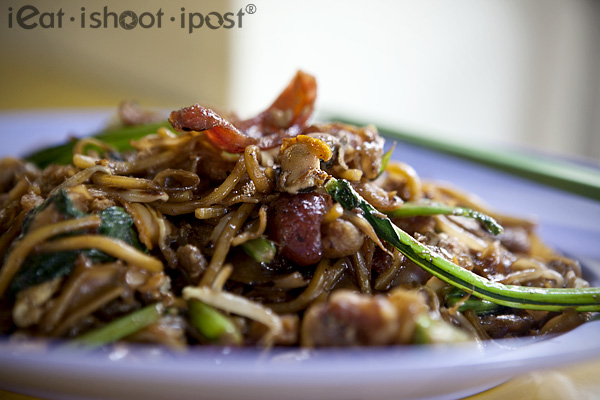 For the people living in Char Kway Teow land, a new hope has dawn.
When Adam couldn't cope with the stress of looking after the garden of Eden all by himself, God created Eve to help him. It was a young Joan of Arc who saved France from British domination in the Hundred Years war and the Chinese wrote ballads of Hua Mulan to celebrate her accomplishments in an all male army. Now it seems that when all hope is lost for the Char Kway Teow Man, a Woman comes along to save the day. OK OK, very corny lah…. I am, afterall, no wordsmith which the Business Times so accurately proclaimed.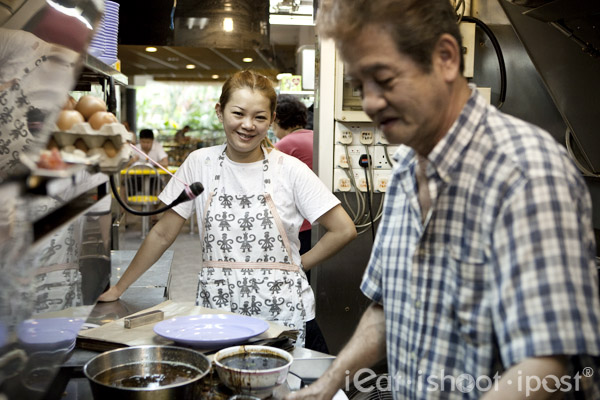 Yes, I found a Gen Y hawker willing to brave the heat of a hot wok in defiance of the lady who does her facial. She is so far the youngest Char Kway Teow hawker I have come across and this is great news. Since she is younger than I am, ceteris paribus, I should still be able to enjoy a good plate of Char Kway Teow with my kakis when our conversions begin to revolve around the state of our bladders. By then she would have had more than ample time to hone her wok kung fu. At this point, she is quite competent, but still lacks the magic touch of her father who has been swashbuckling with the wok for 40 years. But I am confident that she should soon pick up the final "Jao" (secret stroke) because above all else, she has that special quality that will set her apart from the rest of the hawkers — Attitude. Oh yes, she hates me for saying this, because she really believes that her skills can fend off the criticism of the multitude of foodies out there. But I guess that if have you watched enough kung fu films, you know that the young Tu Di (apprentice) has to get beaten up a bit before achieving enlightenment. I guess I am just playing my part as the bad ass villain.
With her taking on the wok, Lai Heng can now boast of four generations of Char Kway Teow swashbucklers. Her father Mr Saw Cheng Poh, is the patriarch of their family of stalls across Singapore and told me that it was his grandfather who first started frying Char Kway Teow just after World War II. Now he has a son and a daughter who are training to carry on the family legacy.
We had the privilege of tasting the wok skills of the Char Kway Teow master himself and it just confirms what we have known all along. The essence of a good Char Kway Teow lies in the hand which wields the ladle. A restaurant grade pressure gas burner with nitro boost helps as well. This is one of the few Char Kway Teow places I know of which has invested in the pressure gas burner and it does make a difference as it gets the whole of the bottom of the wok which makes it behave more like a charcoal fire.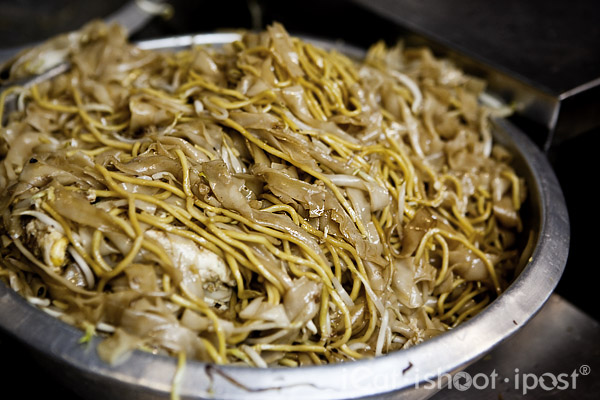 Most Char Kway Teow places fry their Kway Teow twice
Contrary to what you might think, the perfect plate of Char Kway Teow is not supposed to be charred. The Kway Teow is charred in Penang fried Kway Teow and Fried Hor Fun, but in Singapore style Char Kway Teow, the Kway Teow is mostly moist and slippery rather than having charred bits. That is not to say that it does not have that smoky Wok Hei (Breath of Wok) aroma. The beauty of Char Kway Teow is the be able toss the Kway Teow just enough for it to be infused with the Wok Hei, yet maintaining a slippery and moist surface. The skill to do this is what separates the masters from the wannabe. When you first get your plate of Char Kway Teow which has been fried by the old man, just give it a good whiff before tucking in and you will know what I mean. 4.5/5
Conclusion
There is hope yet for Char Kway Teow! Mr Saw fries there only during lunch. In the evenings he fries at their other stall in Buangkok MRT Kopitiam. I spoke to him and he told me that even though he is training his daughter to take over the stall at Shunfu, he is happy to fry for you if you just told him that you went after reading this blog post. So don't be shy, ask and you will receive …. a very satisfying plate of Char Kway Teow!
PS: You need to specially ask for pork lard if you want it at this stall.