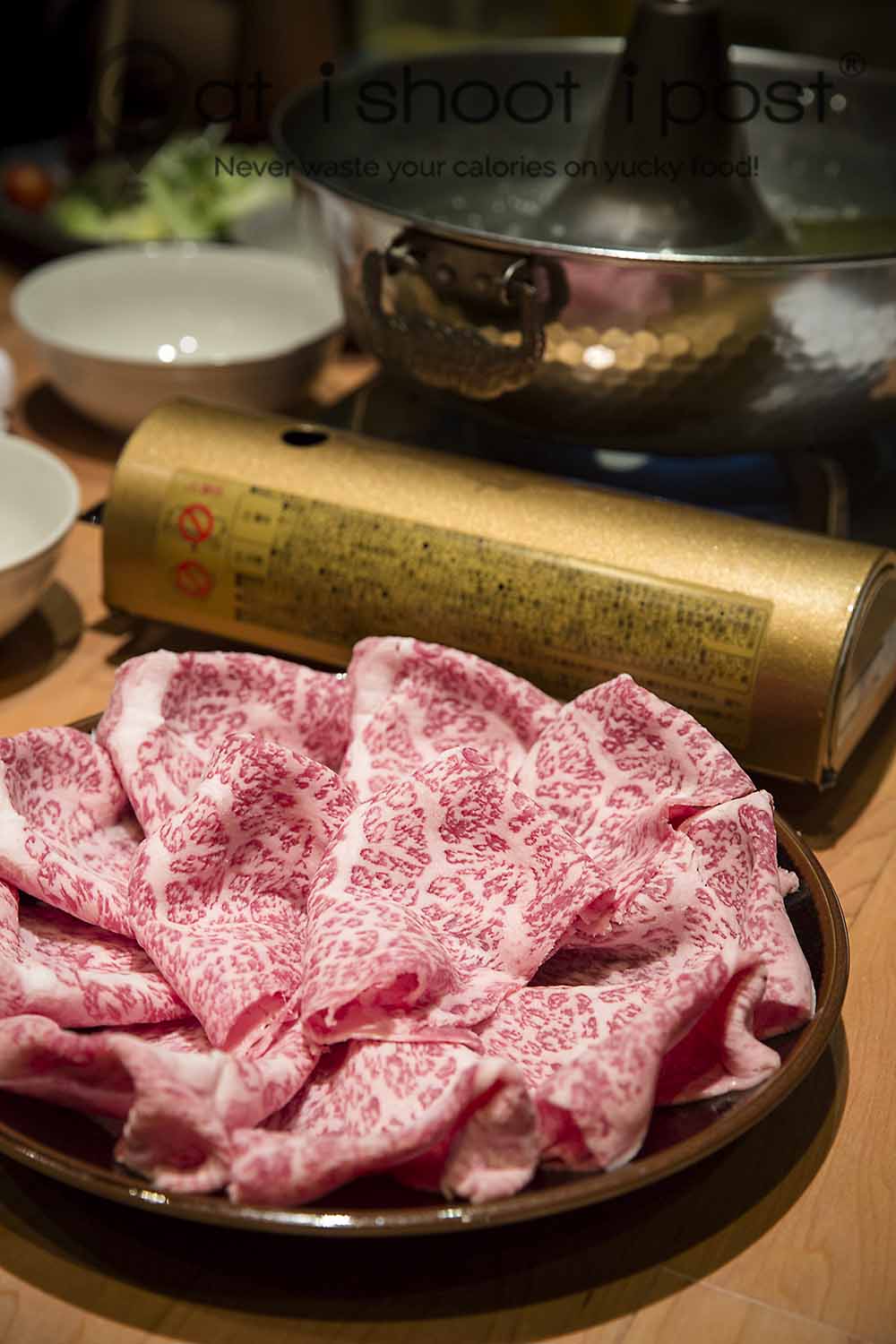 Kuroya Sukiyaki: Tomato Sukiyaki – ieatishootipost
It wasn't so long ago that a photo of well marbled wagyu beef would have caused ooohhhs and ahhhs and at least a few hundred LIKES on Facebook.  In fact, when I started writing in 2006, we didn't even have Japanese wagyu.  In those days, Australian wagyu was just making its debut in Singapore and it was already causing quite a stir amongst the local gastronomes.
Fast forward ten years and Japanese style thinly sliced meats are now part and parcel of Singapore life.  It has changed the way families enjoy their steamboats and I have even met grandmas at the supermarket  looking to buy thinly sliced wagyu for their steamboat meals at home.
Japanese food as a whole has also come a long way in Singapore. However, most Singaporeans still expect to be able to order a wide range of dishes in any particular Japanese restaurant. It is like going to a Singapore restaurant overseas and being able to order char kway teow, satay and prawn mee at the same place.  But as the industry matures, we are beginning to see more speciality restaurants that are focused on one type of dish.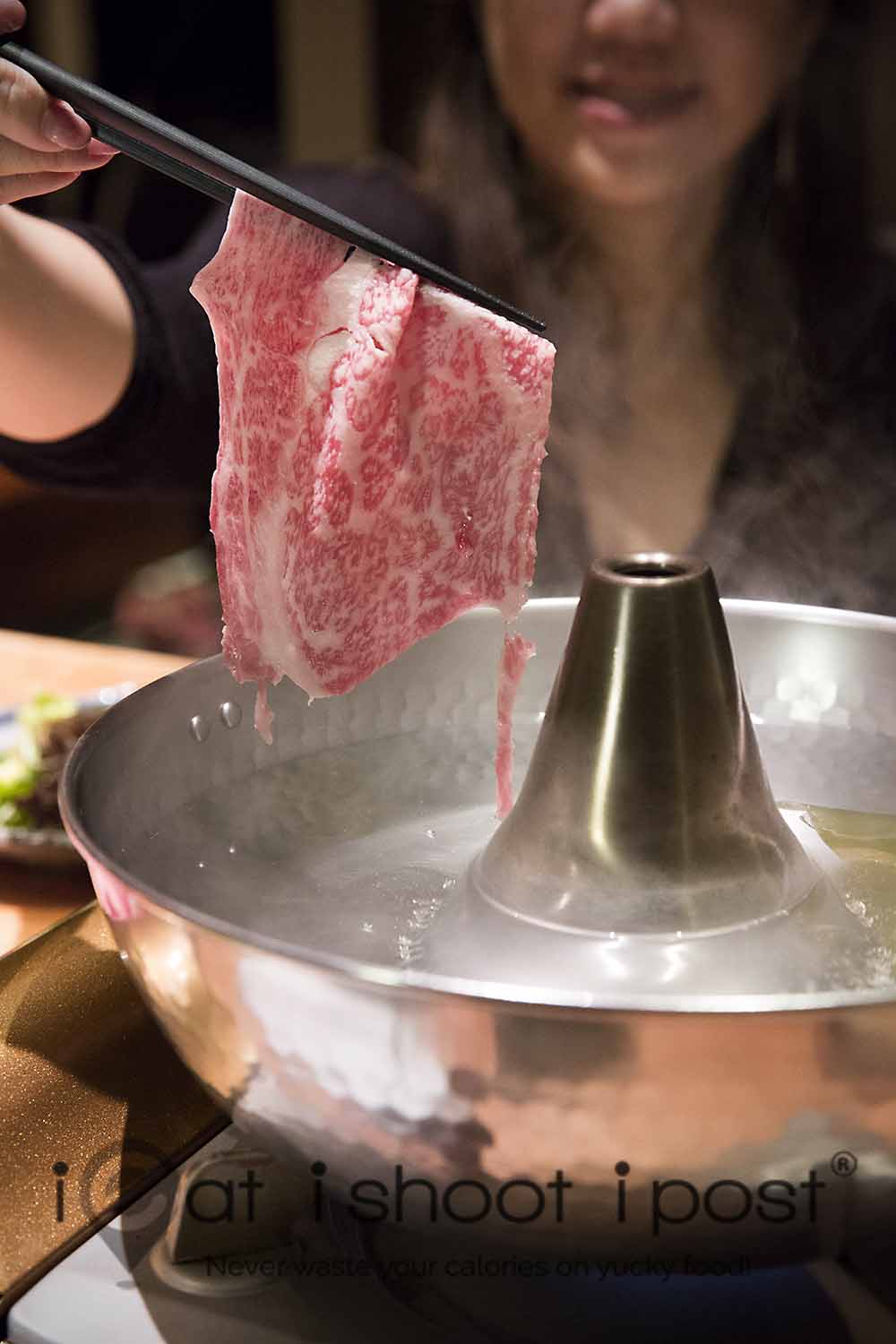 Sukiyaki is one of my favourite Japanese dishes and those of you who have eaten at sukiyaki restaurants in Japan know that you can hardly find a place that sells proper sukiyaki in Singapore.  What we know of as sukiyaki is really a hotpot where the soup has been changed to the sweet soy sauce soup base. Traditional sukiyaki is served in a shallow cast iron pan and they would fry a piece of beef fat first before adding the vegetables, sauce meat and allowed to simmer on the table.  It is actually more like a stew then a hotpot.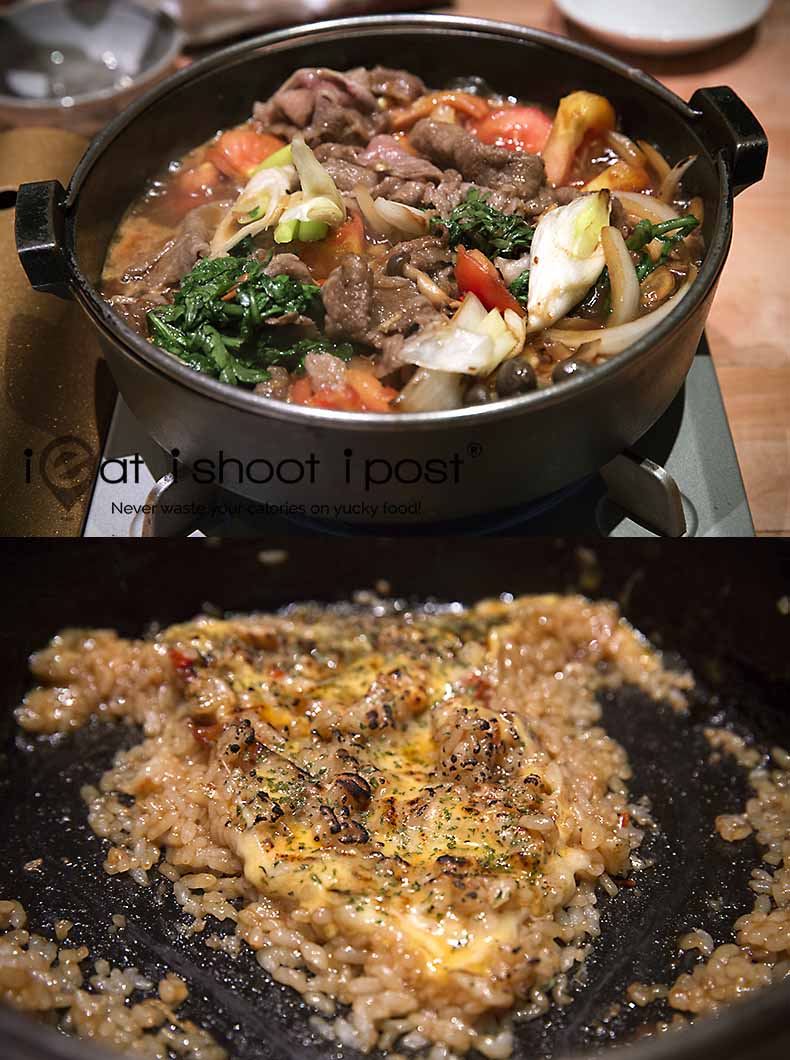 Kuroya serves Japanese style shabu shabu and sukiyaki and is the overseas branch of Chef Kinoshita's restaurant in Fukuoka.  Chef is running the Singapore branch himself and has been here for a year. When I asked him why he decided to open his 2nd restaurant in Singapore, he simply said that he wanted to share his passion with a wider audience.
He noted that Singaporeans liked food with a bit of spice and so he came up with tomato sukiyaki where he adds tomatoes and sliced chilli to the sukiyaki.  The dish became so popular here so he has started serving it in his restaurant in Fukuoka! Imagine that, a Singapore style sukiyaki in Japan!
The sweet and tangy sauce was surprisingly delicious thanks to the quality of the Kagoshima wagyu that he uses and also to the special soy sauce which he imports Fukuoka.  After most of the meat and vegetables are consumed, Chef adds some rice and cheese to the remaining gravy and blow torches the cheese so that it melts and forms a charred crust.  The result is a beautifully moreish rice to finish the meal!  4.25/5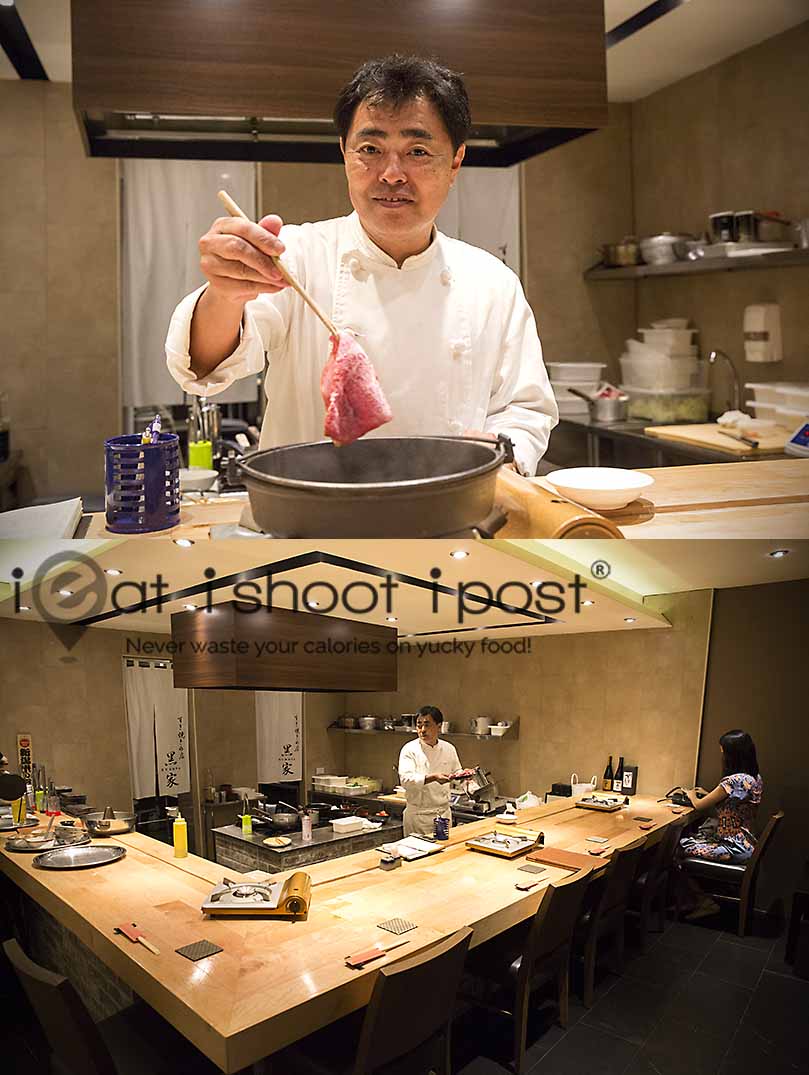 Conclusion
Kuroya is the only place I have been to in Singapore which serves sukiyaki in the way that it is done in Japan. The tomato sukiyaki might not be traditional but it is quite special and worth a try if you are going for bold flavours with a bit of kick.  The sukiyaki set is $120 per head and comes with starter, salad, 150g Japanese A5 wagyu sukiyaki, risotto and dessert.
Disclosure
This was a media tasting.  That means that I was hosted to the meal with no obligations to write about it and there was no payment for this blog post.