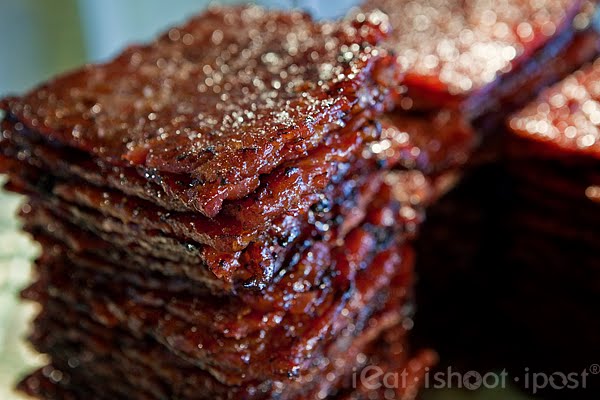 Alright, with Chinese New Year just around the corner, let's talk about Bak Kwa.
Who doesn't like Bak Kwa? Well, I guess if you are a health nut, you probably want to steer clear of this. But for the rest of us, Chinese New Year is an excuse to indulge a few calories on this luxury snack.

But I have to admit that I have not thought about Bak Kwa very much. Come Chinese New Year and we probably get our Bak Kwa from the most convenient sources. But for those who really want to impress their mother-in-laws, perhaps you would brave the crowds to give her a special box of Bak Kua from Lim Chee Guan in Chinatown.
I think for many of us, the first thing we do to a box of Bak Kwa is to put it in the fridge and then heat it up in the microwave or oven toaster just before serving it to our guests. Imagine the shock I had when I was told that that is precisely what not to do!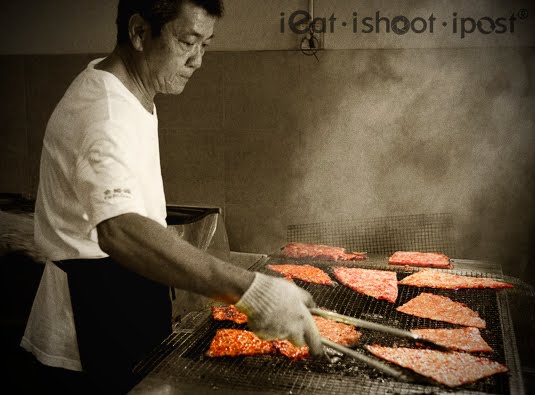 Charcoal is still the only way to grill your Bak Kwa
Here then is the right way (according to the experts) to enjoy your Bak Kwa.
Bak Kua is best eaten after it has rested for at least 24 hours as it takes time for the meat to develop its flavour and texture right BBQing. A good Bak Kua can be kept on your kitchen table for around a week and should remain soft and tender. The experts don't advise you to chill the Bak Kwa and reheat it as it would lose its juices and turn dry. Also, even if you kept your Bak Kwa in the fridge, it should not turn white in colour. This is a sign that the Bak Kua has not been cooked enough such that the sugars did not adequately caramelise.
Now, a good Bak Kwa should be made from chilled pork, not frozen and never buy the minced version. It should be sliced meat as it retains the meat fibres which translates to better flavour when you chew on it.
Have you ever wondered what secret ingredients gives Bak Kwa its special taste? You won't believe it if I told you. But according to the guys at Kim Joo Guan, there are only three ingredients in Bak Kwa. Pork, normal table sugar and your everyday fish sauce which you can pick up from the supermarket. Hard to imagine that fishsauce and sugar can produce that wonderful Bak Kwa flavour right? Oh yes, there is one more ingredient that a lot of stalls nowadays are omitting and that the the smoky flavour that you can only get if you grill the Bak Kwa over charcoal.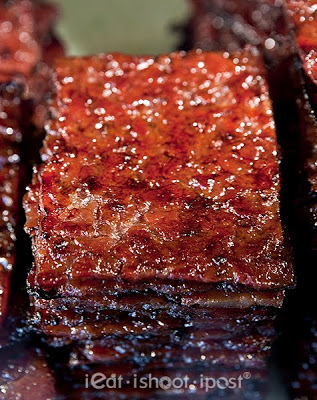 Bak Kwa $43 per kg
The latest player in the Bak Kwa market is Kim Joo Guan who have been supplying raw Bak Kwa to Lim Chee Guan for years. They are only recently decided to start selling their Bak Kwa direct to the public. But this is not going to be another Mei Zhen Xiang. The owners are positioning Kim Joo Guan to be a boutique Bak Kwa store where you can only expect the very best Bak Kwa. This is one of the reasons why they don't sell the minced pork version.
I taste tested both the freshly BBQed Bak Kwa and the ones that have been rested for a day and I have to admit that the one day old Bak Kwa really does have a better flavour and bite to it. This Bak Kwa is excellent. It's tender but has enough bite so that you can fully develop that savoury pork flavour. It is sliced slightly thicker than a lot of other Bak Kwa and so it retains it moisture very well. 4.5/5
Conclusion
Now that I know how a good Bak Kwa is supposed to taste like, how am I ever going to go back to enjoy the thin, minced pork, fridge to oven toaster variety again?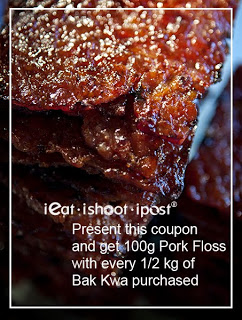 Special for ieatishootipost readers!
Print out this coupon and present it to the shop to get a 100g jar of Pork Floss (original flavour, worth $5) free with every 1/2 kg of Bak Kwa purchased.
Conditions:
1. Valid till 31 Jan 2010
2. Promotion valid only on presentation of printed coupon. Not valid if you simply show it on your phone. They need the hardcopy for validation purposes.
3. Each coupon will entitle you to 100g jar of Pork Floss for every 1/2 kg of Bak Kwa. You can buy as many 1/2kg portions as you like. So if you buy 1kg of Bak Kwa, you will get two 100g jars of Pork Floss.

This was an invited review