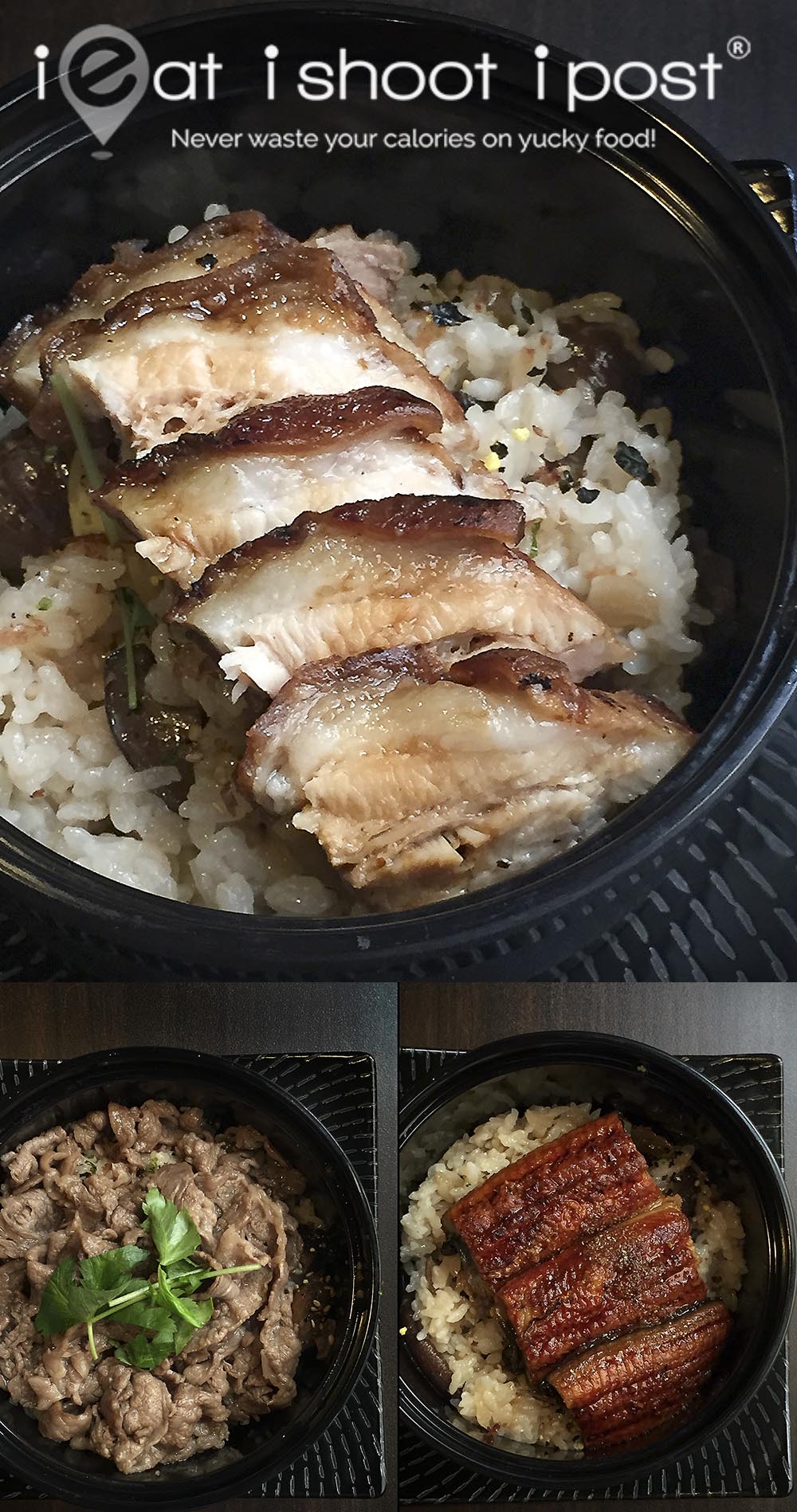 Kamameshi is a Japanese dish where rice is cooked in a stock together with some ingredients. The resulting rice soaks up all the umamilicious flavours of the stock making it a dish that can be eaten on its own. But you can also top it with things like buta kakuni (braised pork), hokkaido snow beef and unagi and turn it into a really yummy and satisfying one bowl meal!
After many requests from his regular customers, Chef Thomas has finally decided to put his buta kakuni kamameshi on the menu and I had the privilege of spending an afternoon in his kitchen as he takes me through how it is made. In this post, you are going to learn the step by step process of making buta kakuni kamameshi as made by a professional Japanese Chef! I shall be sharing all the tips I learnt in his kitchen. For those of you who cook, this will be something I am sure you will add to your own repertoire of dishes! For those of you who don't want to cook it, just pop down to Jin Fine Dining and order a bowl!
NB: The promo price is $18.80 for the set which consist of kamameshi, choice of buta kakuni, unagi or Hokkaido snow beef with miso soup and salad. Only available from Mon-Fri. Limited to 30 servings a day, so best to call up a day before to reserve!
Here is Jin Fine Dining's Buta Kakuni Kamameshi recipe! – ieatishootipost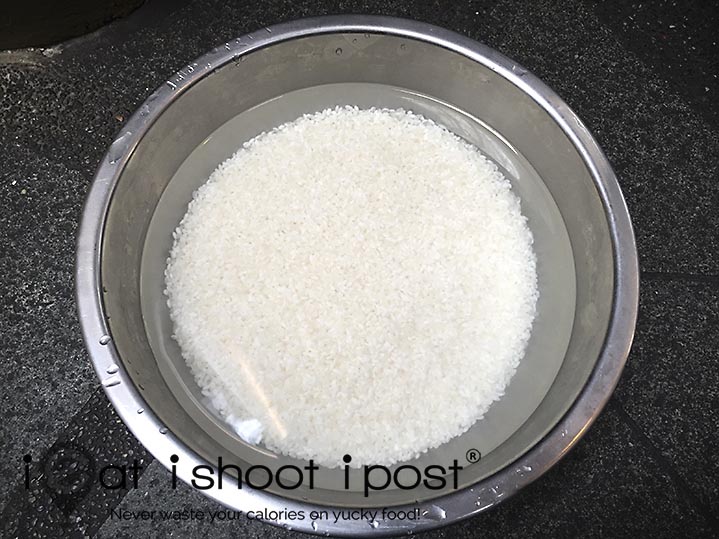 Start with 1 kg Japanese short grain rice. Try to get Japanese Koshihikari rice for best results. The rice needs to be wash in plenty of water until the water is clear as in the photo above. It will take at least 5 rinses. Use the palms of your hands to gently massage the rice to get rid of the excess starch. This process will result in rice with a nice fragrance. Leave the rice to soak for 30mins.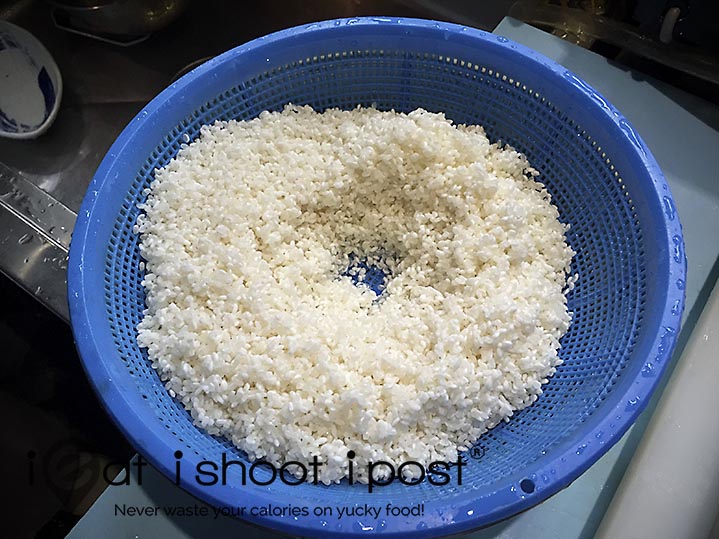 Next strain the rice and leave it to dry for another 30mins.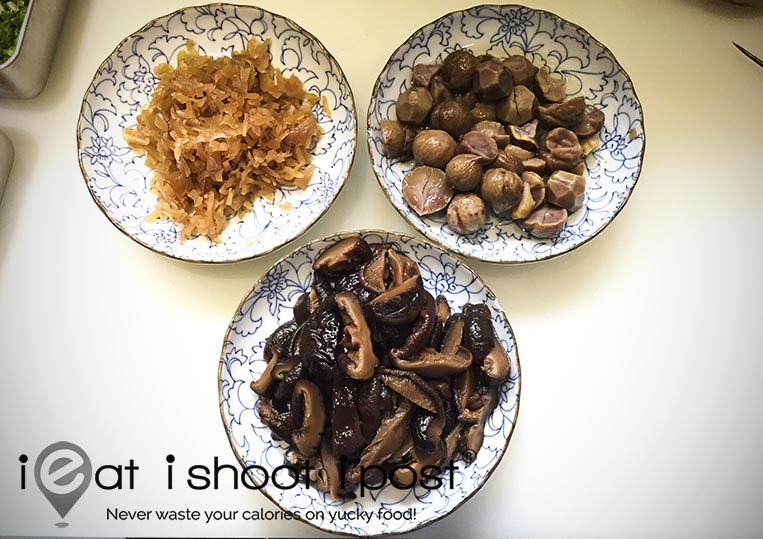 You will need kanpyo (buy from supermarket), chestnuts and mushrooms. The chestnuts need to be boiled with some sugar till soft or alternatively you can buy the ready made Japanese chestnuts which are bright yellow and comes in a jar. Ready to eat roasted chestnuts are also available in the supermarket shelves in the snack section. I find these the most cost effective as uncooked chestnuts takes a bit of work to remove the husk. The mushrooms need to be soaked first and then simmered in soy sauce, sake and mirin.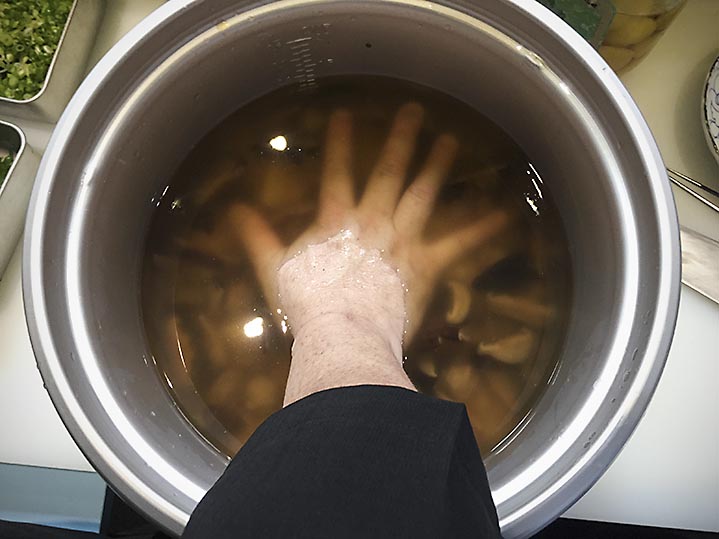 Add 1.6 litres of dashi (konbu and bonito stock) for every 1 kg of rice together with the ingredients and a cup of the mushroom liquid and cook the rice in the rice cooker. The amount of water above the rice should cover the knuckles of the hand. If you are using a cup to measure, it should be one cup of rice to one cup of water.
Once the rice cooker clicks to warm, fluff the rice and let it rest for 1 hour.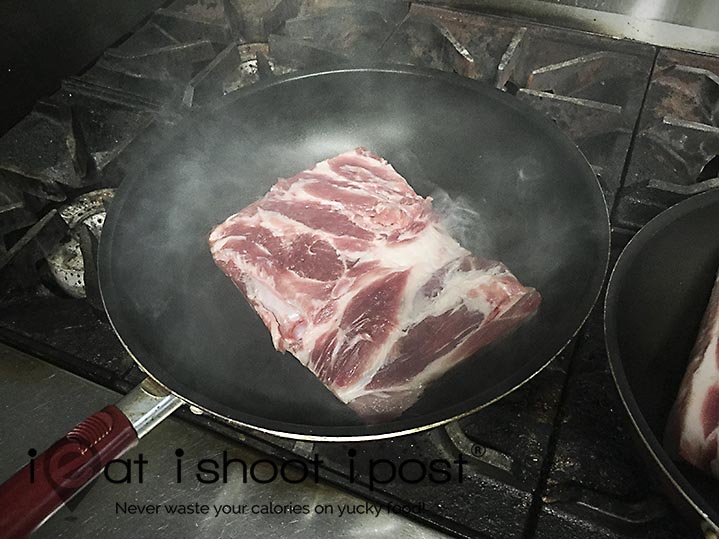 To prepare the buta kakuni, first pan fry the skin side of the pork till it is blistered. This will take 15-20mins. The slab of pork shown weighs 2kg.
This is what you are aiming for. The skin is blistered and crisp.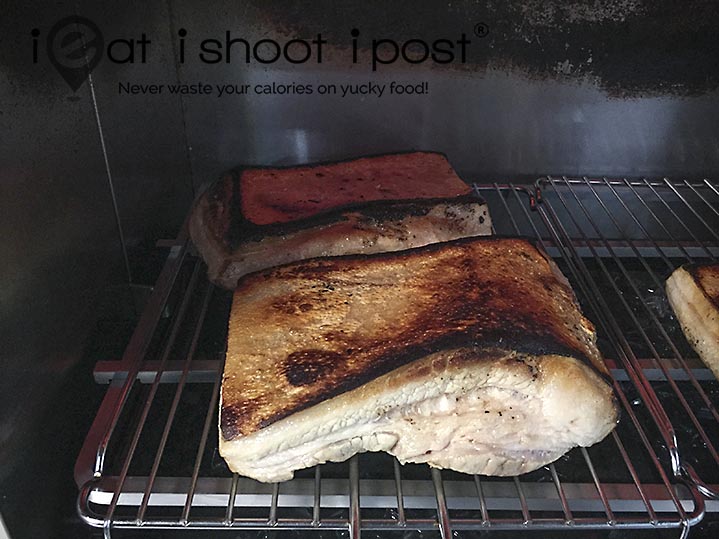 Next, place it under the grill for another 20 mins to further crisp the skin. The resulting skin should be blistered and crispy. Some parts may be charred.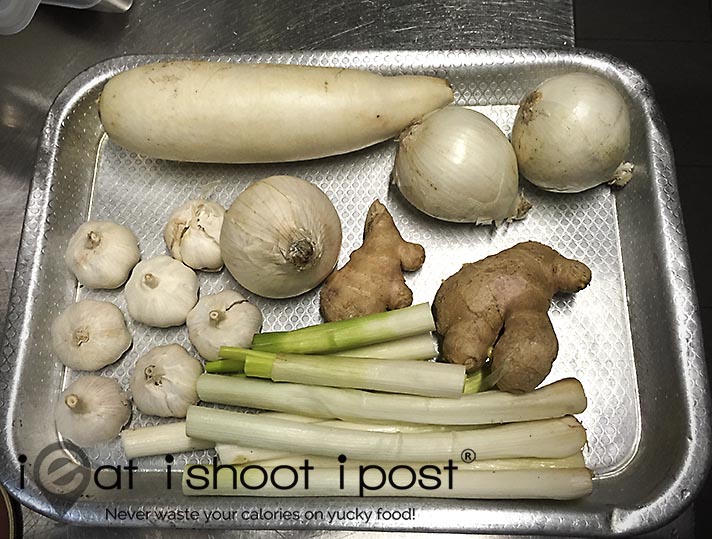 These are the ingredients needed for 6kg of pork belly.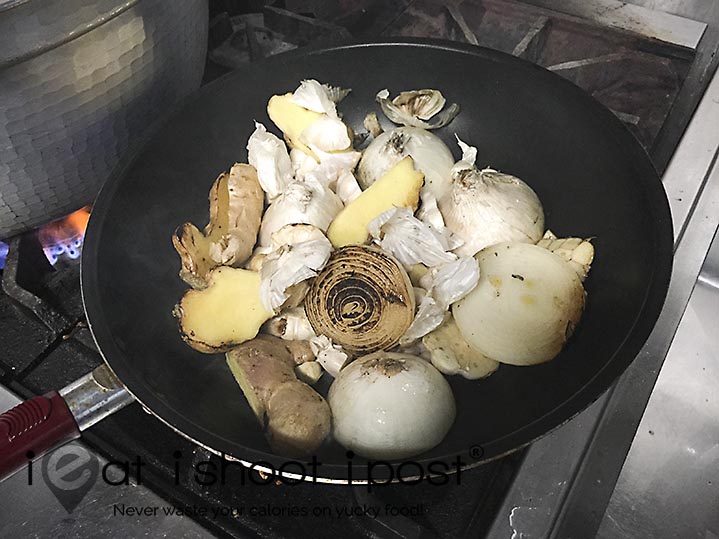 Slice the ginger, onions and garlic into halves and pan fry till fragrant.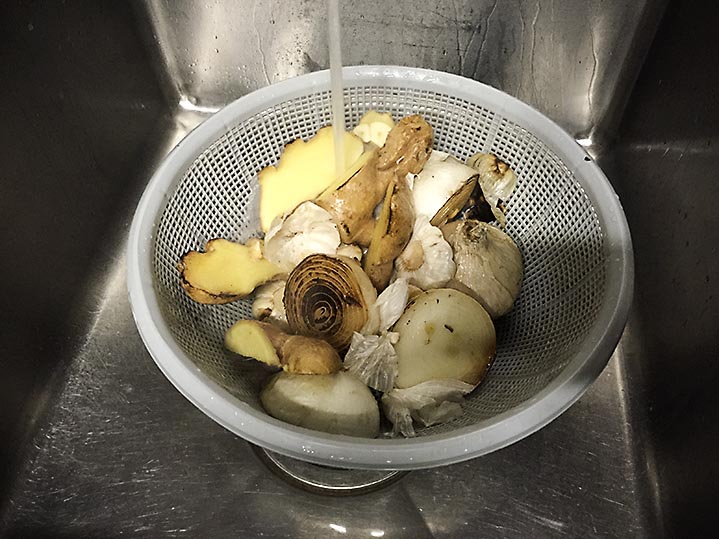 Next, the ingredients are rinsed.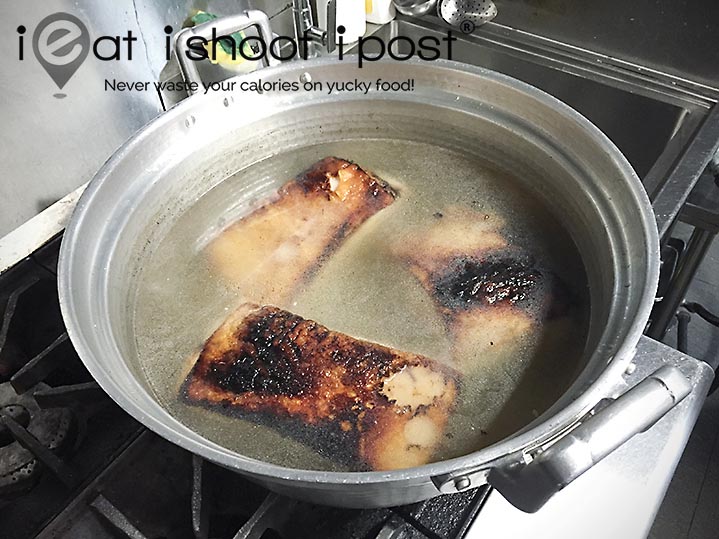 The pork belly is boiled for 1.5 hours. During the cooking process, the water is changed 5 times. This will get rid of the excess fat and the pork odour. To change the water, 2/3 of the water is removed and fresh boiling water added. This is the laborious part of making buta kakuni properly.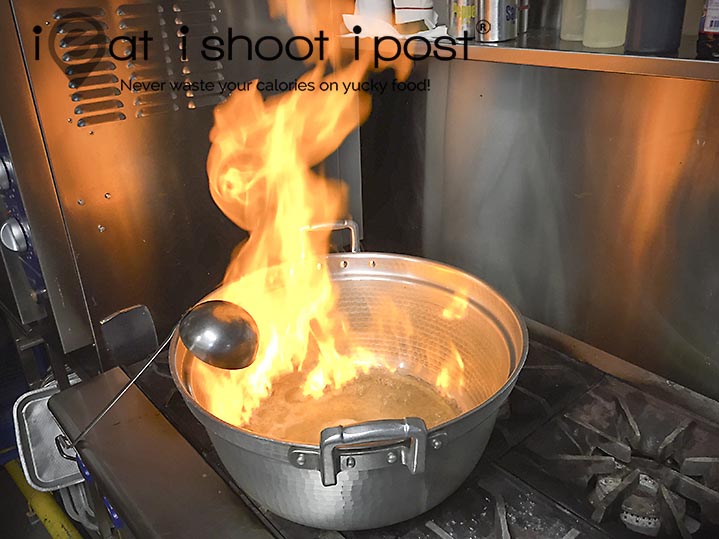 To make the braising sauce. Add the mirin and sake in a pot and heat it up. Use a fire lighter to ignite the flame and burn off all the alcohol.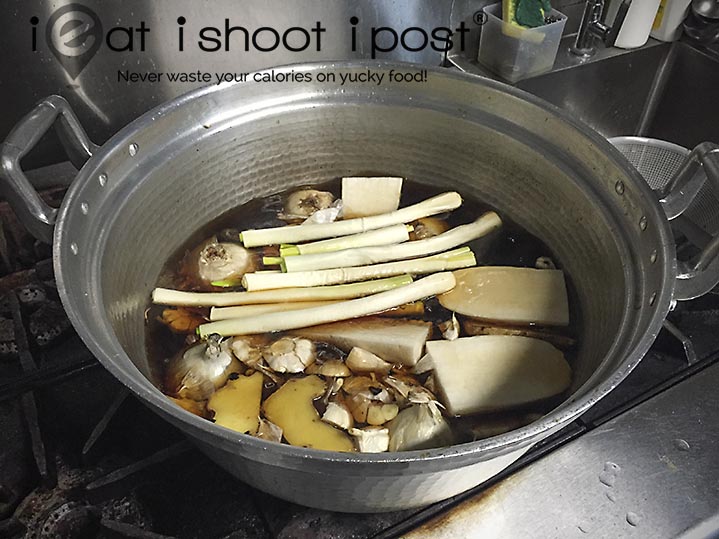 Add the ingredients and braising liquid. The braising sauce is made up of water, sake, mirin, shoyu and sugar in the proportions: 5:2:2:1:1. Now add the pork and simmer for 2.5 hours.
Once the pork is ready, leave it to cool and put in the fridge overnight. It should look like this. When it is ready, slice it and place on rice to steam.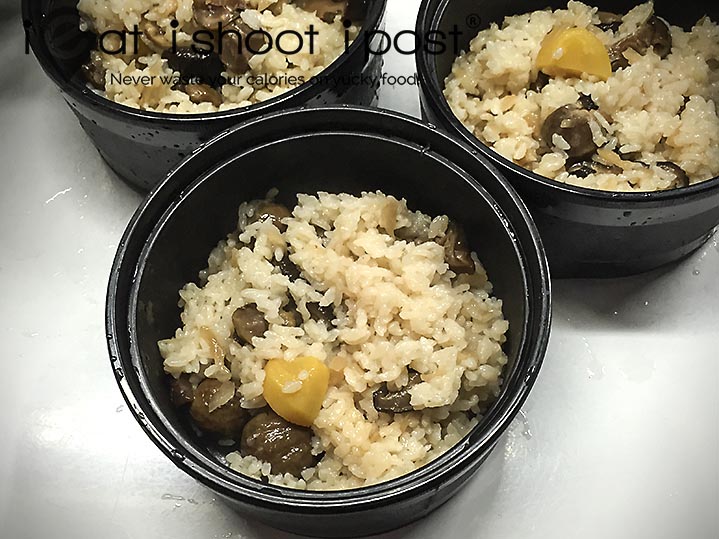 Put the kamameshi in bowls, top with buta kakuni, beef or unagi and steam it for 5-10mins. Serve piping hot!!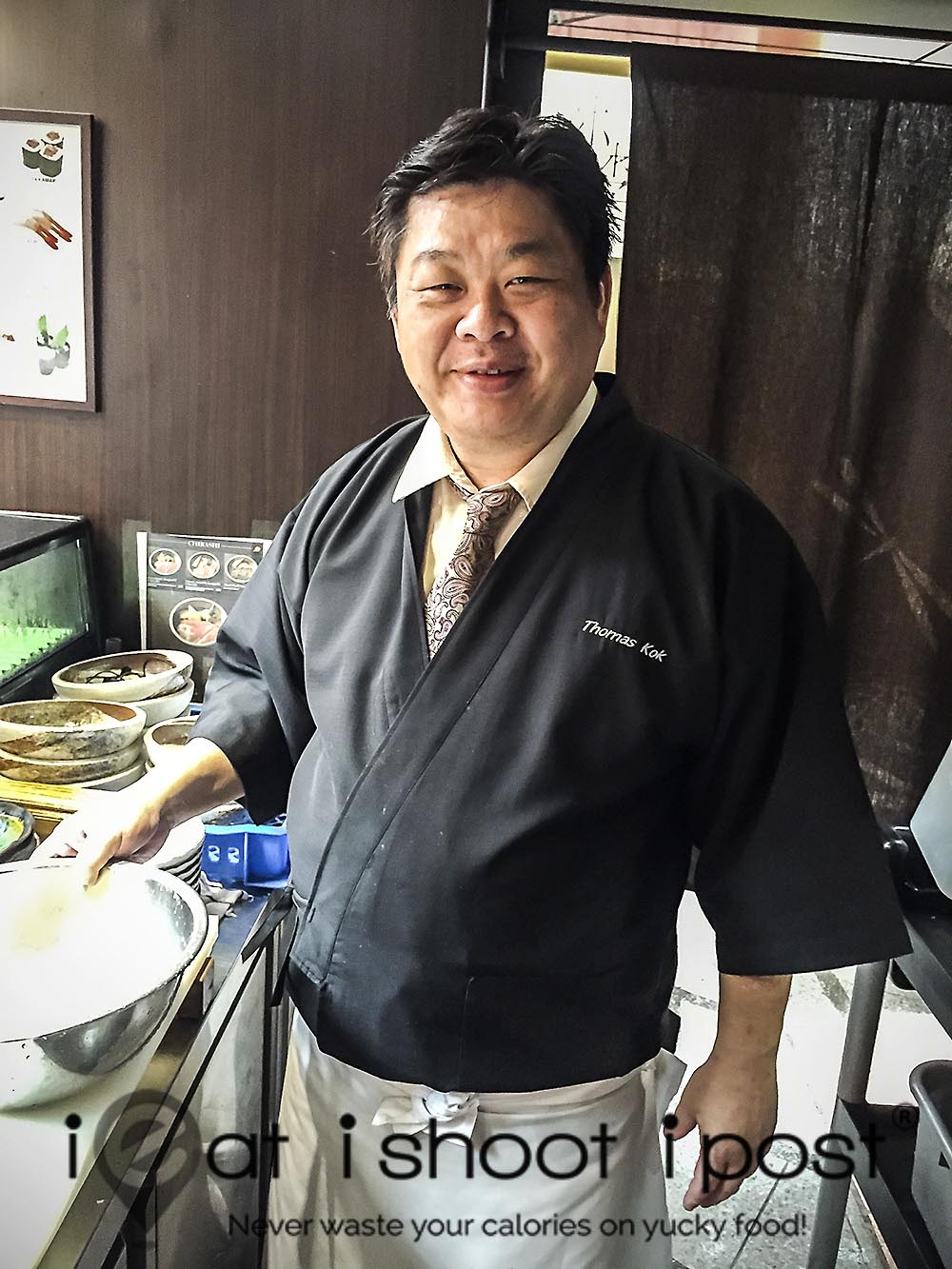 Many thanks to Chef Thomas for sharing his recipe with us! He learnt it as a young chef in the 80's from his Japanese sifu!
Other related Japanese recipes:
Japanese Beef Curry
Japanese Cheesecake
Sukiyaki Potato and Pork
Codfish Misoyaki
Braised Porkbelly in Teriyaki Beer Sauce
Disclosure: Some links above are affiliate links, meaning, at no additional cost to you, we will earn a small commission if you click through and make a purchase.