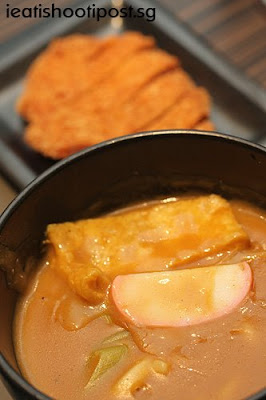 According to our polls, Japanese food is currently the favourite foreign cuisine amongst Singaporeans. So since everyone likes Japanese so much, I shall post not one, not two, not even three, but four Japanese restaurants in this one post. And believe it or not, I ate them all in one day! As my mom would say (in Teochew) "Don't want to do, never do. Want to do, do until like mad!".
Well, let me mitigate my madness by saying that the idea is actually not mine. But thanks to SoShiok.com, I was actually one of six bloggers who won a prize to go on a Makan Safari, which is a nicer way of describing Justified Gluttony. This was a bloggers' event so I was on tour with Kelvin from Timeless Fascade. You can also check out his blog for more pictures and reviews.
For those who may not be in the know. Central is the newest centre for everything Japanese. This is because it is managed by the Parco group which is a Japanese company. The shopping centre is home to many Japanese chain restaurants as well as grocery shops which cater to both the Japanese working here as well as us locals. So far, I have only tried Tom Ton's there so the wife and kids were all very eager to see what else is good.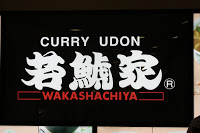 Our Safari started at Wakashachiya which is a place specializing in Curry Udon. You heard right, the Japanese also have their version of Curry Mee but of course a mildly less fiery version. The Curry sauce was better than usual, but I don't think I could get used to having it with udon. You get your bowl of curry udon with a choice of toppings ranging from Tonkatsu to cheese to grilled eggplants. For me, I think I still prefer Japanese curry with rice. 3.75/5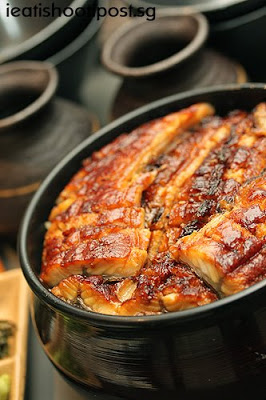 What really caught our attention though, was the Hitsumabushi which is a form of Unadon (grilled eel with rice) but eaten in 3 ways. It was kinda cute as they would serve it with a little card to tell you how to eat it. (Try saying this in Japanese "Engrish")
Number one way: Scoop some eel and rice-o into small bowl and eat plain-o. Number two: Scoop some eel and rice-o into small bowl, add yakumi (seasoning made from seaweed and other stuff) and eat-o. Number three: Scoop some eel and rice-o into small bowl, add yakumi and pour the dashi into rice and eat-o. After you finish 3 courses, fourth course, you eat any way you like-o!
Actually this dish reminds me a little of Thunder Tea Rice! The eel was a little crumbly but the sauce was excellent. I never did like Thunder Tea Rice and so I go for Numbers 1 or 2. 4/5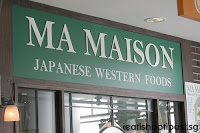 Our next stop was Ma Maison, a restaurant which I have always wanted to visit when I was in Parco Bugis but never got to because of the long queue. Now, the Japanese are great at adapting foreign cuisine to make it very distinctly Japanese. Some even say that they can take, say, a traditional Pasta dish and transform it into what it SHOULD taste like.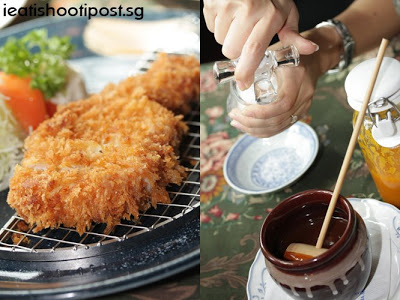 Pork Tonkatsu is one good example of what I mean. This is essentially a European dish that the Japanese transformed into something that is now considered by many to be the best version of a deep fried Pork Cutlet. The Tonkatsu here might not the best one I ever eaten but it is certainly served in the quaintest fashion. It comes with the sauce served in a "Winnie the Pooh" like honey pot and you get to grind your own salt. The crust is good but I found the pork to be just a tad dry. 4/5
If you have never walked into Ma Maison, you should. Especially if you are out on a date. Even my wife and I, who are a bit "out of date" when it comes to going "out on a date" were thinking about what a romantic place it would have been to share a meal together. Now with two kids who can't sit still, it is still a nice place to have a family meal but without all that "Rou Ma" (lovey dovey) kind of stuff. Like how the Japanese have "Japanized" European food, they also managed to "Japanize" traditional European decor such that the place is distinctly Japanese though recognizably European.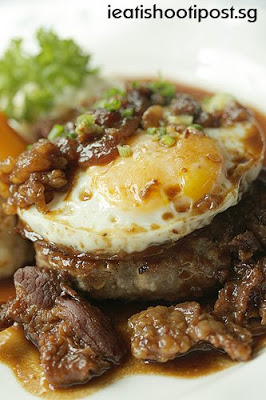 Of the several dishes that we tasted, I liked the Doteni Burger best. Although the pattie was served well done (You don't have a choice), it was nicely seasoned and the beef stew that they served it with was an excellent complement to the sunny side up and pattie. It's another good example of what I mean by Japanized Western cuisine. 4.25/5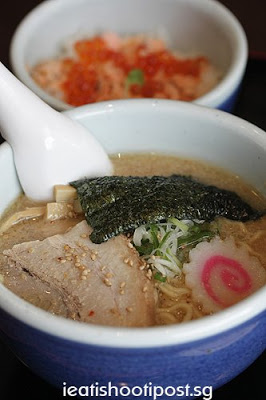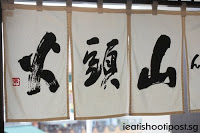 Our next stop was Santouka which specializes in Ramen. Ramen has gained popularity amongst Singaporeans in recent years but I must admit I haven't really gotten into it. One of the reasons, I suppose, is that I don't like the idea of paying over $10 for what is essentially a glorified bowl of noodle soup. Plus the Japanese "Chashu" is not really Char Siew, but more like Loh Bak.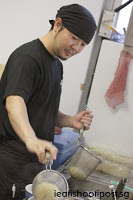 I was however very impressed by the Japanese "Hawkers" who where serving out the noodles. I wonder how much they get paid to do their job? I have always imagined that with their higher standard of living, it would be quite expensive to employ a Japanese Expat to come to Singapore to "Lou Mien" (Dip Noodles in Hot water). I am sure our Hawkers here can do the same job but for a fraction of the pay. But you know, if the person cooking the noodles were shouting out orders in Hokkien instead of Japanese, maybe the noodles would not taste as authentic.
Anyway, amongst the different flavours that we ordered. The "Shio" was the best. The soup was milky and savoury and actually quite good and I must admit, better than our normal Bak Chor Mee soup. The milkiness of the soup was achieved by boiling the pork bones such that all the fat in the marrow is mixed in with the soup forming an emulsion. So if you always believe that soups are good for you, think again. This is a high cholesterol soup which is why it is so shiok!
Soup aside, I found that the noodles that day had a strong "Kee" taste which I would have marked down any of our local Bak Chor Mee stalls. However, I am not sure whether Ramen is supposed to taste like that since the other foodies did not seem to mind it. 4/5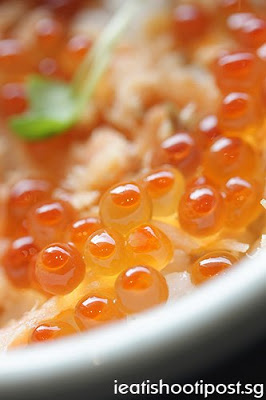 For lovers of Salmon, their Sake-Ikura Don might be a good place to get your salmon fix, especially if you like the fishy salty burst of Salmon Roe in your mouth. Basically this is flaked cooked salmon and roe on rice. My wife and daughter loved it. For me it was like eating cooked salmon and roe on rice. Know what I mean? 3.5/5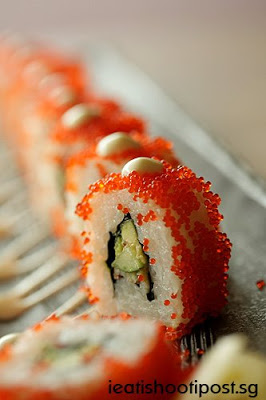 By the time we got to our last stop, Waraku, we were already pretty full except for my son who had been saving his appetite for his favourite Japanese restaurant. Waraku has been one of our regular places to eat Japanese food because it serves pretty decent food at decent prices. So we often go there for my son's favourite dish of Tempura Udon. Waraku does serve one of the best Udons you can find in a mid range Japanese restaurant. The texture is always very good and it has enough gumminess and a good bite.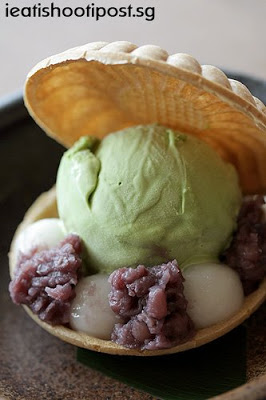 This time around we were so full that we could only manage some sushi and sashimi and move onto the dessert. We have never really tried the desserts at Waraku and so our Green Tea Ice Cream with Mochi and Red bean paste came as quite a pleasant surprise. The green tea ice cream was refreshingly creamy and I suspect, must be imported from Japan. The red bean paste was excellent with just that hint of saltiness that nicely balances out the sweetness. 4.5/5
Conclusion
So there you have it, a Japanese Food Safari right here in Singapore. Actually it would be a good introduction to Japanese food for the uninitiated. Would anyone else be interested in attending a whole day food safari of some of the restaurants in Central? If we can get 20-30 people, maybe I can persuade them to organize one for our readers! So if you are game, do write in the comments with the number of persons required. No obligations at this stage, just gauging the level of interest.
Thanks to SoShiok.com and the Hori-san from the management at Central for organizing this event.
One more restaurant which I blogged previously was Tom Ton which serves marvelous Kurobuta Tonkatsu