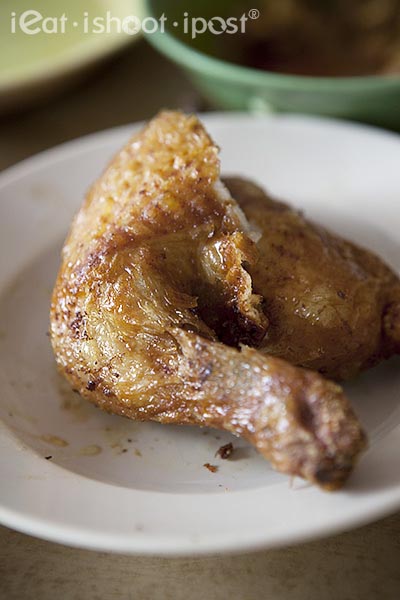 My kakis who brought me to this Nasi Padang place couldn't stop raving about it. They told me that it is among the top three Nasi Padang in Singapore, which is their way of saying that it is really the best in their books but it would be too presumptuous to make such a claim without possessing foodie omniscience. It is so good, they tell me, that it gets sold out by 1.30pm, so they will have to make special arrangements to go early to order the food. So it is with this state of heightened expectation that I visited Istimewa to find if they are indeed "Istimewa" (Special)
Encik Zaman told me that they had started selling Nasi Lemak here in the 90's. When I heard 90's, my first thought was that it was still relatively new. Then I realized that the early 90's was almost 20 years ago! So this stall has been around for 18 years already and it seems like over the last 18 years, they managed to attract quite a huge following! When I was there at 1.30pm, some of the popular items like the Sotong Hitam (squid in black ink) was already sold out!
Lucky for me, the most popular item there, the Ayam Goreng (Fried Chicken) is still available to those who are willing to wait. There is a good turnover for this item and people have been known to wait in the queue for 20 mins in order to get it piping hot. Encik Zaman tells me that aside from using fresh chicken here, he can't really explain why his Ayam Goreng is so popular!
Actually, I was wondering the same thing myself when I first tried the fried chicken. But that was because my kakis had come to the stall earlier to order the food before it ran out, so it was cold by the time I tried it. It wasn't until later that I had the opportunity to buy some freshly fried chicken that I understood what the fuss was about. The chicken is lightly spiced, tender and juicy on the inside while the skin was crisp and thin like those Nori sheets(toasted seaweed). Guess, it was worth the 10 min wait! 4.25/5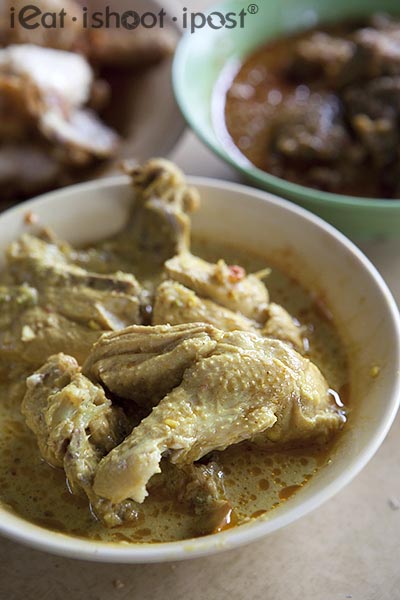 The curries are all very competent here in general, although to be honest, I was expecting much more since my kakis, who are regulars there all seem to swear by it. Don't get me wrong, it was a good meal, but it stopped short of being a DARN GOOD meal which I feel compelled to return to the next day. The Ayam Padi Lemak and Sayur Lodeh were very good, but as I said, they lack a certain addictive quality which I am looking for whenever I eat Nasi Padang. 4/5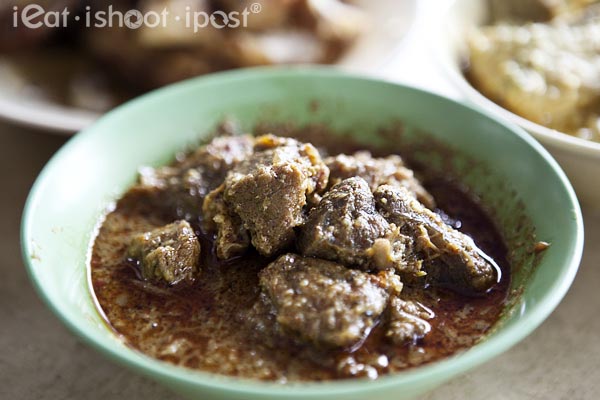 Similarly, the beef rendang was also very good but not so darn good that it kept me thinking about it for days. It is more on the sweet side and very fragrant although the beef was a tad tough. Again, my kakis had to apologize on the stalls behalf and they swore that it is usually nice and tender. 4/5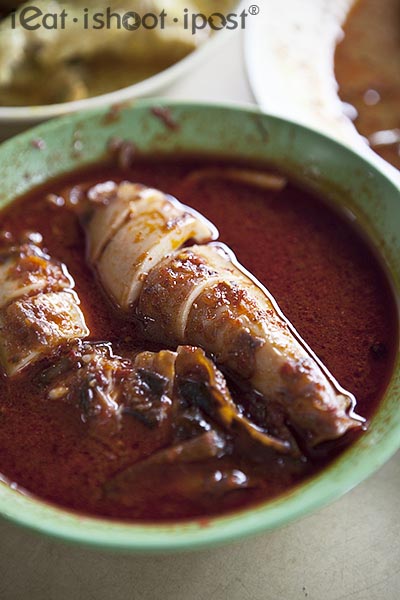 It is too bad I can't give you the lowdown on the signature Sotong Hitam (Black Ink Sotong) as we had to settle for the Sambal Sotong instead. The quality of the Sotong is excellent. Each one is tender and full of roe, but again the sambal failed to elicit the "Wow" in me. 4/5


Conclusion
My experience was less than stella but that should not prevent you from giving this stall a try since they undoubtedly have many die hard fans. Do go at around 11.45am so that everything is still fresh and hot. I think you should have a great Nasi Padang experience then!