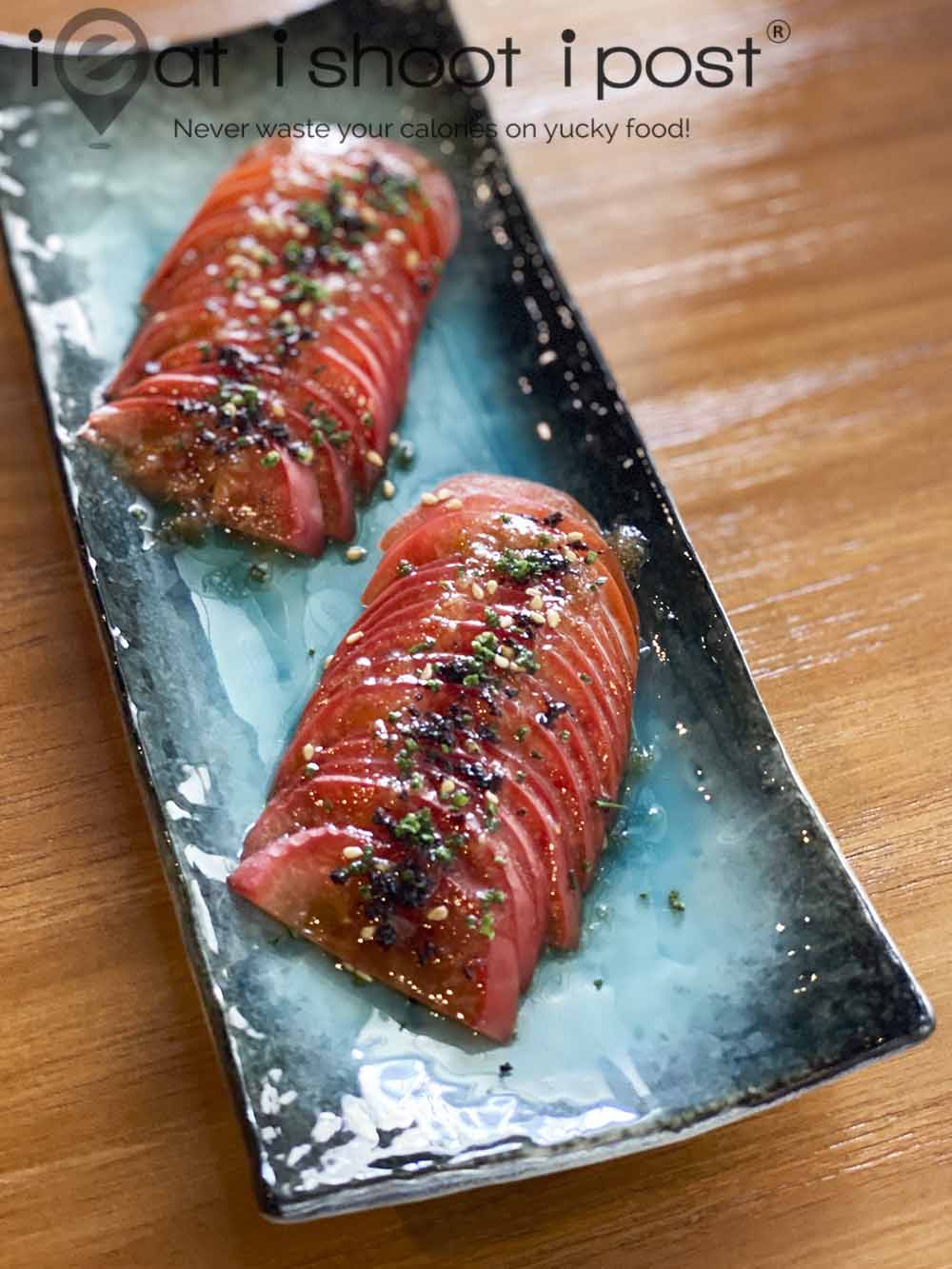 By @FeiEats
When my friend invited us for a meal at her sister's newly opened Izakaya, we certainly weren't expecting Ippai to be a modern and sleek restaurant located at Dorsett Residences. The place looked expensive, but we were pleasantly surprised to discover that the prices were not too bad and more importantly, there were a few dishes that turned out to be quite nice!
Here's a rundown of the food we tasted and enjoyed.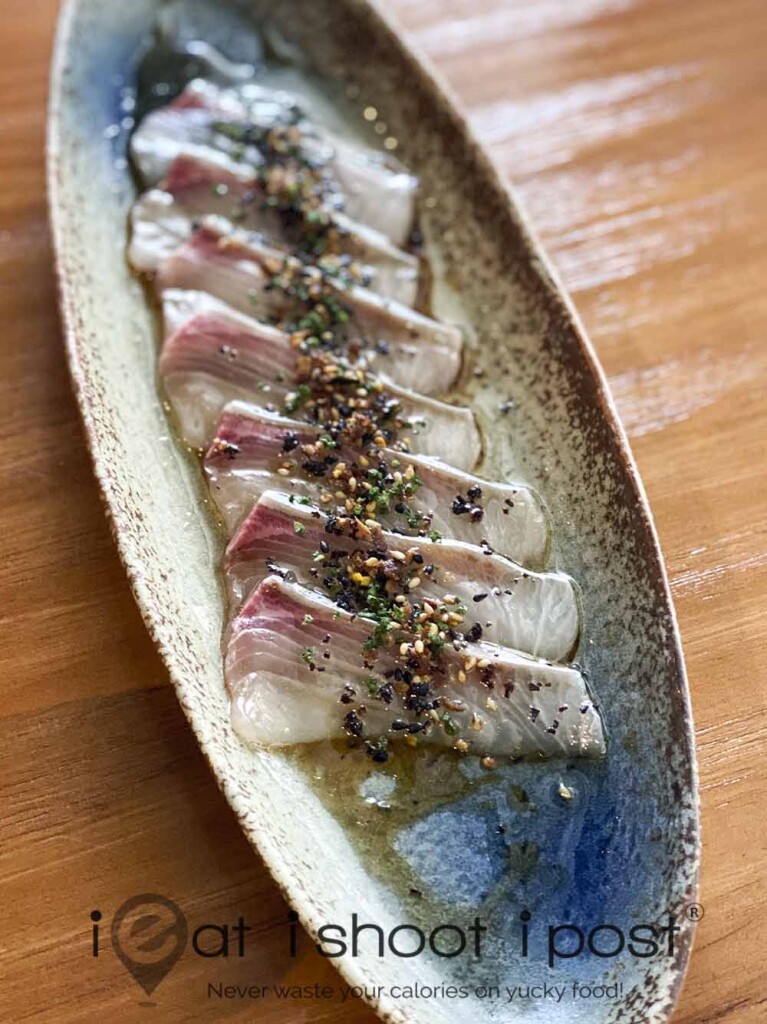 The meal started with a nice appetizer of sliced Japanese Momotaro dressed in a tangy, salty and slightly sweet marinade. It was followed by freshly sliced Kanpachi sashimi drizzled with a truffle based dressing, shio konbu and sesame seed which was an excellent prelude to the rest of the meal.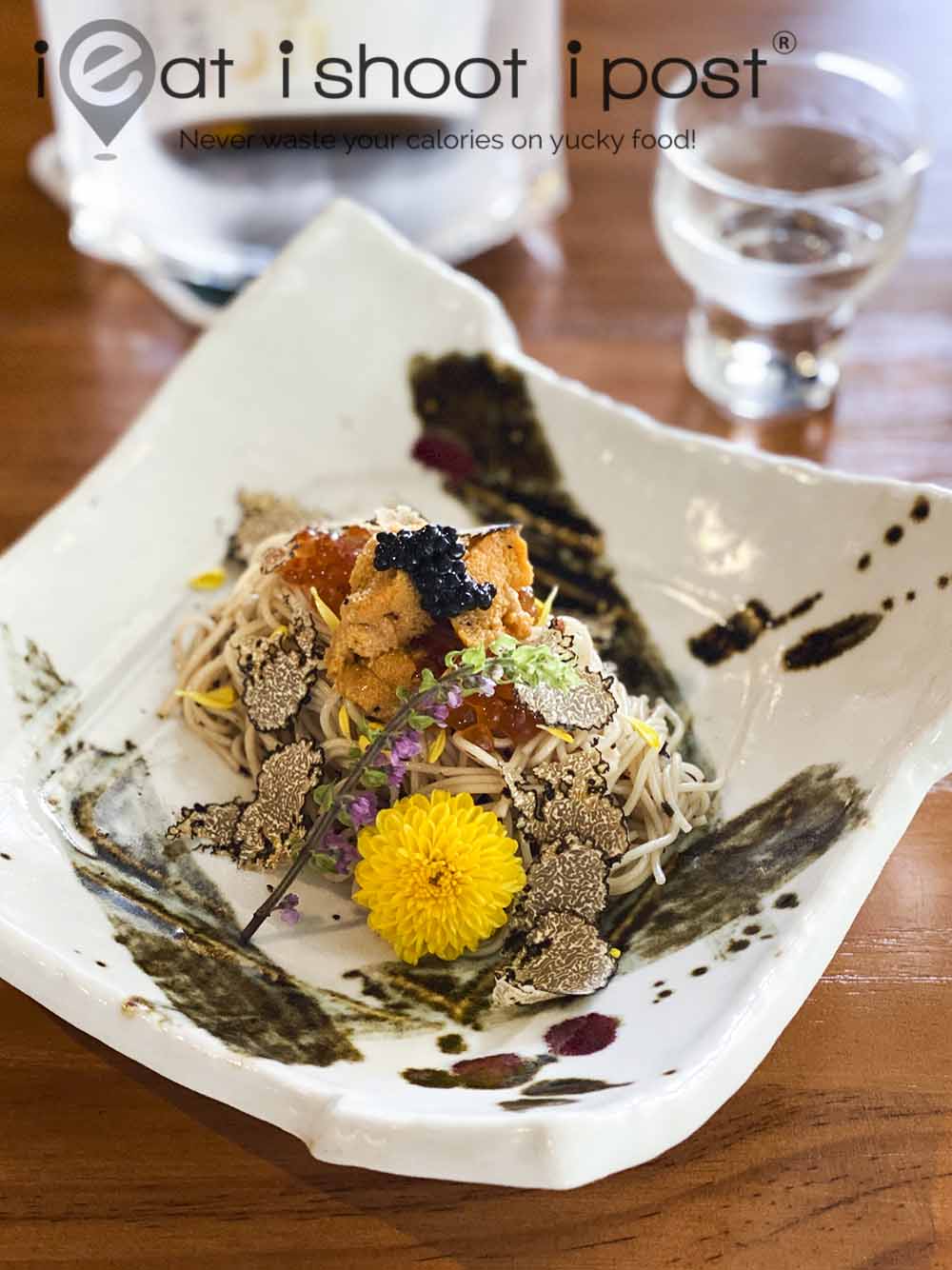 The next dish was their signature somen, which was equally good.  The tender, chilled noodles were dressed in a well-balanced tangy-sweet-umami sauce which was topped with Uni, Caviar, Ikura and Black Truffle shavings. It really was a no brainer and is something we'll probably order again.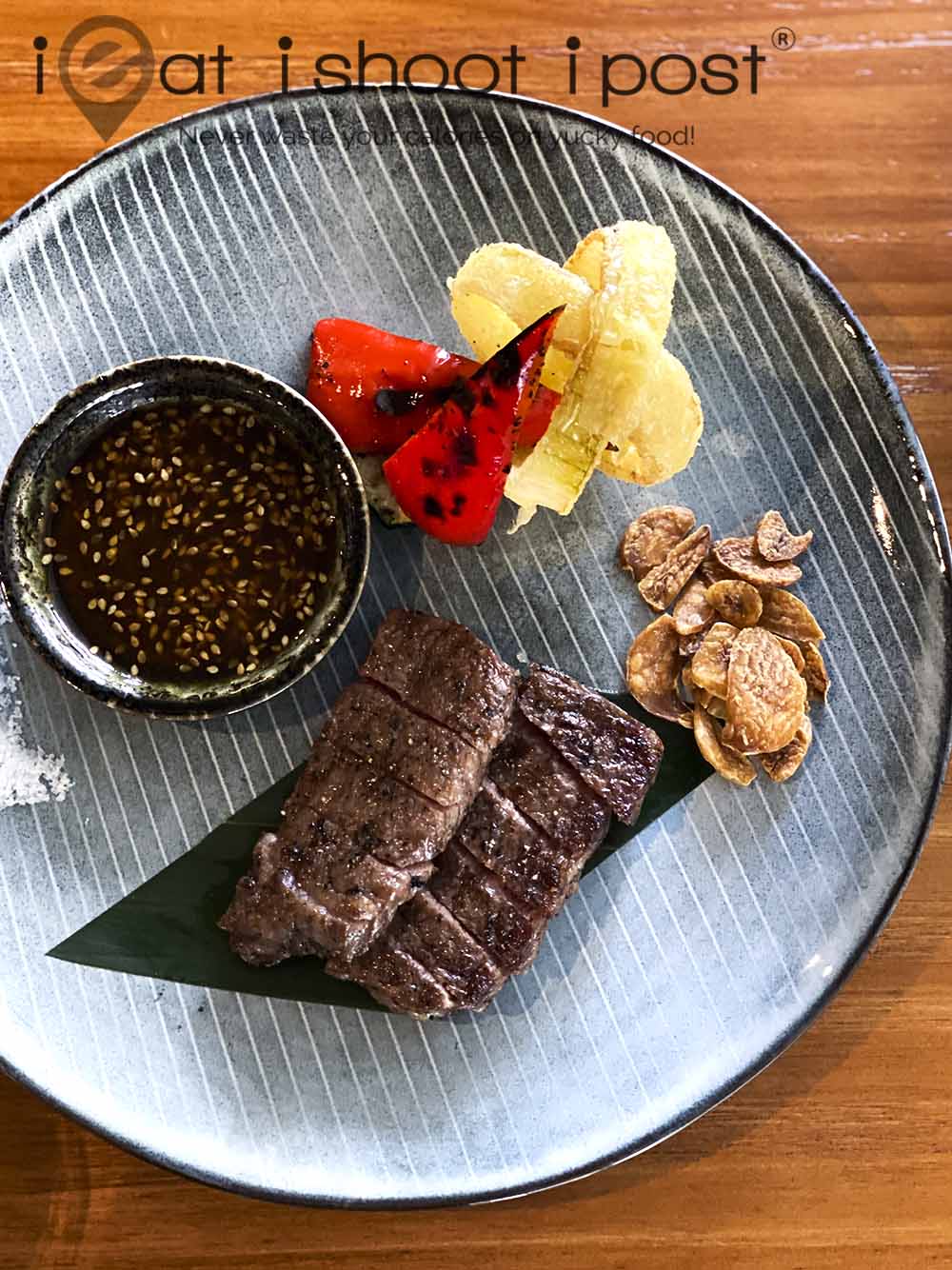 The next dish was an unexpected surprise for me. I've had A5 Wagyu before but for some reason, this particular Miyazaki A5 Wagyu,  grilled over binchotan to be exceptionally fragrant.  The meat was cooked to medium doneness as you would expect but it's the distinct floral notes that wowed me. The chef insisted that the meat wasn't marinated and that it was simply grilled with salt and pepper.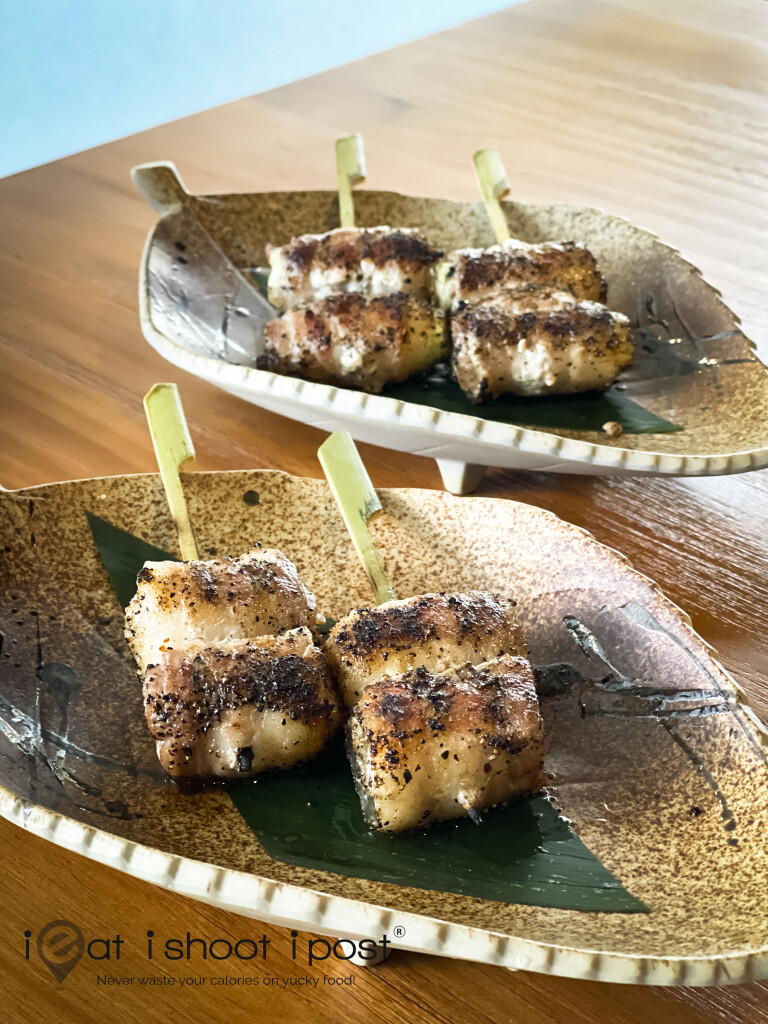 Apart from the Wagyu, they also do a number of grilled skewers like Pork Belly wrapped in enoki mushroom, Chicken Yakitori, Prawns and Squid skewers. The pork skewers were good, but nothing really to shout about.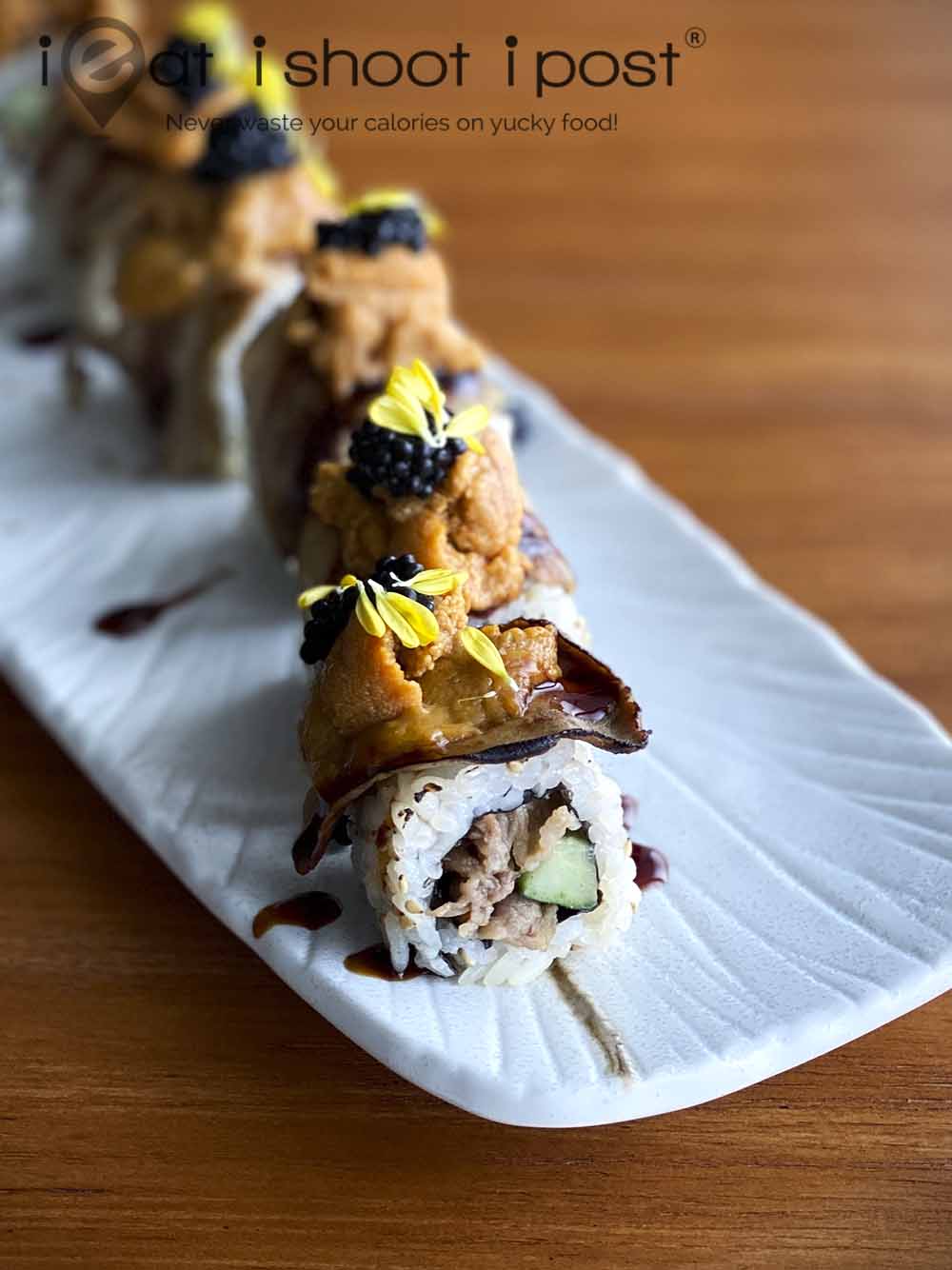 The Foie Gras Wagyu Maki was, needless to say – good.  Again, you can do little wrong when you roll up Foie Gras with seaweed and rice, topped with uni and caviar on a slice of Waygu. Each mouthful was a delightful contrast of flavours and textures.
Dons
They have a pretty extensive menu of Dons. You can get everything from Chicken Yakitori, Beef Yakiniku and Unagi to Chirashi and a Negitoro (Tuna Belly) Uni Don.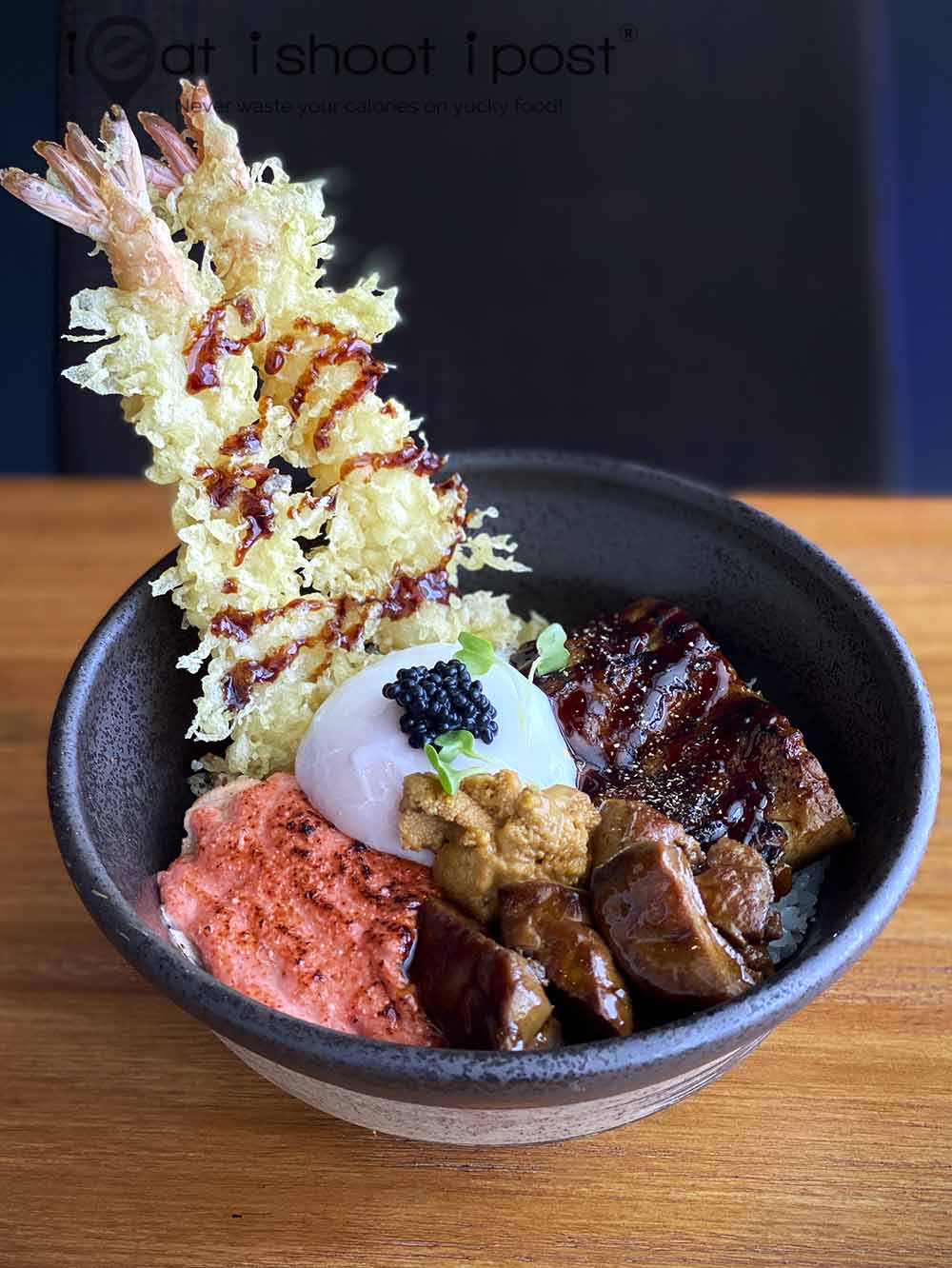 The best is probably their Signature Don ($29) which has almost everything you want on white fluffy Japanese rice.  You get cubes of Foie Gras, Uni, Mentaiko grilled salmon, charred slabs of Unagi and two pieces of Tempura Ebi, topped with an onsen egg.  It almost looked like you went around picking on everyone else's dons to construct your own super-indulgent bomb of a don! The tempura ebi was a little anaemic but the rest of the items were quite good.
Lunch Lobang – you get  a free salad and soup when you order their Don set lunch.  If you dine with a friend, the second lunch set don is half priced and it doesn't have to be the same set. According to their website, the promotion is good until the end of Oct. But check before going in case of any changes or extensions.
Bar (Izakaya) Food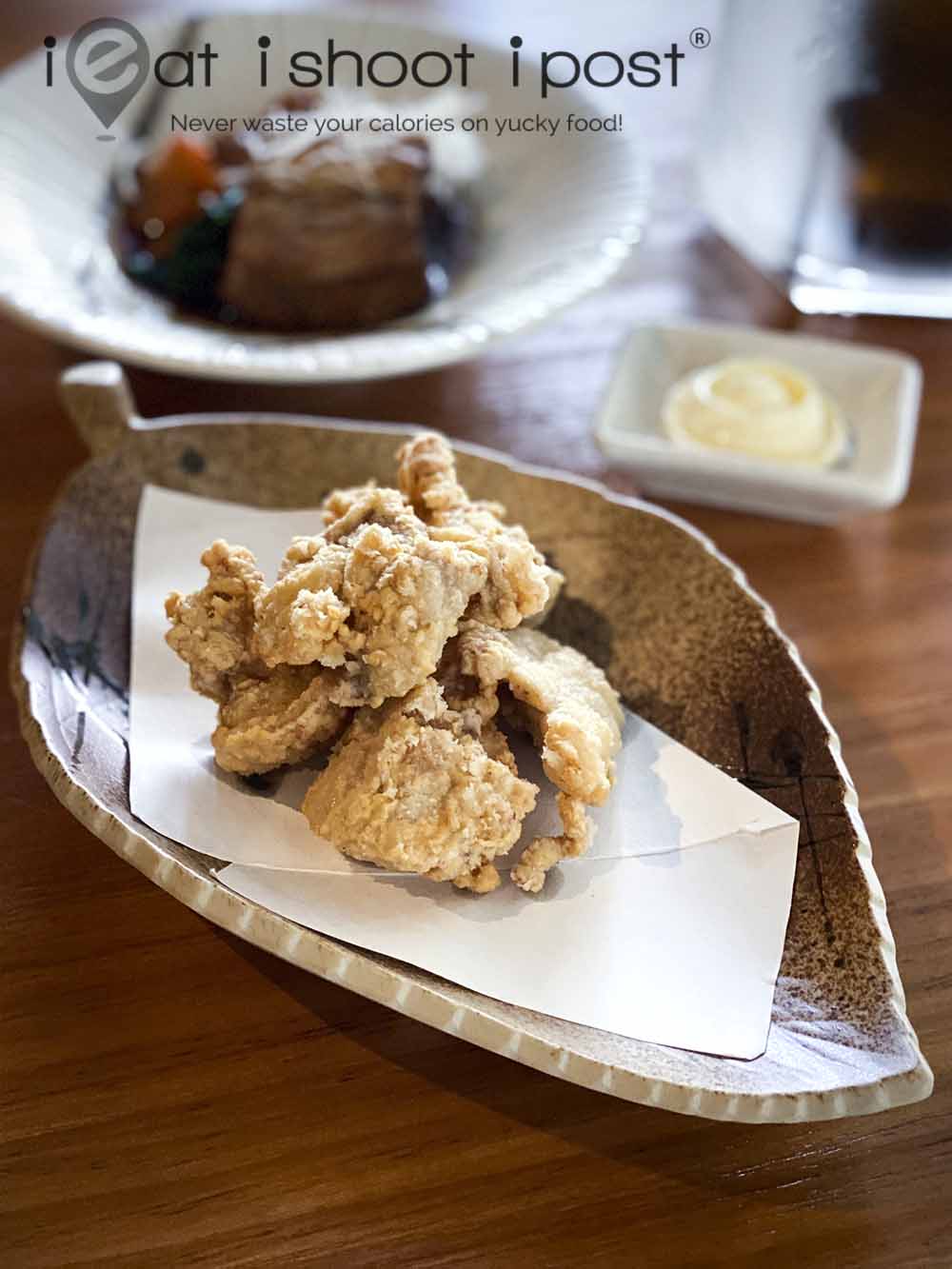 Like any Izakaya, they have a selection of small dishes that go well with drinks.  Instead of the usual chicken karaage, they offer tori tatsuta instead.  Both are very similar fried chicken pieces, but the tatsuta has a thinner coating of batter. Its nice fried chicken, but freshly fried chicken with mayonnaise is always good.
The Braised Pork (Buta Kakuni) was alright though the meat was a tad dry because the chef was using Pork Collar instead of Pork Belly after some customers requested leaner cuts. It's not something I would recommend unless you are on a diet.
Sakes
Our food was paired with the Tatenokawa (SMV -1) sake during the meal. The sake was only a little sweet like how we like it and is medium-bodied with light fruity notes that puts you in a good mood almost immediately.
They have a good range of sakes including a number of Junmai Daiginjo priced around $118 for a 720ml bottle.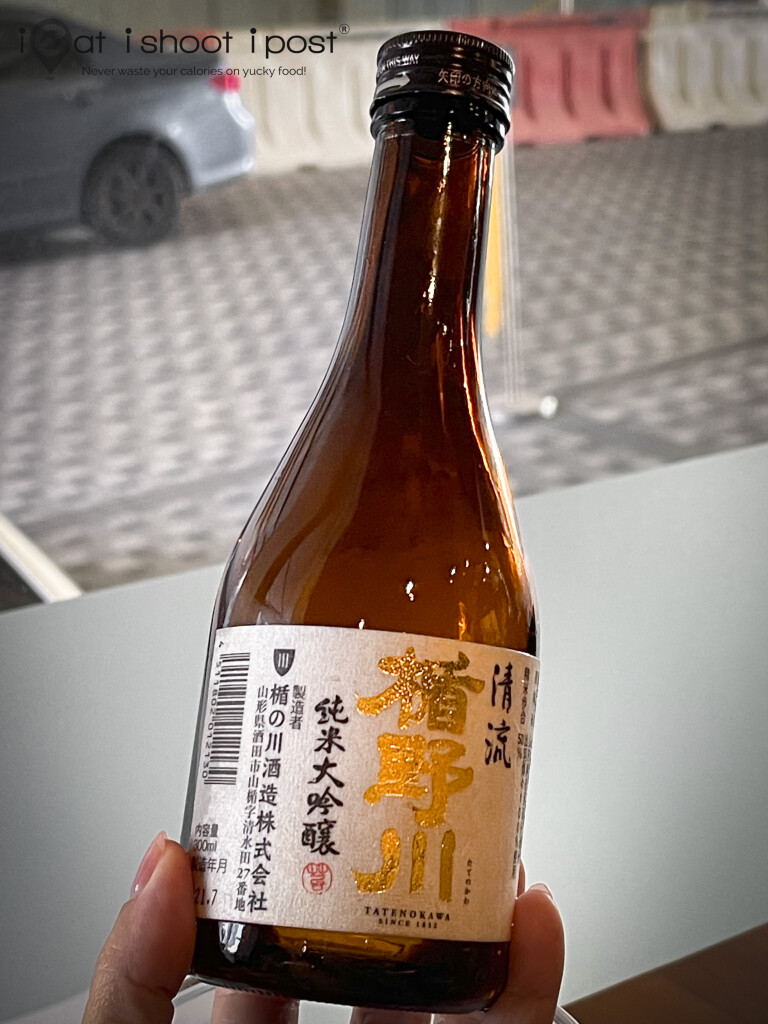 Don't forget to order the Ice Cream!
The ice cream here is good!  It's not the usual Matcha, Yuzu and Goma (which they have as well) which you usually see at Japanese restaurants, but you get to choose from a really nice Okinawa Sweet Potato, Okinawa Sea Salt and Okinawa Brown Sugar.
The sweet potato stood out as you really feel like you're eating sweet potato but in the form of an ice-cream. The sea salt ice cream had an unusual blue hue but was surprisingly good.  No wonder people wanted to buy home tubs of these new flavours. The owner is reluctant as he claims that supplies are limited,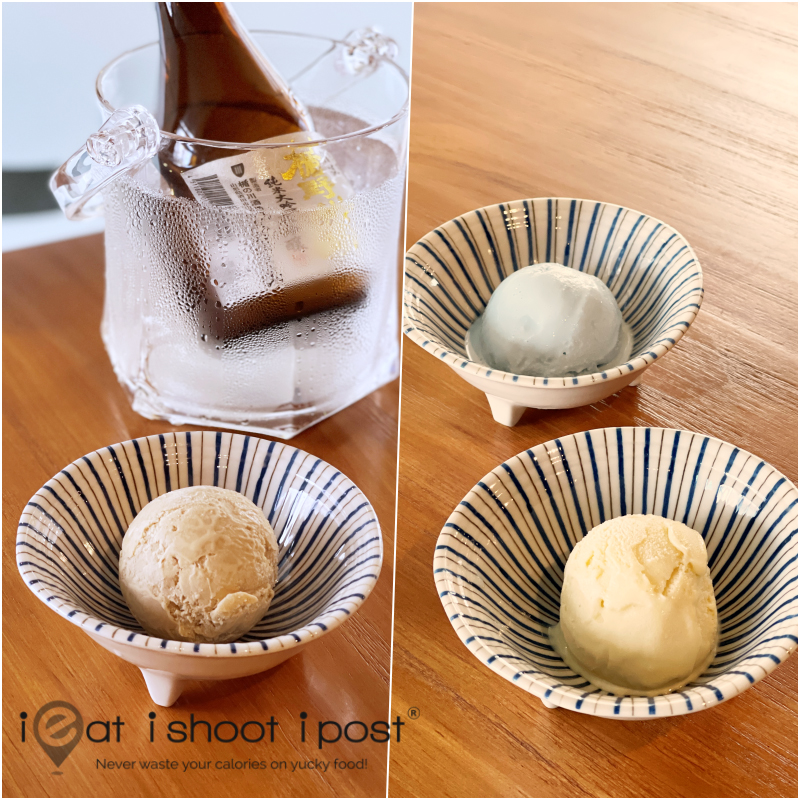 Culinary Team behind IPPAI Izakaya
Leading the culinary team at IPPAI Izakaya is Chef Ken Lim who has himself over 25 years experience at various restaurants both overseas (Taiwan, HongKong) and in Singapore. Overall, he's done a good job with the menu.  I think he knows what Singaporeans enjoy eating and is able to put together a few dishes that really have everything you want in a dish, like the signature don for instance.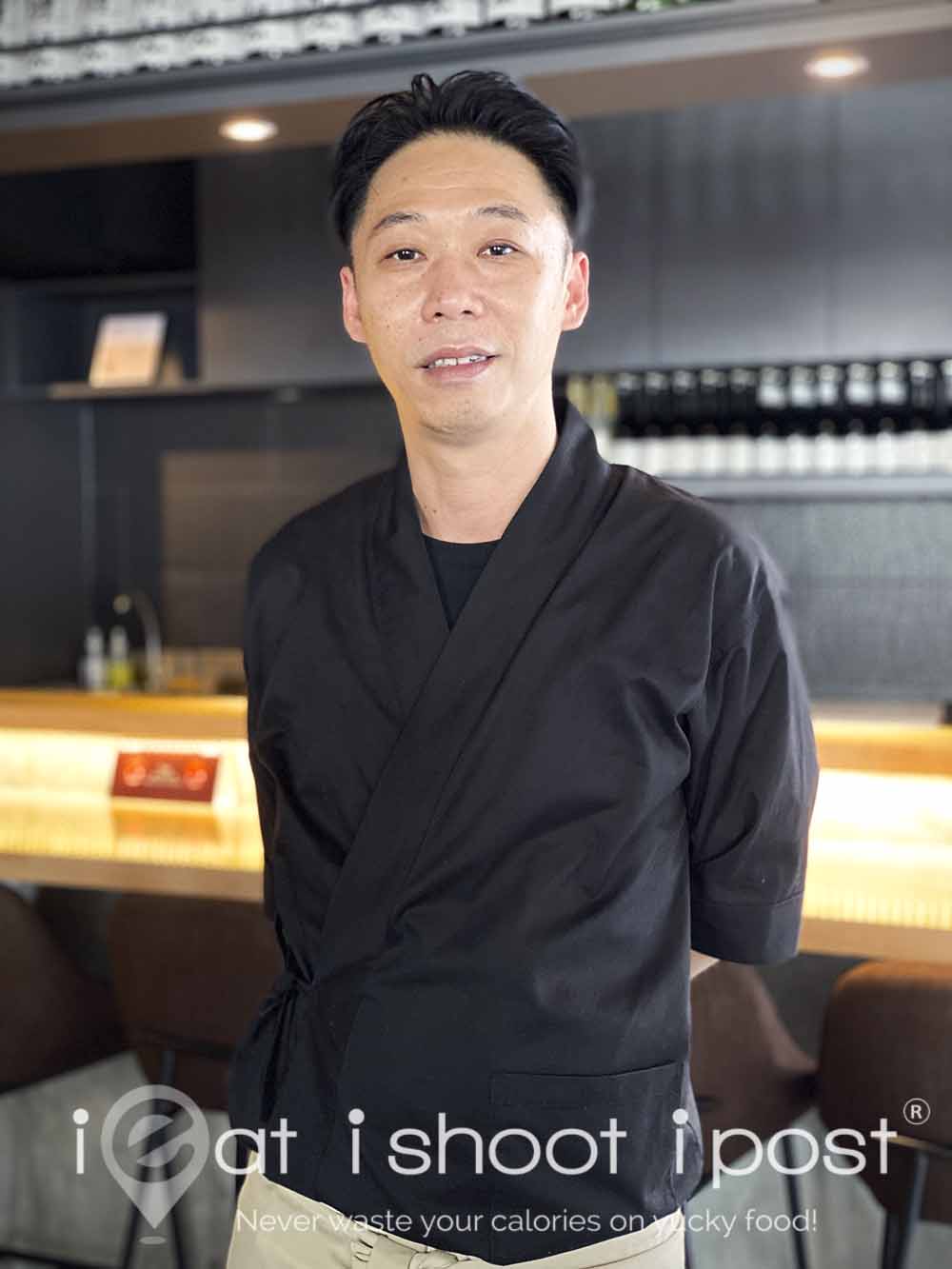 Conclusion
Overall, Ippai Izakaya is a welcomed addition to our list of go-to Izakayas. I have already identified a few more interesting dishes to try on our next visit.  It's always hard to gauge a restaurant's service level on a weekday afternoon during a media tasting.  But from what we read of the Google reviews online, the service is good, prompt and friendly.  All things considered, I give an overall rating of 4/5.
Definitely a place to consider having an IPPAI 一杯 (a drink) with your friend(s).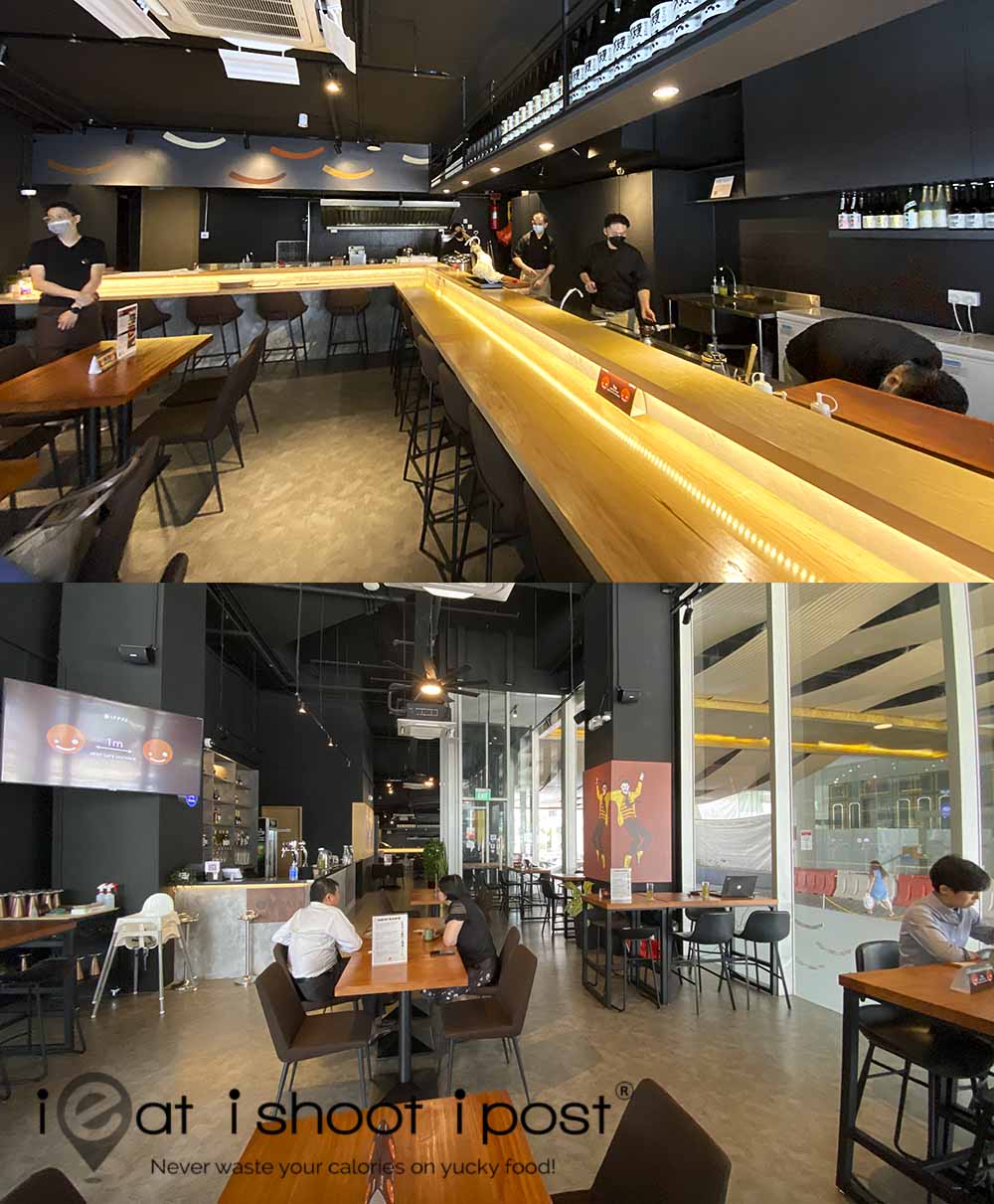 Disclosure: this was a media invite which means the food was provided without cost and with no obligation to do a writeup unless we want to. Opinions expressed are purely of our own.