Update: 9 Dec 2015
Address of the stall has been updated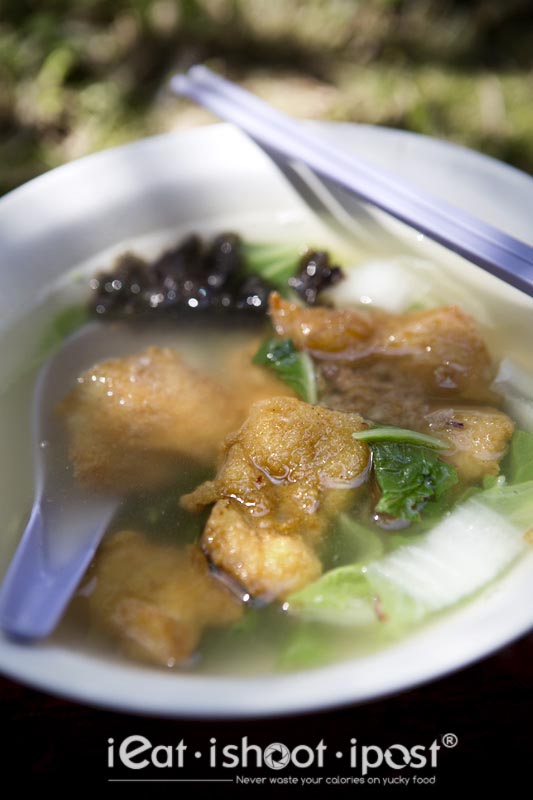 I am sure you have felt it before. You walk into a large food centre and there are food stalls everywhere but none of which are worth your calories.
That has happened to me many times at Seah Im Food Centre which is why I guess I have never blogged any stalls there before. This time round, my friend Damien, told me about this particular fish soup place which is currently his No. 1 spot for fish soup. If you have been following the blog, you would know that Damien is one of my most trusted kakis. So when he says something is good, it is usually worth checking out.
This time round though, I found that we have differing opinions. I guess, it depends on what you expect from a fish soup.
The one thing we do agree on is the freshness and quality of the fish and Ichiban delivers on this. The fish is sliced surprisingly thick and cooked perfectly such that the flesh is tender but firm. And for $3.50, I thought they were particularly generous with their portions. I was also impressed with their fried fish. A lot of places might use the cheaper Dory (pangasius hypothalamus, iridescent shark), but this place actually uses a very good Sea Bass (Kim Bak Lor). So both the fried version and the fresh version of the soup are excellent.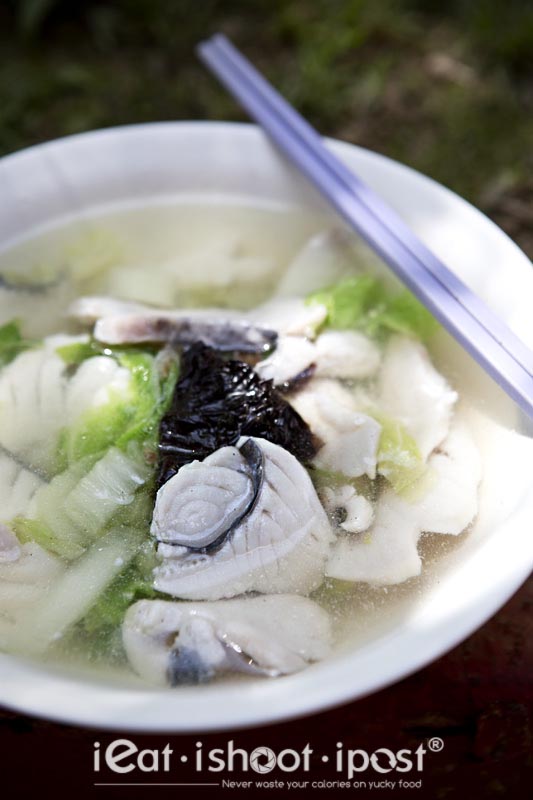 Where our preferences differ on is the soup. I have always preferred a soup with plenty of oommmph, while Damien like the clear and light version. So if you are like your soup "Cheng Cheng" (light and clear), then this fish soup should score highly. For me, I think it is at least a place in the whole of Seah Im that I can at least blog about. It is a good fish soup, but I wouldn't need to go all the way there to eat it.
Oh, before I forget, I think the chilli here is worth mentioning. Instead of the usual sliced chilli with soy sauce, their chilli here is almost like a Chicken Rice chilli and has a wonderfully strong calamansi fragrance which I thought was quite unique and actually went well with the fish. 4.25/5
It is quite a shame that we really couldn't find anything else in Seah Im to recommend. OMark had heard a lot about a certain Malay Chicken rice, but it didn't quite "make it". Then there was another braised duck that we tried. Again, I wouldn't want to waste your calories by telling you about it. I walked past a Hokkien Mee that a lot of people seemed to be ordering, but I was warned by yet another kaki that it also CMI (cannot make it).
Such a shame that we couldn't find another stall to rave about. Perhaps there is something you can recommend?
Conclusion
If you are at Seah Im Food Centre and looking for something to eat, then this stall is a good choice. The fish is fresh and they are very generous and the chilli is unique and has quite a kick.
Note:  The stall has moved to Alexandra Food Centre