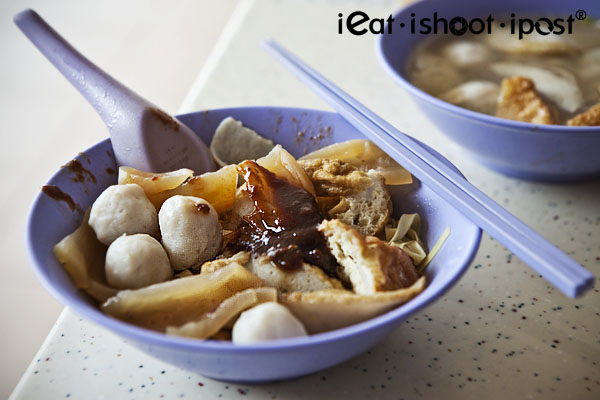 Damien has been one of my most trusted makan kakis since the early days of the blog. He is one of the few people I know who is a second generation foodie. I believe he was weaned onto pureed Hokkien Mee from Geylang Lor 29 even before he could say the words "Hokkien Mee".
There isn't a stall that Damien does not know about and I guess one of the reasons he never wrote a blog is because, well, it would never, ever get done. There is just no way to transfer the godzillabytes of information from his temporal lobes onto a hard drive.
Anyway, just before Damien left for a distant place in Europe for a 6 month makan pilgrimage to pay homage to the gods of gastronomy, we met up in Tiong Bahru Food Centre for one last makan session. It was there that he told me about this grossly underrated Fishball Noodle stall which made me really upset because he kept it to himself for the last three years!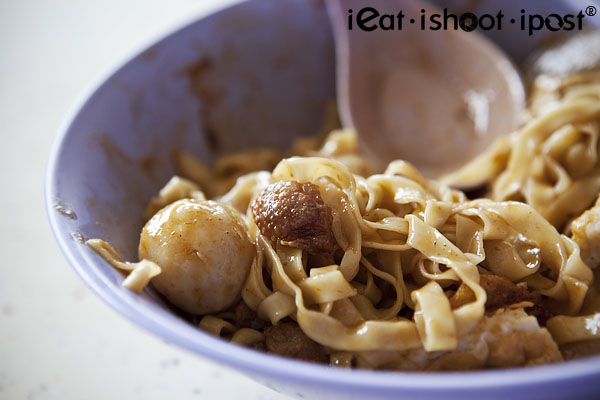 This is just one of those very old school, no frills, fishball noodle stalls who serve one of the meanest fishball noodles I have tasted so far.
Three words. Fishball, Pork Lard, Chilli.
You only have to look at the fishball to know that they are bound to taste good. They are small, rustic and the surface is grooved by fingerprints. They are really tasty and you won't get that synthetic springy texture that you find in factory made balls. The Pork Lard is one of the best around. They are fried till most of the fats have melted away, leaving something that has the crunch of Twistees but unlike the extruded snack which has been flavoured with chemicals from a laboratory, this is flavour as originally created by God. Then there is the Chilli. As you know, I am not a big fan of chilli which is only heat but no flavour. However, a savoury, well balanced Chilli which has just the right combination of sweet, salty and heat is something that I find delectable. Put these altogether with the option of topping your noodles with their homemade Yong Tau Hoo and you got a bowl of noodles worth 4.6/5
Conclusion
Not good, very very good! The art of pork lard and handmade fishballs is alive and well! And on top of that, it is still priced at only $2.50 per bowl!