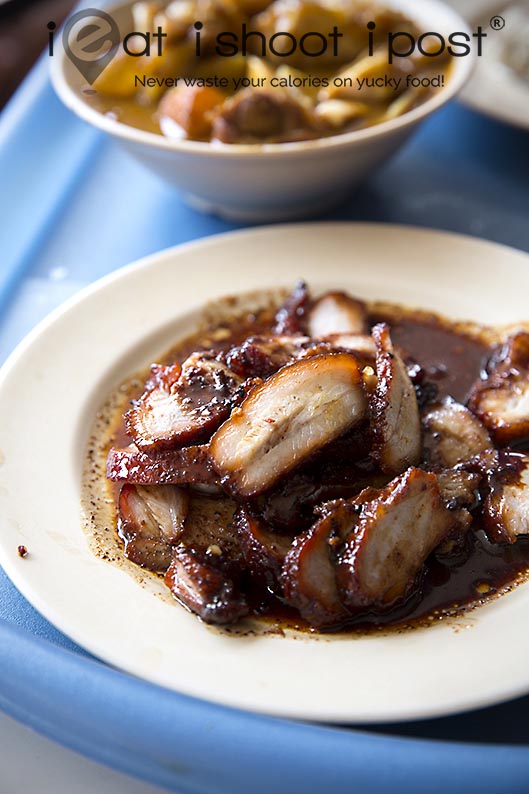 It would seem that one of the most popular hawker foods that new generation hawkers are getting into is Hainanese curry rice.  Over the last few years I have learnt of a few, like the two graduates who started Truly Curry.  I think that most of these young hawkers see the potential in this type of hawker food where you get to eat the kind of dishes which mum would cook at home.  In our society where an increasing number of family units are made of two working parents, these types of stalls can become the surrogate home kitchen.  The other potential in this type of food is its potential for expansion.  The dishes can be prepared in a central kitchen and distributed to several stalls around the island which can turn out to be quite a lucrative business.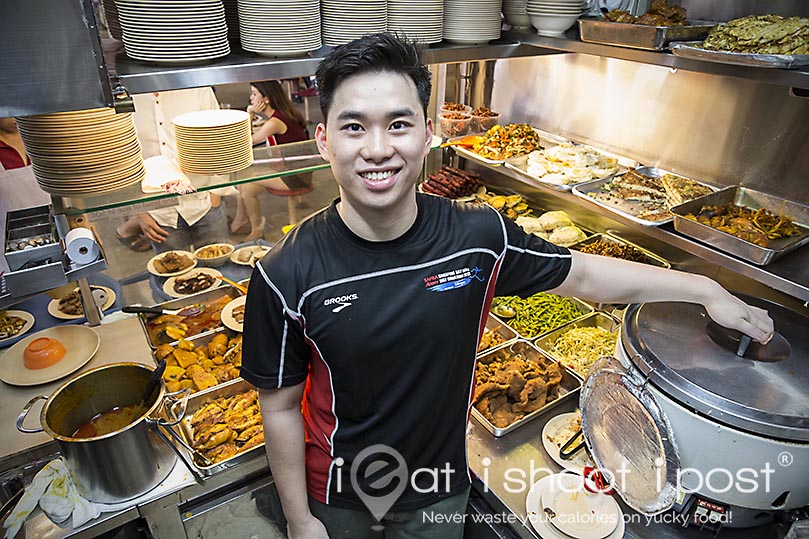 Meet Gen Y hawkerpreneur, Lim Jia Han who is taking over the reins of his family's 20 year old hainanese curry rice stall in Redhill.  He wakes up early in the morning to start cooking the  selection of 20 odd dishes at the stall every day.   In his own words:
" After my graduation from university of london (SIM) last june, with a business savvy mind, and a big dream to expand the business, i undergone 3 months of intensive culinary training from my uncle who decided to retire from this trade. On 1st Oct 2014, I took over as the main chef of the stall, it was a big shoe to fill. "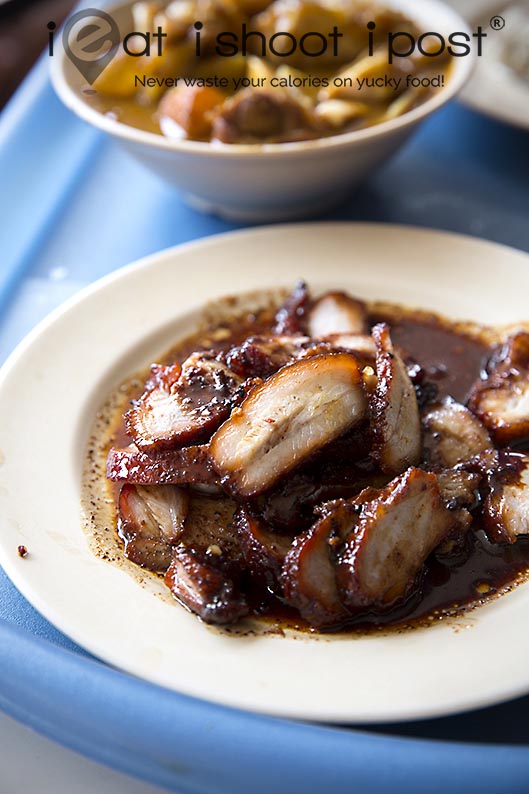 It's good to see that entrepreneurial spirit in a young man who didn't really know how to cook prior to his training!  So it's quite incredible to think that he went from cooking zero to a cooking hero in just a few months!  And from the generally positive response from our facebook fans,  I think he has certainly mastered most of the recipes that has been handed down to him by his uncle.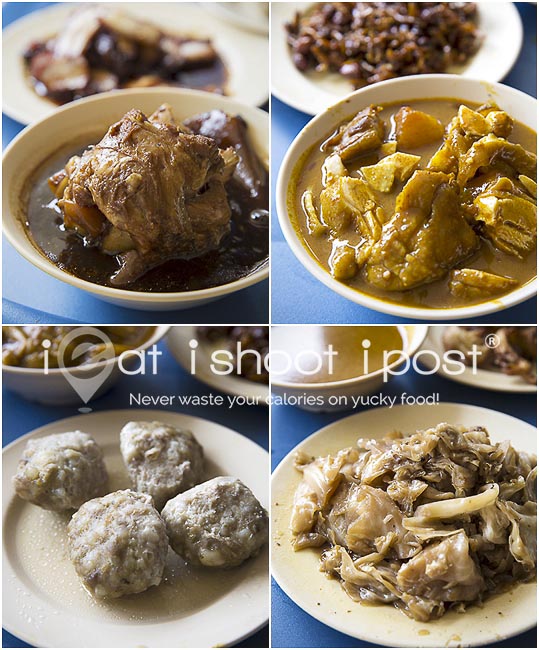 The best dish I had that day was most certainly the sambal ikan bilis which is made from rempah that he painstakingly fries himself every week.  The balance of sweet, spicy, salty and savoury is just nice.  4.5/5.  The dishes are good in general.  I was a little disappointed that they did not have braised pork belly but offered pig's trotters instead.  The wok smoked char siew was very impressive to look at but I felt that it was overly sweet without a nice savoury mouthfeel to balance it.  4/5 Our kakis liked the pork balls (lion head) which had a nice bouncy texture that is produced by hand pounding the minced pork.  I would have actually preferred it a bit more tender and felt it lacked the addictive edge compared other stalls.  4/5 The chap chye was very good and stewed till it was really soft. 4.25/5 I was also equivocal about the chicken curry which just lacks that oomph for me.  4/5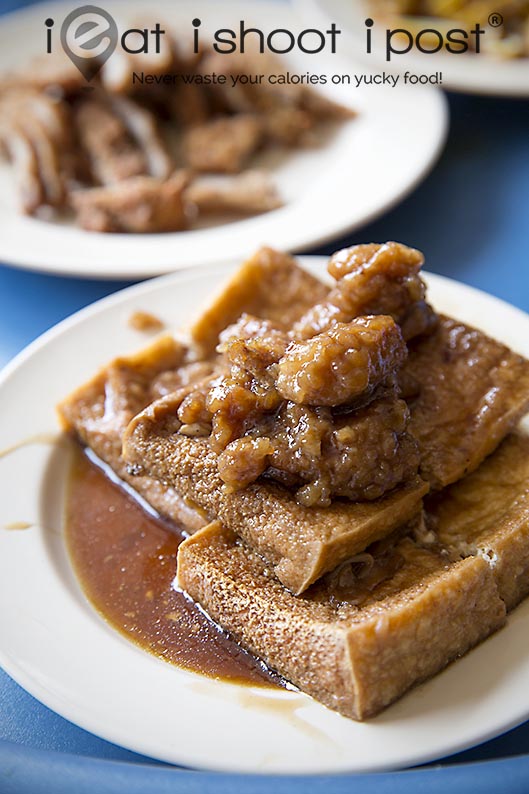 Hainanese curry rice is a dish where the four basic gravies need to be poured over the rice in order to achieve that familiar symphony of flavours.  The spicy richness from the curry, the savoury saltiness from the braising sauce and the sweetness from the charsiew and chap chye.  Personally, I felt that the four flavours just didn't sync as well as some of the other stalls which I have visited.  Having said that, most of the dishes here are good to very good and Jiahan has emphasized that they are very proud of the fact that they use quality ingredients in the preparation of their dishes.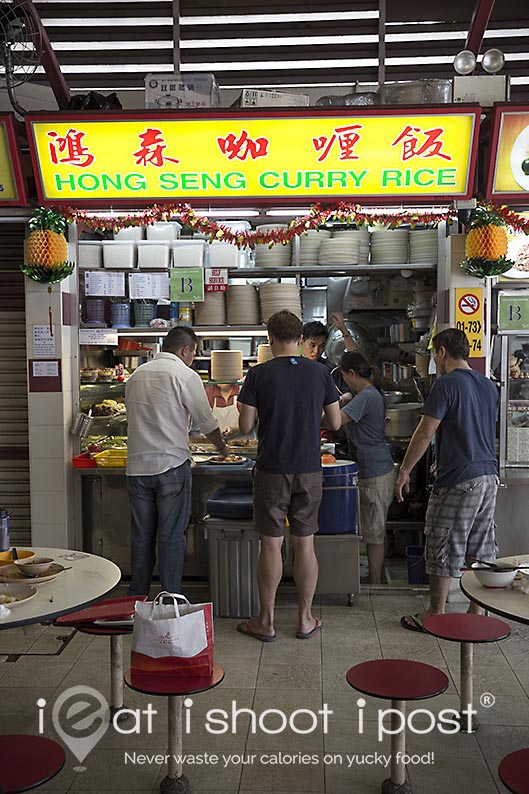 Conclusion
Judging from the number of young hawkers entering the Hainanese Curry Rice trade, I think the future of this particular Singapore hawker dish is quite good.  It is the kind of stall which you can visit everyday to get a "homecooked" meal and I can see the potential for one of these surrogate home kitchens in every hawker centre.  Long live Hainanese Curry Rice!