This stall is closed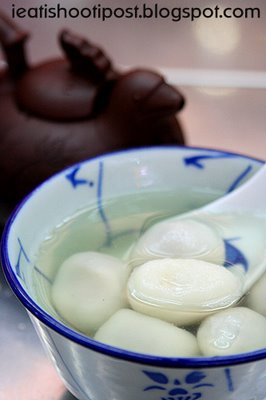 You are looking at an culinary artform that is closer to extinction than an impotent Panda. This is the last stall in Singapore that still sells traditional Teochew style Ah Balling that is made by hand when you order. Teochew Ah Balling, like many other Teochew dishes, tend to be more Cheng (Less complicated flavours). So unlike the Hokkien Version that serves the Ah Balling in peanut soup, in the Teochew version, the soup is a simple sugar syrup flavoured with Pandan Leaves.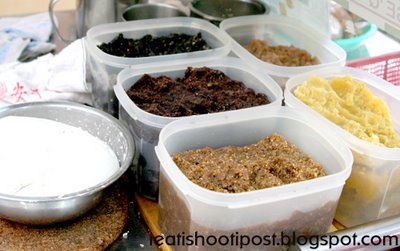 Except for the upgrading to plastic containers, everything here is still done the traditional way when his father first started selling Ah Balling from a push cart over 45 years ago. Mom even remembered Mr Loh when he was still a teenager helping his father along Ellenbourough St.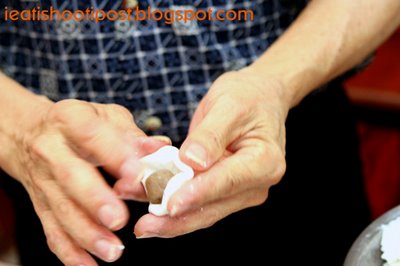 His hands are so fast that I had to ask him to slow down in order to take this particular shot. (Believe it or not this is the slow motion shot) Each Ah Balling takes barely 3 seconds to make!
In my previous Ah Balling post, I suggested that the name Ah Balling was derived from the Teochew phrase for the unhatched duck egg. Well, this uncle told me another story. He said that when the Ah Balling is first thrown into the boiling water, it sinks to the bottom. Then, when it is cooked, it floats to the top and looks like an Ah Bor (Mother Duck) floating on the water. Ling is the Teochew word that describes the motion of the Ah Balling bobbing around in the water. Which version to believe? You decide for yourself! But this latter version came from the Emeritus Professor of Ah Balling himself!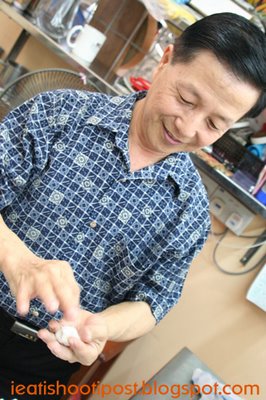 Conclusion
Its more about texture then taste. The Ah Balling is super smooth and chewy. However, if you like peanut soup, you might find the clear soup a bit bland for you (Like I did). Mom really loved it, I loved it more for the texture and tradition than the taste. 4.25/5
At any rate, this hawker legend still deserves his title for his dogged persistence in perserving our culinary heritage.

Updated 13 Feb 2012
Our reader has updated that this hawker legend has passed on and so the stall is unlikely to reopen again. Thanks for the update, Daniel.