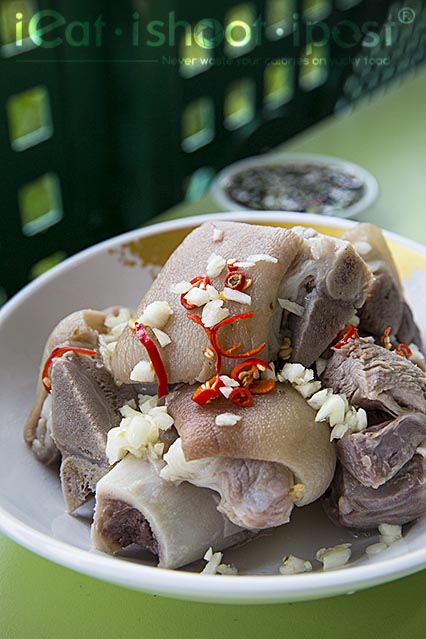 Fragrant Pig Trotter Bee Hoon: Eating Pig's Feet will Keep You Looking Young!
I always tend to associate pig trotters with the elderly. I think it is a cultural thing, but we Chinese always talk about grandma eating pig trotters. Nowadays, pig trotters are becoming fashionable again with celebrity chefs like Fergus Henderson advocating nose to tail eating. It wasn't long before the scientists also got into the picture and elevated pig's feet from the mire to Anti-aging Superfood status. Yes, the light has finally dawned in the West on what the Chinese have known all along. Old people (and young people who want to stay young) should eat pig trotters!
Now I am just waiting for them to prove another Chinese saying that the toothless should eat bean sprouts. (没牙吃豆芽)
So, it should come as no surprise that the person who first introduced me to this stall was an elderly man from Church who said in no uncertain terms that I should head down to Chinatown Food Centre to try this newly opened stall that is selling pig's trotters bee hoon.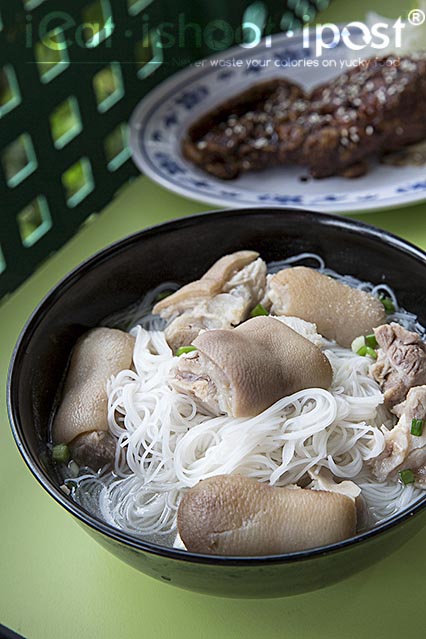 Before we go on with the review, I should clarify one important point. The trotter is actually the pig's foot. However, the stall doesn't just sell the trotter but include the lower leg of the pig as well. So the pig's trotter bee hoon should really be called pig's leg bee hoon.
But I am just being pedantic…
I must admit that I am not a fan of the pig's trotter bee hoon or the garlic vinegar pig's trotters. To me they are cooked by simply boiling in water and it does not have much taste. Some of our other kakis really enjoyed the garlic vinegar pig's trotters. I don't. But I will concede that the texture of the pig trotter is very good. It is springy and crunchy like somewhere between a gummy bear and agar agar and goes well with the chopped garlic, chilli and vinegar. I will eat this again if it's on the table, but won't specially order it.
The pig's trotter bee hoon that my senior Church friend was raving about was a little too bland for me. However, this dish is not easy to find in hawker centres, so I am just letting those of you who want to eat this dish know where it is available. I might not like it now but in another decade or two, who knows? I might just change my mind! 3.5/5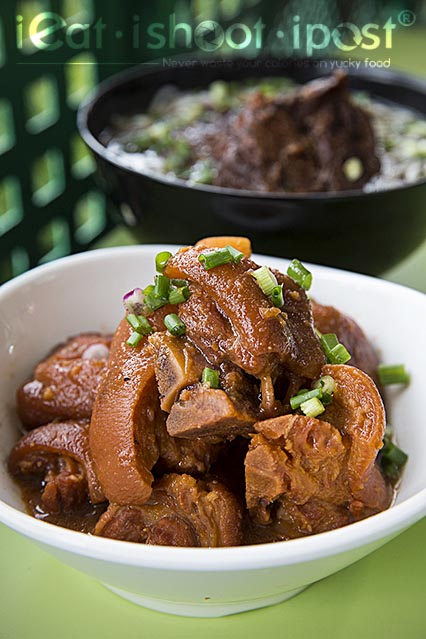 For something with a bit more oomph, go for the braised pig trotters which have cooked in a gravy that is made with fermented bean curd. The texture is very good. More tender than the plain pig's trotter but still retaining some bite. It does not fall off the bone, but is still soft enough such that your dentures don't fall out when you bite into it. This is the dish that is the most popular at the stall and you should order it together with a plate of Hong Kong style egg noodles and it would make a very nice meal. Certainly worth a try. 4/5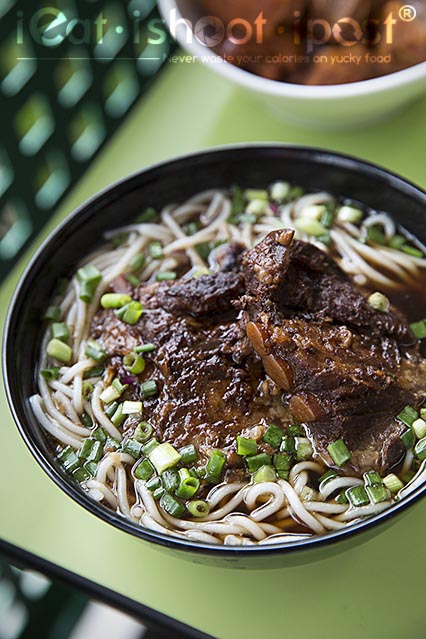 The dish that I would go back for is the braised pork soft bone noodles. The chef tells me that this dish is very popular in Hong Kong. I have always enjoyed braised pork soft bones and I think it went very well with the toothy la mian style noodles. This one makes for a really hearty meal and the portions are quite generous! 4.25/5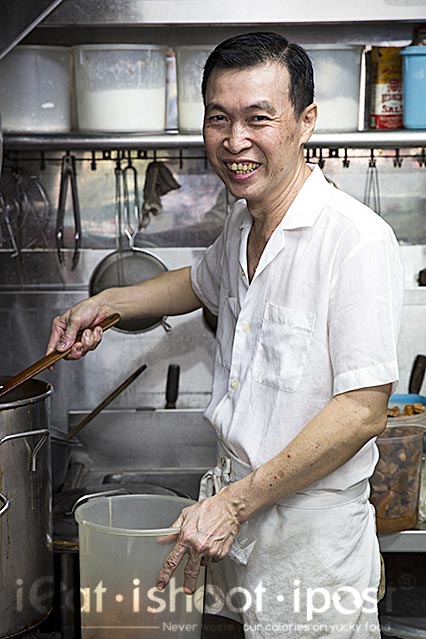 It is very interesting to note that this stall is located just next to Fatty Ox. Both stalls are run by Hong Kongers who are now Singaporeans. I have also blogged about both stalls in the past when they were selling other dishes. Fatty Ox used to be selling Cantonese Roasts, while this stall used to be selling Soy Sauce chicken. When Fatty Ox moved to his present location, he started selling Soy Sauce Chicken instead and so Randy switched to selling pig's trotter bee hoon which is a good strategy because it isn't readily available so it will surely catch the attention of people looking for novel things to eat!
Conclusion
If you are in the mood for some pig's trotters, then this is certainly one place to go. My dish of choice there would be the braised pork soft bone noodles. The pig's trotter bee hoon was a little to bland for me but I must admit I am not used to eating this particular dish, so it is hard for me to give an objective review. Perhaps all the pig trotter bee hoon fans out there can let us know your views on it?