With iwatch_ueat, damien, liverpool and smart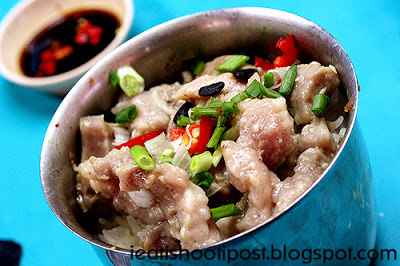 When I was in Hong Kong recently, every Char Chan Ting (Tea House) I walked into had dishes around HK$20-30 (S$5-6). Even in Singapore, most of the Tea Houses that have sprouted up across our island have dishes for around the same price (ie for a dish you can eat to fill your tummy for dinner). So imagine my surprise when I found this Stall selling a Hong Kong meal for $2.50!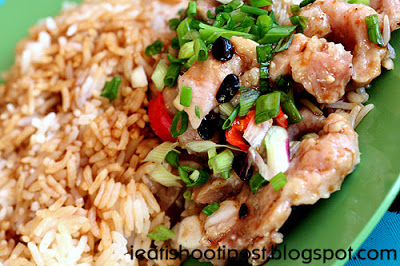 The thing about Hong Kong food is that when compared to Singapore food, there tends to be less use of chillies and spices. Some Singaporeans may find it bland. I certainly find Hong Kong food tasty yet satisfying without having to suffer the glutton's hangover (Indigestion). Aiya, as one gets older, sometimes we don't go for "Shiok Shiok" anymore as much as "Shiok and comfortable after the meal" and "Shiok and my cholesterol levels still ok".
That's the kind of feeling when I tried the Pork Rib Rice. I think "Fragrant" is the right word to describe it. The Pork Ribs were lightly seasoned, tender and savoury while the rice was surprisingly satisfying. It wasn't that the sauce was shiokadelicious, it was just that the rice was perfectly steamed such that the grains were nicely separated and firm to the bite. There was minimal oil in the rice and every mouthful feels just right. 4.25/5
When I was younger I used to love potatoes chips, pasta, steaks, hamburgers etc, but as I grow older I find that I can't go for too long without my bowl of simple plain steamed rice and this one really hits the spot for me. (It's scary but one day I might even start liking Rosewood furniture — sure sign of old age!)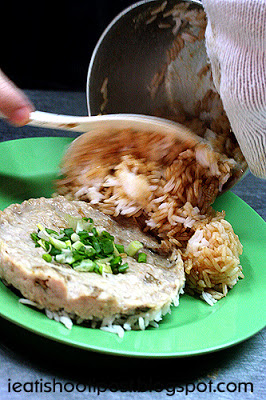 The rice is first steamed and the meat is then added on top and place in a steamer. When you order, they first remove the meat from the bowl, then mix the rice with the sauce and put everything onto the plate.
This second dish is the Mince Meat with Mei Chai which was really tasty. It's the kind of thing I love to order with my bowl of piping hot Teochew porridge but it went equally well with the rice. The taste of the Mei Chai was subtle and lends a bit of sweetness to the mince meat. 4/5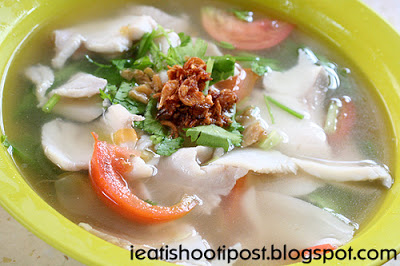 Our makanbro damien swears by their "tonic" soup. This soup is boiled for over 4 hours and like the other items here, you feel really comfortable after eating it. Good stuff to complement your rice and for $1.50 I'd say its real value for money. 4/5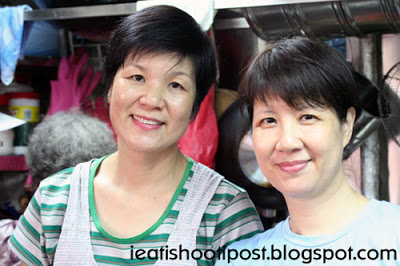 Our pair of HK sisters have been in Singapore for almost 30 years. They started this stall over at the Chinatown Complex Food Centre 5 years ago and shifted here when they closed for renovation.
Conclusion
Simple, satisfying and definitely one of the cheapest Hong Kong food you can get in Singapore.