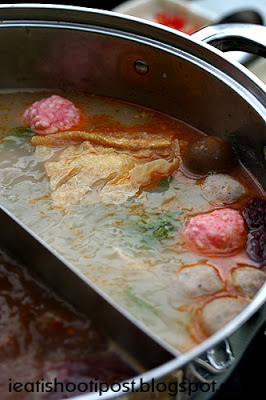 Please make sure you read the comments before going!
With SCS Butter, Happi Mummi and ieatFamily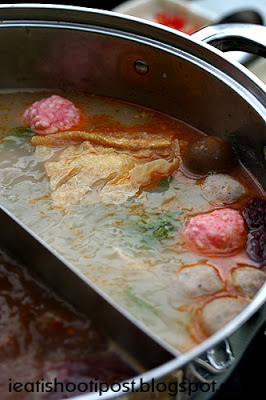 Singaporeans are always on the lookout for a great bargain. And the best way to gauge if a something is a great bargain when it comes to food is when you leave the restaurant thinking: "How the heck do they actually make money from this?"
This is exactly the kind of feeling I got when I ate at Fortune Cuisine. As a Steamboat Buffet, it offered not just the usual steamboat stuff, but also adds a Japanese twist to it by offering a Yakiniku Style Charcoal BBQ as well as Sushi, Sashimi and Cold noodles. Of course you still get your usual cooked dishes like fried rice, sweet and sour pork, fried chicken and other cooked food items. Free Flow drinks, coffee and tea and quite a varied spread of various cakes and ice-creams for dessert.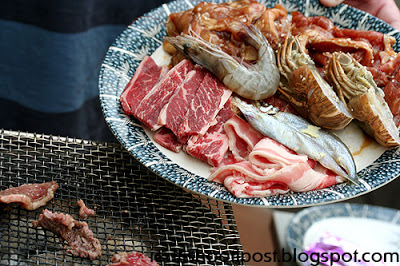 But of course the astute, kiasu Singaporean Bargain hunter would immediately wonder what is the fuss all about? Sounds like any other buffet steamboat with maybe some sushi at the side. Well, I will tell you why we all felt it was a good bargain. Compared to many other steamboat/bbq buffets, the meats here are pretty good quality. One of the items that I was very pleasantly surprised to see was the free flow Beef Karubi! These are chilled Australian beef short ribs and they are well marbled and actually quite good! Now for that alone, I think it's worth the $22.80++. 4.5/5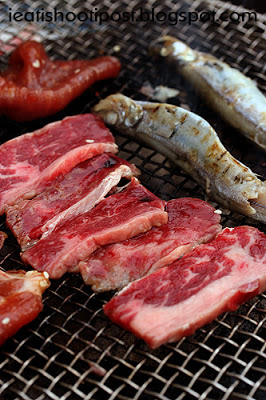 Although the highlight for me was the Charcoal BBQ, steamboat lovers won't be disappointed as well. They have three different soup base here, Mala, Chicken and Seafood and they were all pretty good. The seafood selection comes with good medium sized prawns, flower crabs and sliced salmon. The rest of the spread is all the standard stuff that you can expect at a steamboat buffet.
For the desserts, there was a decent spread of cakes and ice-cream plus coffee and tea. I was again pleasantly surprised that instead of a big pot of tea with 2 "Lipton" teabags in it, they actually gave you a selection of "gourmet" Dilmah Tea Bags. You know, the type that you pick out in a fancy Cafe and have to fork out $3.50 for? Pretty good for an "All you can eat" place don't you think?
Conclusion
Now I hope you can understand why we all left the place wondering "How they can make money out of this?"
Update: 29 Nov 2007
Just got confirmation from the owner Desmond that there was a price revision after my dinner there. On weekends the price has gone up to $27.80++. Since there were so many complaints, he has agreed to extend the price of $22.80++ for ieatishootipost readers if you call up to reserve your seats. The offer will be up till 14 Dec 2007.
As to the replenishment of food, the Saturday following the blog post was exceptionally busy, so they had problems replenishing the food. Although they are working at a solution to the problem, my advice is that if you want the good stuff, make sure you go early.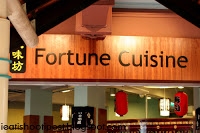 Lunch $16.80++, Child $11.80++
Dinner $22.80++, Child $15.80++
Disclaimer: SCS Butter arranged for this invited Review