Feature on iweekly supplement No.667 12 Aug 2010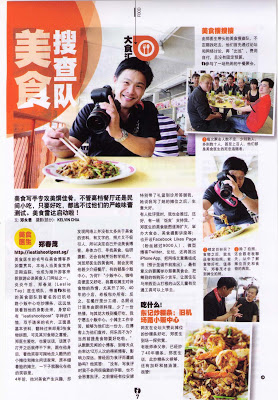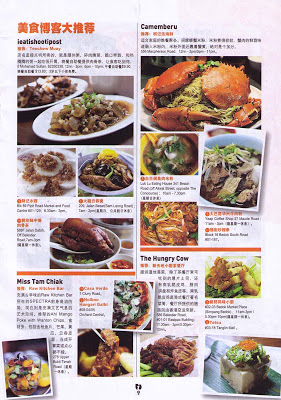 Thanks to Ping for the translation. (She is the pretty girl in the photo)
The good food SWAT team
As long as it tastes good, high-class restaurants or cheap local eats matter not for food bloggers. No good food escapes the inevitable test of their difficult-to-please taste buds. Time to activate the radar for good food!
The foodie doctor: Leslie Tay
The fame of the foodie doctor is widely recognised in the world of food bloggers. His registry of good food that locals check out regularly has also become a must-read website for tourists vacationing in Singapore.

On a blistering hot afternoon, Dr Leslie Tay led I-weekly and his ieat kakis to the well-known Old Airport Road hawker centre to eat fried kway teow. We could already see him as he walked towards us from afar, wearing a T-shirt printed with the logo of 'ieatishootipost'. He passed his namecard to us respectfully with both hands, on which the front is printed with the usual basic information, and on the back a testimony to his love for food – a montage of 3 food pictures.
Dr Tay loves to eat and also talk; when he starts, he can't stop. Following behind him, we observed the way he walked into the hot little food stall with a smile, chatting up the originally grumpy-looking food hawkers who were quickly won over by his irresistible smile.
He started developing an interest in food 4 years ago but found there wasn't much information about good eats on the Internet. The little he did find were only words with unattractive photos. So he decided to start his own food blog, conducting his own search of good food, picking up photography along the way, even making his own short how-to videos on cooking.
Surfing Dr Tay's food blog, one finds that he seldom makes recommendations of restaurants, posting mostly instead on hawker centres. Why is that so? His reply, 'Hawker centres and coffeeshops are cheap and good. Moreover, I like the passion with which the hawkers treat food, especially those little stalls that have been opened for 30, 40 years where the hawkers handle everything themselves as compared with in the restaurants where the work is delegated and the executive chef sets the menu for his chefs to prepare, thus lacking a certain passion. Rather than spending a lot of money to dine out in restaurants, I would rather go to a hawker centre. The stall owners have worked so hard and when I can do some publicity for them through my food blog, I am more than happy to do it. But of course the food must first of all taste good.'
From a little-known blogger to an award-winning one who receives more than 12 thousand hits a day, his influence has gone far. Has he ever received any threats because of his food reviews? He answers, with a laugh, 'No, when I write food reviews, I do not use extreme vocabulary and do not criticise harshly. There was once an auntie who specially brought a gift basket to the clinic to thank me, because she said after I wrote about her stall, her business was really good. When someone criticises me, I will feel dissappointed, but fortunately there is a group of 'makan kakis' to console me.'
Dr Tay's food blog gradually expands into areas other than his blog: from holding large get-together eating sessions to food photography workshops etc etc. There is also a Facebook page (where fans count over 9000 people), microblogging in the form of Twitter and a forum, even an iPhone application is currently in the works. He is also publishing his blog into a book (expecting to hit the bookstores before Christmas). Finally, the most meaningful one of all is organising fund raising food events to buy a van in aid of the education of the village children of Sandakan in Sabah.
Captions
In search of good food
Led by Dr Tay, the food scouting team occasionally track down good eats together. They first go through the forum and online discussions then head out. The costs are divided equally amongst everyone present and there is no preset budget.
What to eat!
Dong Ji Fried Kway Teow; Old Airport Road hawker centre
Following the trail of rave reviews and comments from his blog followers, Dr Tay went down to this stall for his very own review.
The boss took over the stall from his dad and has been frying kway teow for 40 years. Dr Tay said that this fried kway teow has a good 'wok-hei' taste and in addition, has prawns and pork lard bits, really 'shiok'!
2nd Page
Recommendations from food bloggers:
ieatishootipost
Teochew Muay; 5 Mohamed Sultan, 62350338, 12-3pm & 6-10pm
As the name suggests, what this restaurant sells is Teochew porridge. Crunchy and sweet simultaneously, the minced meat fried with preserved vegetables is an appetising side dish for a bowl of piping hot porridge. Dinner buffet includes Bah Kut Teh customers can eat their fill.
Chye Kee Chwee Kway; Blk 89 Pipit Road Market and Food Centre #01-129, 6.30am-3pm
Da Jie Famous Wanton Mee, 209 Jalan Besar (Sam Leong Road), 96670087, 7am-2pm daily (closed on Sun and PH)
Tiong Bee Bah Kuk Teh; 588F Jalan Datoh, Off Balestier Road, 7am-3pm, (closed alternate Mondays)