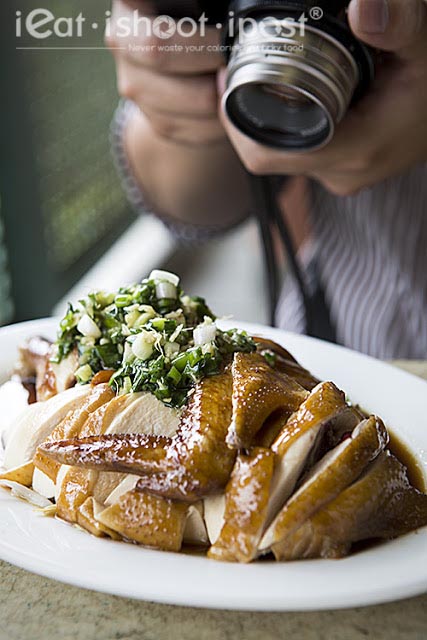 Fans of Fatty Ox would probably have known by now that he is back in business after a hiatus of about 18 months. Actually, he has been back in business for almost a year now but I only managed to get to eat there after three failed attempts.
That is the good news. Now, the bad news.
If you have been a fan of Fatty Ox's Char Siew and Roast Duck, then you would be very disappointed to know that he is not serving those dishes at his new stall in Smith Street Food Centre. Instead, his main dish now is the soya sauce chicken. If you miss his roasted delights, then the next best thing is to visit his disciple's stall, which is none other than Fatty Cheong at ABC Brickworks food centre.
But, just as all brides' parents like to say that they have lost a daughter but gained a son, we also can say we lost the duck but we gain the chicken. That's cos if we don't say good bye to the duck, we would have never been able to taste Fatty Ox's excellent Hong Kong style soy sauce chicken! It just goes to show that a great chef can just about cook anything and it would be great! His soy sauce chicken is no exception. The skin is wonderfully luscious with a good penetration of the braising sauce, making it a slippery, savoury, sweet delight. The flesh is also wonderfully tender and the thing that sets his soy sauce apart from the other two formidable stalls (Ma Li Ya and Hong Kong) in the same food centre is the addition of the wonderfully aromatic chopped ginger and spring onion garnish atop the chicken. He also uses a larger chicken which is why his costs $20 a bird while the other two stalls are selling theirs for $14. 4.5/5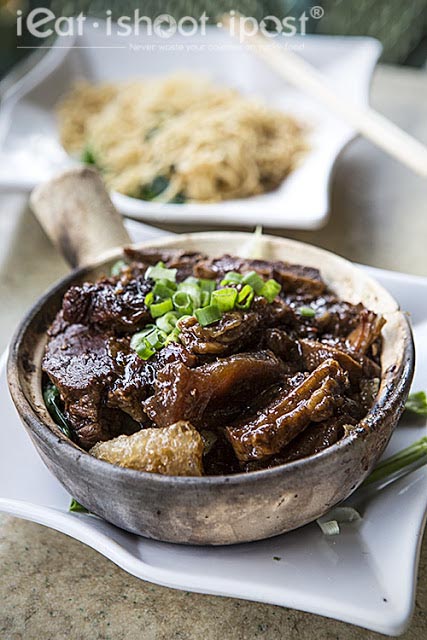 I was very fortunate the day I visited that the braised beef hasn't sold out yet. Rumor has it that is usually sells out before lunch time! Ngou Lam is one of those dishes which I really love to eat and there are not many good stalls around. So whenever I hear news of a good Ngou Lam, I usually make a special effort to try it.
The Ngou Lam here is robust and so it goes really well with a plate of his stringy Hong Kong style egg noodles. I would have liked it more if the meat were just a little more tender and there was a little more sauce. My makan kaki, Gastronaut, who is a connoisseur of Cantonese cuisine also remarked that it would improved markedly if he had used the more expensive orange peel like the ones in Hong Kong. Despite these misgivings, this Ngou Lam is still very good and should please all but the most discerning of foodies. 4.25/5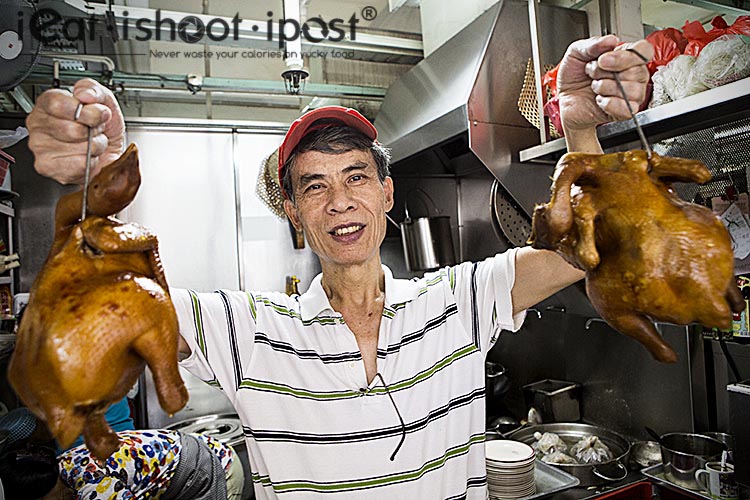 Fatty Ox has set up his stall with a wok and aside from the Soy Sauce Chicken which is his standard fare, he also caters for functions and has a menu of Cantonese dishes to choose from. When we were there, I saw him preparing a banquet for the evening and his dishes all look very impressive. His wontons were nice and plump and looks very impressive! I also managed to taste some of his Hae Zhor that day and they were excellent! If its available, it won't be a waste of calories to order some!
Conclusion
Fatty Ox is back and now he is serving soy sauce chicken and running a Hong Kong kitchen where he can cook up a Hong Kong feast on request!