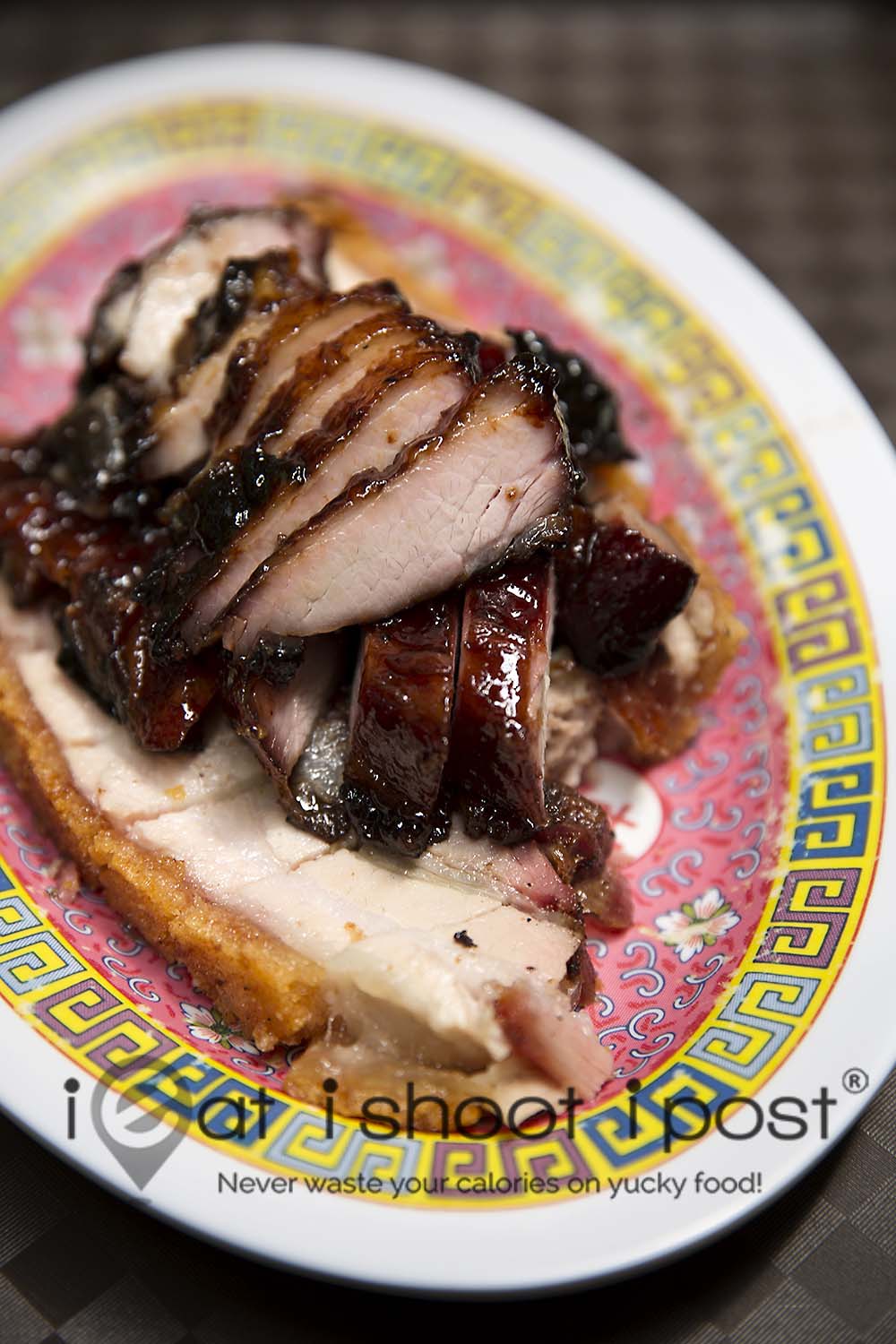 Fatty Cheong's has been one of my favourite places to eat at since I first discovered his sublime char siew back in Nov 2006 when the blog was only in its infancy!  Since then, his char siew has been the gold standard for which my kids compare all the other char siew stalls that I bring them to.  My most unforgettable Fatty Cheong char siew moment was when he roasted Kurobuta pork jowl char siew for our Ultimate Hawker Fest in 2012!  It's just too bad that the cost of Kurobuta jowl is too prohibitive to be made into an everyday menu item because it really was one of the best pieces of pork I have ever put into my mouth!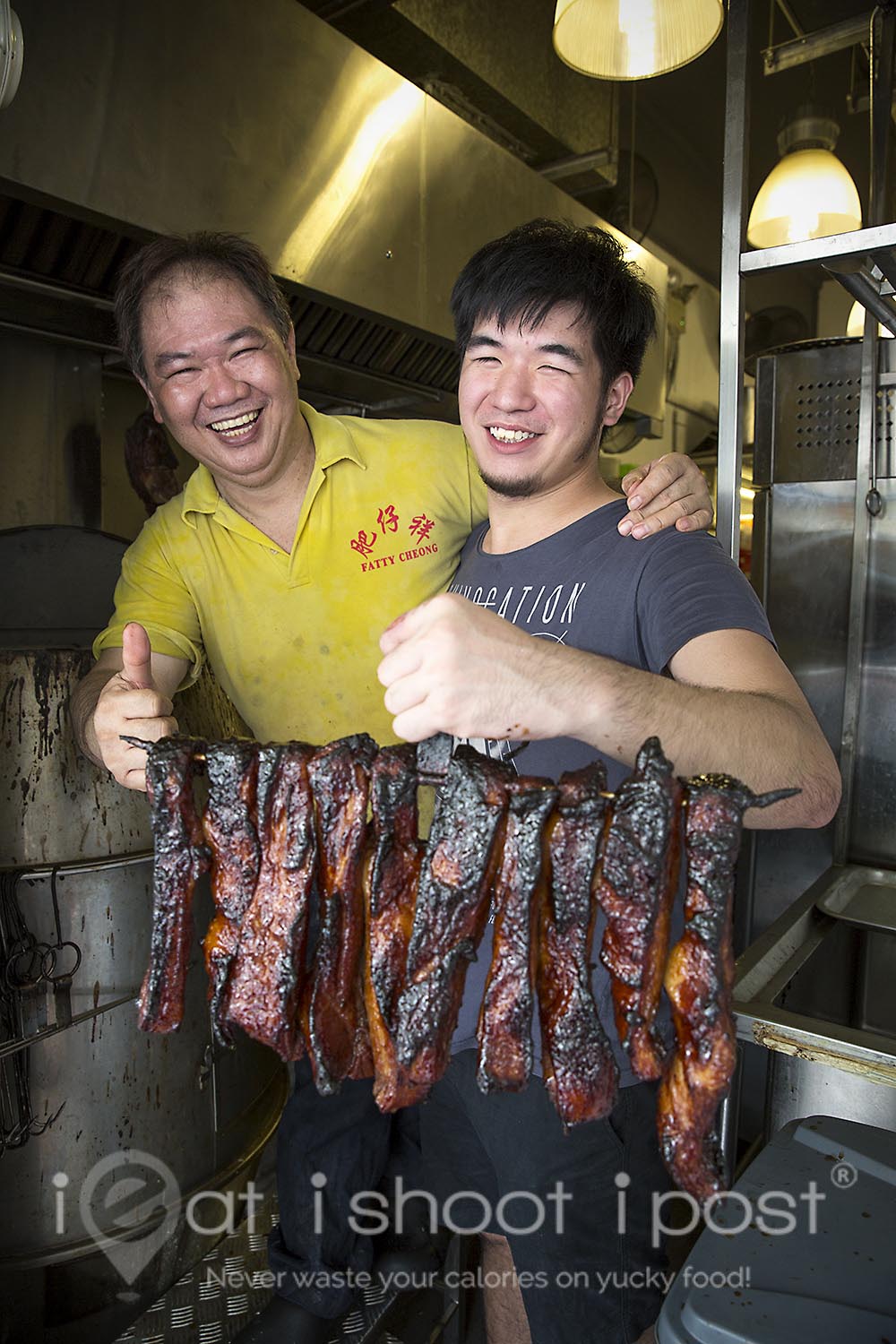 I have been asking Fatty Cheong to open his own eatery for years and he has finally done it!  Best of all, he is now training both of his sons to take over the business so that both stalls will be run by family members.  That makes a big difference because the food quality tends to be better when the hawker is his own boss.
Lachron is Fatty's 2nd son. He is only 20 this year and has just finished his NS. He has been undergoing training for the last four months and is now helming the roaster in Toa Payoh under the watchful eye of Fatty Cheong.
The quality of any charsiew has more to do with the roasting technique than with the marinade itself.  I have come to this conclusion after trying to roast char siew with numerous recipes for the marinade.  Some of these recipes were really complicated ones from restaurant chefs.  In the end, I have come to the conclusion that the missing element is always the charcoal oven.  Not only that, the make of charcoal ovens is also important.  So, the quality of the char siew really boils down to how well the roaster handles the oven. Even a master roaster like Fatty Cheong tells me that compared to his trusty old oven at ABC food centre, this new oven at Toa Payoh is a little erratic.  As a result, he is quite honest and say that, at the moment, the quality of the roast is only about 80-90% of what he does at ABC.   The char siew is noticeably drying and not as tender as the best that I have had at ABC.  However, Fatty Cheong is confident that he will soon get the hang of the new oven and be able to produce the same charsiew as he does at ABC.  4.25/5.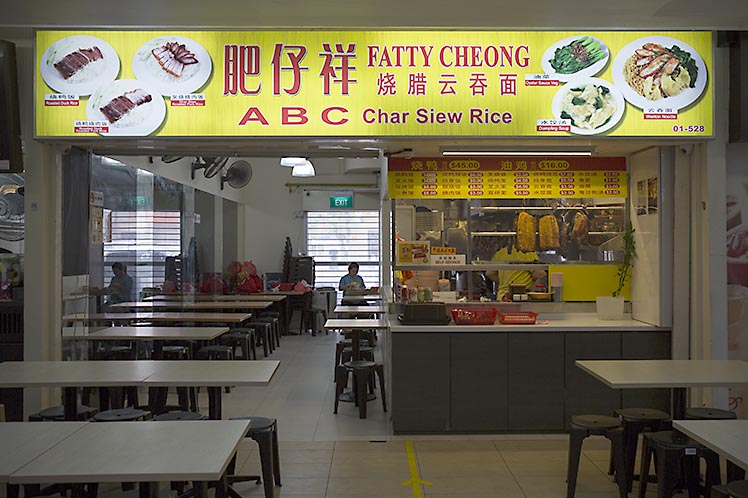 Conclusion
It is really good to see a young generation of roasters stepping into the hawker scene.  Fatty Cheong serves some of the best charsiew in Singapore, so I am confident that it's just a matter of time before Lachron becomes a master roaster like his dad!  I am also glad that I don't have to travel across he island to enjoy my favourite char siew anymore!